3 escape Aberdeen fire that killed mother and daughter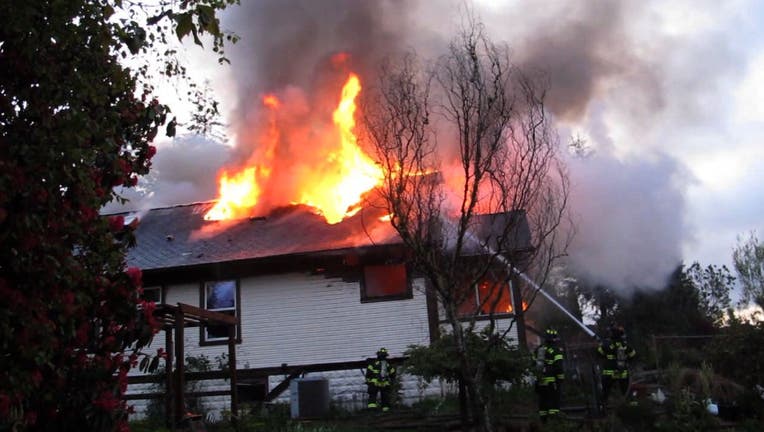 article
ABERDEEN, WASH. -- A 54-year-old woman from Idaho and her 26-year-old daughter were killed in an early Friday morning house fire in Grays Harbor County.

Three other people, including an elderly couple, escaped and survived, thanks to quick action by police and neighbors.

Flames leaped into the sky before sunrise on 8th Avenue in Aberdeen.

Five people were inside the home until cops and neighbors came to the rescue.

"It's a tragic day in Aberdeen but out of five, three were saved," said Aberdeen Fire Chief Tom Hubbard. "That's one tiny positive in this sad event."



One survivor who jumped out of a second story was rushed to the local hospital

Neighbors say an elderly couple, Pat and Dave Irwin, were still inside. That's when neighbor Mark Hensel ran to help.

"Some guy came around from the other side of their house and said, 'You got a ladder?' I said yeah," Hensel said. "He busted a window and he grabbed Pat first, he pulled her out and I helped her down and then we got Dave out."

By the time firefighters arrived, the flames were too intense for a rescue attempt for the two trapped inside.

"Had to switch back to defensive when they realized they couldn't make rescue and the survivability of occupants in that area was tenuous at best," Hubbard said.

More than 20 firefighters battled the flames and knocked down the fire by daybreak. The two deaths have left the tight-knit neighborhood reeling.

But thanks to courageous police and neighbors, three people made it out of the blaze alive.

"I feel sorry for Pat and Dave 'cause they're the ones having the family come over to help move," said Hensel. "We got them out, that's all that matters."

Firefighters spend most of the day keeping a close watch on the structure checking for hotspots.

The cause of the blaze is still under investigation.