Another homeless camp cleanup likely after RV fire under West Seattle Bridge
SEATTLE-- Amateur video captures giant flames lapping  against the underside of the West Seattle Bridge  on Thursday morning. It's a crucial artery for thousands of commuters and the Port of Seattle. "The fire burned pretty much uncontrolled for about 15 minutes before first responders showed up," says Rob Maples who lives in the camp.  Witnesses say the fire started in one RV and spread quickly to a second. The Seattle Fire Department says it was an accidental engine fire started when the occupants attempted to turn on the vehicle to stay warm. "When I was over there by that refrigerator," says Owen Mullet who lives in the homeless camp. "It's hot, really hot. It was seriously hot. I have stuff over there that's melted."




Both recreational vehicles were burned beyond repair and had to be bulldozed to be cleaned up from the site. No one was injured or killed in the fire. City of Seattle Dept. of Transportation engineers inspected the bridge once the fire was out and determined while there's cosmetic damage, they say the structure of the bridge deck itself was not impacted and is safe for all modes of travel. The Mayor's homeless crisis team has been planning on clearing out parts of the area along South Spokane Street to do routine maintenance. This fire has pushed this sanctioned camp to the top of their to-do list. "I think the city has a concern with vehicles underneath elevated structures," says Chris Potter with the city. "We're evaluating how hazards for our structures around the city particularly in light of what happened in Atlanta."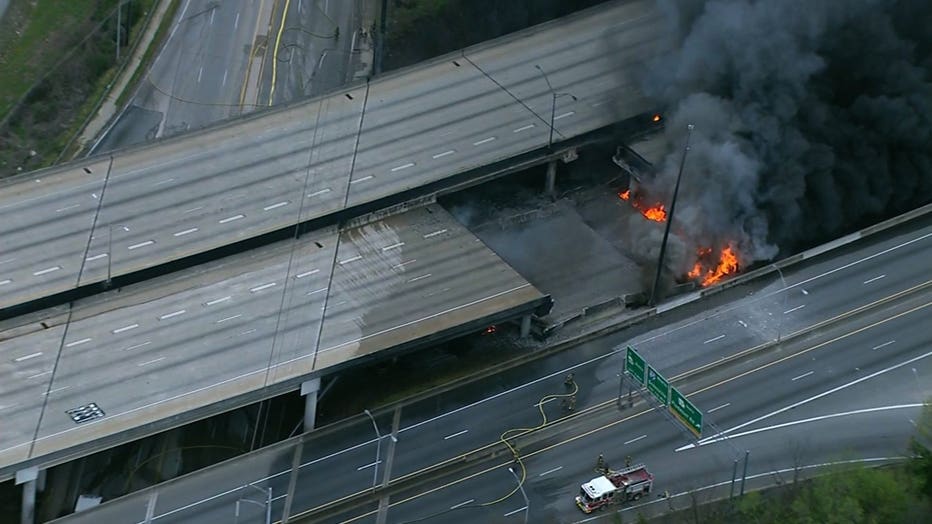 A section of US Interstate 85 in north Atlanta collapsed last week after a massive fire, local officials confirmed.


It was a week ago a fire that began under an elevated section of Interstate 85 in Georgia's capital city caused a large section of that roadway to collapse. Officials blamed that fire on several homeless people who have since been arrested for their connection to the blaze.

Here in Seattle, businesses south of downtown have seen the number of people who are homeless rise dramatically since tent cities have been shut down in other parts of the city. But, empathy remains high in this industrial part of town for those with no other place to go. "The other day I was at a business,"  says Executive Director Erin Goodman of the SoDo Business Improvement Area, " says I have two guys that goes through my dumpster but they're really good about putting everything back, so I'll stop complaining, they're fine." Goodman says 45-thousand people work in the SoDo neighborhood every day. She says this is the third vehicle fire in this homeless camp. She says there's been tent fires too, so concerns remain about public safety due to the camp and the security of important infrastructure like the West Seattle Bridge. "I think Sodo accepts and wants to be helpful where we can it's when it crosses the line and becomes an impact," says Goodman. "The immediate concern is transportation," says Goodman. "We have a lot of bridges in Seattle that can't be replaced by an alternate route should they fail."

For those living in the city-sanctioned Spokane Street Camp, they're worried about being chased away from yet another locale.  "It definitely doesn't bode well for these people but believe it or not there's a lot of responsible individuals here."

The City says the had routine maintenance planned like garbage pickup and replacing burned out lights, but now they're looking at a more thorough clean up of this vicinity. One of the options still on the table is moving the RVs several blocks east where there is more clearance between the tops of the large profile RVs and the bottom of the West Seattle Bridge.