Carnival Triumph breaks loose; man reported missing
 (CNN) -- One person was missing Wednesday afternoon after high winds in Mobile, Alabama, caused the disabled cruise ship Carnival Triumph to break loose from its dock, officials said.

There were conflicting reports as to where the missing man was working.

An official with the city's fire department said the missing man and another person were in a guard shack that was blown into Mobile River. One man has been recovered from the water.

However, the U.S. Coast Guard said the missing person was involved in repair work on the Triumph. The call to the Coast Guard came in at 1:45 p.m. CT.

Carnival spokeswoman Joyce Oliva said all of the company's crew members and contractors on the ship have been accounted for. The company said it understood two workers on an adjacent pier had been knocked into the water.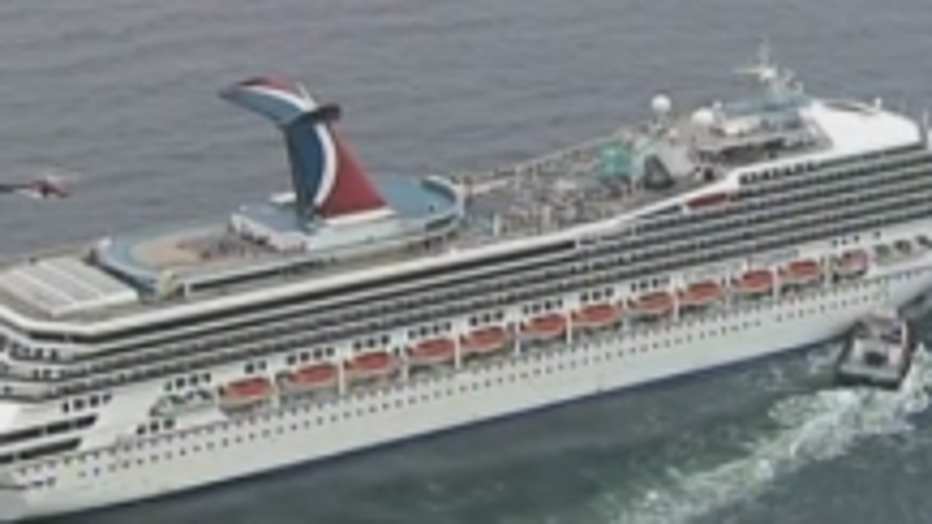 Wind gusts reached between 40 and 50 miles per hour Wednesday, according to the National Weather Service in Mobile, though a Carnival statement said the winds exceeded 70 mph.

The Triumph has been at BAE Shipyard in the Port of Mobile since an engine fire in February left the cruise ship crippled and adrift in the Gulf of Mexico with more than 4,200 people aboard. For four days, tugboats guided the disabled ship into the port as passengers complained about miserable conditions on board.

On Wednesday, it drifted across the shipyard after breaking free. Tugboats kept it from drifting farther down river, the Coast Guard said.

For the complete CNN story, go here.