Fire blocks route for dozens in Glacier National Park chalet
HELENA, Mont. (AP) — A wildfire has cut off the return route for dozens of people staying in a Glacier National Park backcountry chalet, leaving them the choice of remaining until rangers tell them it's safe or hiking out along a longer and more difficult trail, park officials said Friday.

Park rangers also planned to lead out 39 other hikers who were staying in backcountry campsites near fires that broke out after a passing lightning storm on Thursday, Glacier spokeswoman Lauren Alley said.

It's peak tourist season at the Montana park, and the stone chalet built more than a century ago is a top attraction in one of the busiest parts of Glacier. There are typically between 40 and 50 guests and 10 staff members at the chalet each night, with most visitors arriving by foot or horse along a steep trail nearly 7 miles (11 kilometers) from Lake McDonald Lodge on the park's main roadway.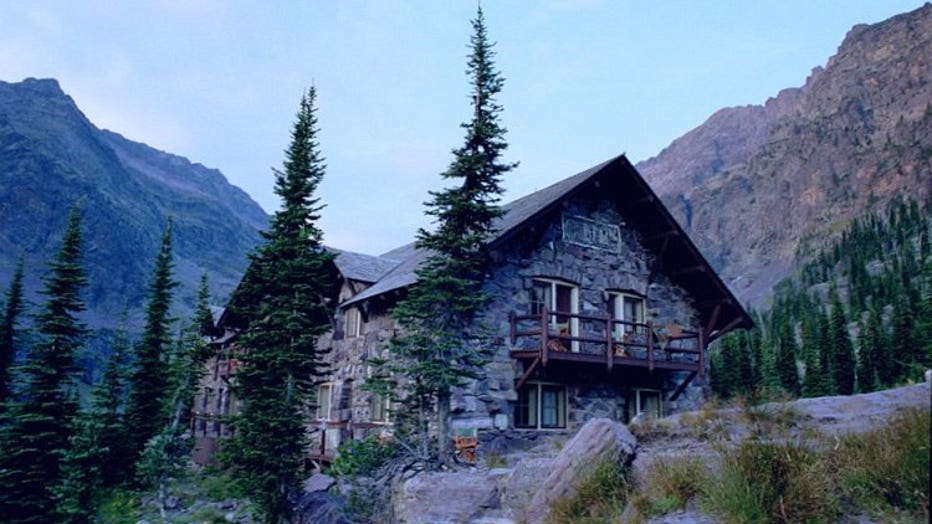 Sperry Chalet in Glacier National Park(Photo: National Park Lodge Architecture Society)


A lightning strike ignited a fire in the forest somewhere between the lodge and the chalet. Neither structure is threatened, but park officials determined that it was unsafe for those at the chalet to return by the same trail Friday.

Thirty-nine of the 42 guests staying at the Sperry Chalet decided to hike out and three stayed behind, said Suzie Menke, the office manager of Benton Chalets Inc., which runs the chalet.

They must take a rugged trail more than 13 miles (21 kilometers) long that crosses two mountain passes and can take eight to 10 hours to walk. That trail ends up on the eastern side of the park, on the other side of the Continental Divide from Lake McDonald Lodge.

For those who stay, the chalet has running water, a full-service kitchen and 17 private rooms — but it doesn't have electricity and only spotty cellphone coverage.

"The good news is they got resupplied yesterday," Alley said.

Park officials confirmed three small fires started after Thursday's lightning storm. The one affecting Sperry Chalet is the largest at about 10 acres (40,500 square meters).

Despite the sudden outbreak of fires, most areas of the park are still open to the record number of tourists who are flocking to Glacier this year. More than 1 million people visited the park in July, the first time so many people have been in Glacier over the course of a single month.

Dozens of fires are burning across the West, and federal and state fire managers planned to raise the National Fire Preparedness Level to its highest point on Friday. That Level 5 signals most firefighting resources are being used and that assistance may be needed from military and other nations. The level was last raised to 5 in 2015.

In Oregon, a fire on the Warm Springs Indian Reservation destroyed two houses and threatened dozens of others. The fire had burned more than 30 square miles (78 square kilometers) by late Thursday, and one firefighter suffered a minor injury.