Macklemore & Ryan Lewis celebrate a night of bliss at Grammy's


LOS ANGLES -- In Sunday night's biggest and most surprising statuette haul, Macklemore & Ryan Lewis won big in their Grammys debut. The independent rap group landed four of the seven major categories in which they were nominated, triumphing over more established hip-hop superstars including Jay Z, Drake and Kanye West.


Virtually invisible to Grammy voters until the final weeks of the balloting, Macklemore and Lewis' victory sweep was made all the more unlikely for nearly being derailed by National Academy of Recording Arts and Sciences voting vagaries in 2013.

The Seattle hip-hop group claimed the award for best new artist in the opening moments of the broadcast Sunday evening after landing three rap awards earlier in the afternoon's untelevised segment: for best performance, best song for "Thrift Shop" and — controversially — best album for "The Heist."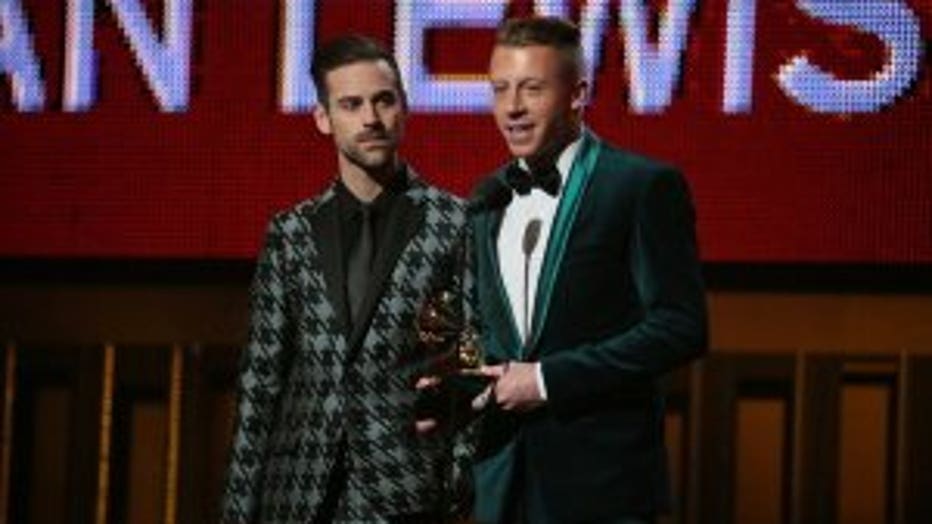 In that category, the duo beat out Compton rap phenom Kendrick Lamar's "Good Kid, M.A.A.D City," which Macklemore himself had endorsed in the category last month.

Macklemore used his moment at the awards podium to celebrate his indie bona fides, pointing out "The Heist" was recorded "without a record deal."

"Before there was any media, before there was any buzz, before there was a story, there was our fans," Macklemore said. "So without them, there would be no us."

Later, amid a neon tableau built to evoke a Gothic cathedral, the duo took to the stage to deliver what was widely considered the evening's emotional high point. Midway through Macklemore and Lewis' performance of "Same Love" — which was nominated for song of the year and has become an anthem in the campaign to legalize gay marriage — Queen Latifah introduced 33 couples who emerged from the audience to exchange marriage vows and rings.

The jubilantly betrothed were soon joined by Madonna, who performed a mash-up of her 1986 hit "Open Your Heart" as guests in the crowd could be seen brushing back tears of joy.

The Staples Center event capped a run of awards acclaim for Macklemore and Lewis, whom Latifah called "one of the most inspiring success stories in music this year" — performers who bucked hip-hop tropes by extolling the joys of second-hand clothing and supporting gay rights, in a genre long associated with crass materialism and undisguised homophobia.

The two were honored as Billboard magazine's top rap act for 2013. They also beat out Kanye West and Jay Z in the best group category at the BET Awards.

But if not for a key balloting reversal by the National Academy of Recording Arts and Sciences, Macklemore and Lewis' Grammy haul would have been considerably smaller.

According to a report by the Associated Press, Grammy Awards rap committee members decided late last year that Macklemore and Lewis should not qualify for the rap categories because of their success on mainstream radio and their crossover appeal.

As a result of their back-to-back No. 1 hits — "Thrift Shop (featuring Wanz)" sold 7.3 million tracks, and "Can't Hold Us" moved more than 5 million tracks — members of the NARAS rap committee reportedly declined the duo's submission in a meeting in Los Angeles last year.

But that ruling was later overturned by a "landslide" general committee vote, allowing Macklemore and Lewis to compete in the rap categories, enabling their dark-horse Grammy wins.

The two were denied their last major award of the evening, for album of the year, losing out to French electronic music trailblazers Daft Punk's "Random Access Memories." But Macklemore and Lewis still received props from the stage.

Accepting on behalf of the mute, robot-helmeted Frenchmen, Daft Punk collaborator Paul Williams spent almost as much time praising Macklemore and Lewis' "Same Love" performance as he did effusing about his shared win.

"All that love is fantastic," the Oscar-winning singer-songwriter said.

Seattle Mayor Ed Murray congratulated Macklemore and Lewis Monday.

"It was an exciting night for Macklemore and Ryan Lewis and the City of Seattle," said Murray. "They are a talented group who has brought much recognition to Seattle's music scene. I want to congratulate them on their four Grammys and wish them continued success."

LA TIMES