Marysville PD embeds social workers, shows success in combating homelessness


MARYSVILLE, Wash. - A program in Snohomish County is embedding social workers with the police department to help get homeless people into treatment programs and off the streets.

Homelessness in Snohomish county has been trending up by about 10% since 2013.

The 2018 Point in Time Count, shows 270 people unsheltered in the county. Now, social workers embedded with the Marysville Police department are hoping to bring these numbers down.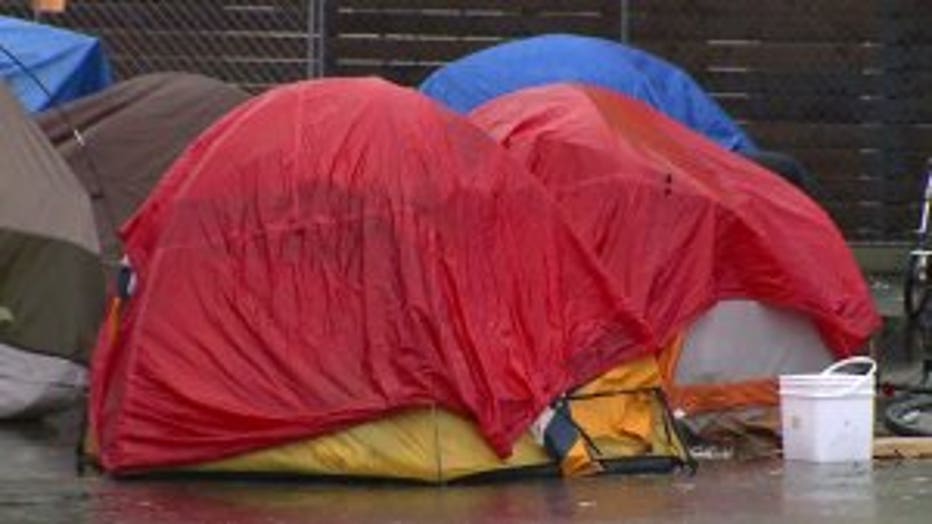 At the Salvation Army in Marysville, social worker Rochelle Long chats with John Carlson and Todd Smith, whom she met several months ago when they were homeless.

"It's really difficult to get off the street, I think that's just a universal problem that people don't understand. Even with the programs there are, it's hard to finding a starting point," said Carlson.

To understand how he and Smith got here, you have to go back, way back. Their story really starts in the 6th grade when John and Todd met as 12-year-old boys.

"Baseball, we played baseball together," said Carlson.

Both of them say they grew up in middle class families in Marysville. After high school, they went their separate ways building their own lives. Carlson worked for his family business as a boat mechanic and Smith held the same job for 16 years in Everett.

"I was married with a daughter," said Carlson.

A few years ago, life got rough for Carlson. "It was a slow downfall. It didn't happen that fast," said Carlson.

For Smith, he lost his job in 2016 and was taking prescription Percocet for pain. He says he got mixed up with the wrong crowd which led to harder drugs.

Carlson says he began to drink heavily after his divorce which led to depression, more drinking and eventually to heroin.

Both of them lived in their cars before ending up on the street and in parks.

After nearly 20 years without seeing each other, both homeless and on drugs, they ran into each other on the streets of their hometown.

"I was like John, is that really you?" Said Smith remembering that moment.

Just like buddies on the baseball field decades earlier they found solace in each other.

"In our case, we came from pretty good backgrounds and we weren't satisfied with that kind of lifestyle, so we wanted to go back to what we found ordinary or normal," said Carlson.

Carlson says there are people who are homeless that don't want help, but for them, the real challenge came in navigating a way out.

"You have the wants to do it, but without the transportation or certain things like that, it makes it really difficult," said Carlson.

This is why Marysville PD launched a program embedding a social worker with law enforcement.

"We go out to the encampments, jails or other places where we're referred and meet with people who are transient or homeless," said Rochelle Long, a social worker embedded with Marysville PD.

Long says as a social worker, she's less intimidating than a police officer.

"I'll say I'm a social worker and they're defense comes down," said Long.

The program works to help homeless people get connected with services available and treatment for those who need it. Long will make appointments for them, provide the transportation and encouragement along the way.

"Yes, there's heartbreak when you see someone relapse but we reassure them we'll start over, said Mike Buell, an officer with the Marysville Police Department.

Back at the Salvation Army, Carlson says this approach worked for him.

"Oh man it's huge. It's hard to do by yourself. Even if it's just baby steps at the beginning, you can see the hope come, said Carlson.

Four days a week, Long and Buell work the streets of Marysville, going into encampments, giving those in need the encouragement to seek help.

"We're going to offer you the help if you're willing to take it but if you don't there's going to be enforcement. So, it works on both sides," said Buell.

Other days, the paid will be at jails, the Salvation Army, parks and other places.

"If you just sit there and talk with them, in their own environment, you'll start to build trust," said Long.

"A lot of people have mixed emotion in our program," said Buell.

A program which gives them new tools to understand the underlying causes and changing demographics.

"There's people who have worked at Boeing, Microsoft, ran department stores, have had pretty big careers who become homeless," said Long.

So far in the first seven months this program has been implemented, about 40 people are no longer living on the streets.

"What makes it worth it, is the folks who have done so well and they've been rocking it and that's what keeps us going," said Buell.

Folks like Smith, who just completed treatment. These two say they are looking forward to rebuilding their lives, one step at a time.

"Personally, I hope other communities will be able to adapt this. It seems to be really helping a lot," said Carlson.

Buell says drugs are usually at the root cause of homeless people they interact with and he says as the drug crisis has grown with opioids and heroin, it has led to more people on the street.