Melania Trump says she has tested negative for COVID-19, reveals son Barron tested positive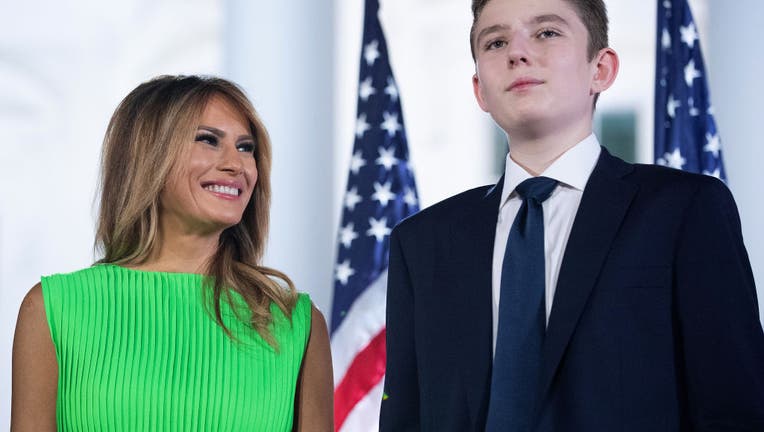 article
WASHINGTON - The first lady of the United States Melania Trump announced that she has tested negative for the coronavirus, revealing that her son, Barron, had tested positive in the wake of her initial COVID-19 diagnosis. 
Melania Trump made the announcement nearly two weeks after a coronavirus outbreak within the White House resulted in several Trump administration officials contracting the illness, including President Donald Trump and the first lady herself. 
Melania Trump posted a testimonial titled, "My personal experience with COVID-19," detailing her experience with the illness that has killed more than 216,000 Americans, according to data from Johns Hopkins University. 
RELATED: After Trump tests positive for coronavirus, test results roll in from White House
"It was two weeks ago when I received the diagnosis that so many Americans across our country and the world had already received—I tested positive for COVID-19," the first lady wrote. "To make matters worse, my husband, and our nation's Commander-in-Chief, received the same news."
Melania Trump said her first thought upon learning of her diagnosis was for her son, Barron, who she said tested positive but showed no symptoms.
"Naturally my mind went immediately to our son. To our great relief he tested negative, but again, as so many parents have thought over the past several months, I couldn't help but think 'what about tomorrow or the next day?'. My fear came true when he was tested again and it came up positive. Luckily he is a strong teenager and exhibited no symptoms. In one way I was glad the three of us went through this at the same time so we could take care of one another and spend time together. He has since tested negative."
She went on to explain that she felt fortunate for experiencing "minimal symptoms" overall, but explained she underwent a "roller coaster" of symptoms in the days after testing positive for the disease.
"I experienced body aches, a cough and headaches, and felt extremely tired most of the time," she wrote. 
President Donald Trump returned to the campaign trail a little more than a week after leaving Walter Reed National Military Medical Center in Maryland where he was admitted on Oct. 2 and treated for the virus. 
The first lady has steered clear of the public eye since her diagnosis. 
"My family is grateful for all of the prayers & support! I am feeling good & will continue to rest at home," the first lady tweeted Oct. 5.
Melania Trump was last seen in public Sept. 29 accompanying the president to Cleveland for his nationally televised debate with Democratic presidential candidate Joe Biden.
Before that trip, she attended a Sept. 26 gathering in the White House Rose Garden that is now believed to have been a "super spreader" event for the virus, according to Dr. Anthony Fauci, the nation's top infectious disease expert. The president introduced Supreme Court nominee Judge Amy Coney Barrett to scores of guests who sat close together, many without face coverings. Several guests later tested positive for COVID-19.
On Monday, a week after leaving the hospital, the president — who has declared himself "immune" to COVID-19, resumed campaigning at a Florida rally. His White House doctor said Trump tested negative for the virus on consecutive days and was no longer considered contagious.
COVID-19 isn't Mrs. Trump's first bout with illness at the White House.
She spent a week at Walter Reed military hospital in May 2018 after undergoing an embolization procedure to treat what her office said was a benign kidney condition. Mrs. Trump convalesced at the White House for nearly a month before she resumed a public schedule.