Memorial service for fallen Seattle Police Officer Lexi Harris at T-Mobile Park
SEATTLE - A memorial to honor the life and service of fallen Seattle Police Officer Alexandra "Lexi" Harris was held Thursday afternoon at T-Mobile Park in Seattle.
The service was open to the public, and you can watch it live at 1 p.m. in the video player below: 
The 38-year-old Seattle Police Department patrol officer was on her way home from work in the early morning hours June 13 when she stopped to help with a multi-car crash on Interstate 5. She was struck and killed by another motorist, and her personal vehicle was stolen from the scene of the crash.
A Seattle man, Roger Lee Owens, Jr., was later charged with felony hit-and-run, theft of a motor vehicle, and unlawful possession of a firearm in the first degree in connection with the theft. 
RELATED: Fallen Seattle officer was 'a real life Wonder Woman'
According to court documents, Owens was driving a U-Haul van involved in the crash that Harris stopped to help with. Owens then reportedly stole Harris' personal vehicle and drove off.
Harris, a five-year veteran of SPD, was off-duty at the time, but her death is classified as "line of duty" due to the circumstances.
"As we prepare to remember Lexi's life, service and sacrifice, I'm reminded of these words: 'Law enforcement officers are never off duty. They are dedicated public servants who are sworn to protect public safety at any time and place that the peace is threatened,'" Seattle Police Chief Adrian Diaz said. "This was certainly true of Lexi."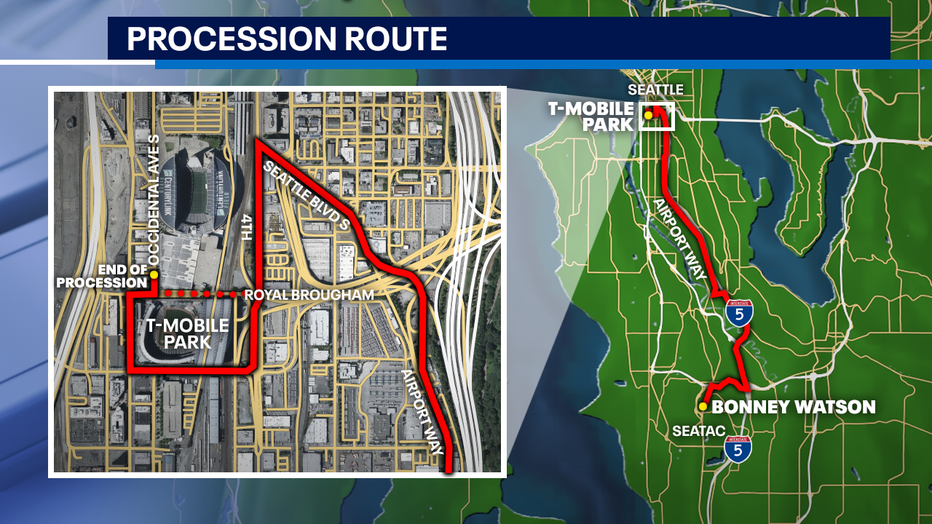 The procession will travel north on Hwy 99, east on Hwy 518, and then north onto I-5. The procession will enter the City of Seattle onto Airport Wy S at the Boeing Access Rd, where it will be joined by police and fire vehicles from around the state and region. The procession will continue northbound on Airport Wy S, passing S Royal Brougham, and will then veer left onto Seattle Blvd S. The procession will then turn left, southbound, onto 4th Av S, to Edgar Martinez Dr S. It will then turn right, westbound, onto Edgar Martinez Dr S, ending at 1st Av S. The public is encouraged to line the route within the city to honor Ofc. Harris and show support for her family. 
Stay connected with Q13 News on all platforms:
DOWNLOAD: Q13 News and Weather Apps
WATCH: Q13 News Live
SUBSCRIBE: Q13 FOX on YouTube
FOLLOW: Facebook | Twitter | Instagram