Metro bus cameras involved in driver shooting malfunctioned


SEATTLE- Steven Ackley is a daily King County Metro commuter.  He says he feels pretty safe, especially when he's on a bus equipped with a surveillance camera.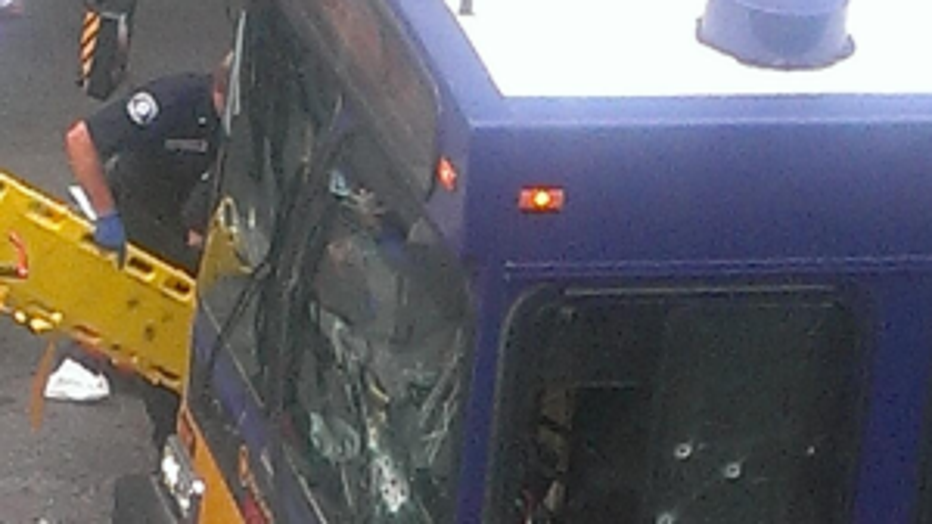 "It gives you a sense of security that if something happens to you there is someone who is going to be held accountable eventually," said Ackley.

On Monday, a violent passenger shot the driver of one bus, then boarded another and was shot and killed by police.  Both buses had cameras and we requested the video, only to find out that due to a technical error it didn't exist.

About 40% of all Metro buses have cameras.  Now the question is are any of them working?

"Otherwise why have them?  They're for people's safety and for record of what occurs on the bus so it's not just he said she said," said one passenger.

Attorney Chris Davis agrees.  He has handled cases against King County Metro before, and says bus cam video is critical evidence.

"There is always inconsistency among the witnesses and so it can be difficult to determine what happened.  When you have a video there is no question what happened.  It can literally make or break a case," said Davis.

Apollo Video Technology, a Bothell company that sold Metro the cameras, told Q13 FOX News it recommended the county update the software every three years and that it has been six years and that maintenance was never done.

"That's a great question and one the county should be answering because obviously they're spending a lot of money to install these cameras; they definitely should be working and receiving regular maintenance," said Davis.

Here is the statement King County Metro sent about this issue:

"On Thursday Metro Transit confirmed that camera systems on the two buses involved in Monday's shooting incident (Routes 27 and 120) failed to produce on-board video. The preliminary finding is that the problem stemmed from a hard drive error in the DVR systems, which prevented them from capturing the video.

"In light of these errors, (King) County Executive (Dow) Constantine directed Metro to conduct an immediate review of the status and maintenance of all on-board security cameras. Meanwhile, Metro will continue to work with police on the ongoing investigation surrounding Monday's incident.

Video system functionality

Metro has used the video system since 2008. Overall, the system has proved to be an invaluable tool leading to numerous arrests over the years based on the images captured.

Over the past 18 months, Metro has downloaded approximately 4,000 video requests from law enforcement agencies and others, including media organizations. These videos have been instrumental in successfully prosecuting suspects and have augmented on-the-ground work performed by King County's Metro Transit deputies and local police units. Currently about 550 coaches are equipped with on-board camera systems representing about 40 percent of Metro's entire bus fleet.  By 2016, approximately 50% of Metro buses, including its new trolley fleet, will be equipped with cameras.

Operational environment

On-board transit video systems are complex and take a daily beating due to heavy bus usage. In this challenging field environment, friction, heat and vibration can all play a role in overall system reliability.  Consequently, systems can go out of service during the course of daily operation.

Next steps

Metro's top priority is the safety and security of its passengers and operators, and after every incident, Metro examines what can be learned and what can be done differently in the future.

In light of these system errors and the direction from the Executive, technicians will check the status of camera equipment on Metro's entire bus fleet. Metro will also work with the vendor to learn more about the factors that can contribute to such errors, such as equipment life cycle and maintenance. Current maintenance procedures call for system checks when technicians routinely retrieve video; Metro now plans to step up video system maintenance and review as part of its standard 6,000-mile coach inspection program.

We also recognize that changes in technology may present opportunities for system improvement. Metro has already begun a test on selected coaches to evaluate  the capability of WIFI technology to remotely monitor the recording status of on-board video systems in real time.  If this technology proves reliable and cost effective, it would enable more rapid identification and repair of faulty equipment."