Not all sunsets, rainbows and unicorns: Seattle photographer moves from pretty to gritty in stunning series


SEATTLE --Photographer Tim Durkan is best known for his iconic shots of the Space Needle in dense fog, ferry boats on Elliott Bay.

But in his new series, tentatively titled "Emerald Stories," Durkan turns his lens to a different Seattle. One filled with overdoses, infections, life literally lived in the gutter. A Seattle that most wish didn't exist, and many pretend doesn't.

"All the pictures you like to see," Durkan explains. "The ferryboats, the unicorns, the Space Needle. The fact is, just underneath those photos, just next to them are the real streets. And I hope these photos shake people long enough, get them thinking. Because Seattle is not all about the rainbows and the sunsets and the veneer."

Durkan's passion and compassion for Seattle has turned his lens from the "pretty" iconic shots and Seattlecana to the "gritty" of the streets. In
conjunction with his ongoing series on The Capitol Hill Blog, titled "Faces of Capitol Hill," Durkan has taken to chronicling street life, its realities dangers and the danger that comes along with it.

Durkan's first video, produced with the help of Raw Love Productions and Joshua Pierce Sound, focuses on three people battling with heroin addiction. A grizzly and gaunt T-Bear, who says his mother first shot him up at 9 years old, tries to drain an abscess the size of a tennis ball on his arm before withdrawals kick in. Puss is filmed leaving the wound in a syringe. The video ends as the cops are called, and T-Bear and a friend are arrested on outstanding warrants.

Everyday life on the streets, Durkan says.

"It's meant to be real," he says. "What you need to understand is for many people, shooting up is as commonplace as getting a cup of coffee."
 
Why these photos, why now?

Durkan has many reasons for changing the direction of his lens. First, he says heroin use, a far too often cause and consequence of life on the streets, is increasing. According to the National Institute on Drug abuse (NIDA), about 669, 000 Americans reported using heroin in 2012. The number of people using heroin for the first time in 2012 was "unacceptably high," the agency reported, nearly double that of the number of people in 2006. Durkan's assertions back up reports that as opiate pain killers become less and less prescribed, and thus more expensive on the street, people are turning to heroin in droves.

"You can get a dime bag for eight bucks," Durkan said. "If you have to look longer than 10 minutes to get heroin up on Broadway, you're not doing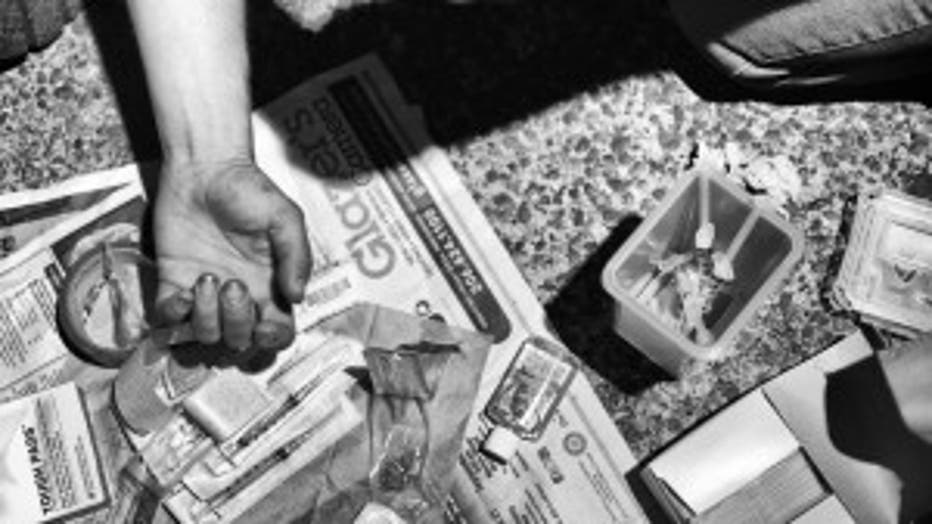 something right."

Photography is documentation, Durkan says, and it was his desire to document this increasing problem, no matter how graphic, how startling the photographs. It is also his desire to accurately document the whole of Seattle, its dichotomy of sparkling buildings and struggling streets.

Born at Maynard Hospital in Seattle in 1966 and living on Capitol Hill, the Seattle lifer says his strong neighborhood connection, love of environment and neighbors demanded he take pictures of those on the streets. These are the people we live aside, Durkan says. It is important they have a voice and are seen, just as the Amazon techies and well-dressed downtowners that have been getting so much press in Seattle's boom.

"So often people walk over them," Durkan says of people living on the streets. "It's important to get them out in front of people, bring to light underlying issues."

Homelessness is as diverse as this city, Durkan says. Drug addiction is not the sole impetus for every homeless person. Neither is mental illness or economic hardship, both which he plans to chronicle. As hard as it is to pin down an umbrella explanation for life on the street, Durkan says a "cure" or a "fix" for the homeless is, too, impossibly complex. It's fallacy to pretend a new photo series will do much of anything to eliminate the hardships.
 

But it's SOMETHING. A step, Durkan says. For exposing the issue, a call for help. Even if, Durkan says, no one sees his series or cares about a particular photograph, he was there, in that subject's life for a moment.  Awareness, and all its arms, is good.

"These stories people can connect with," Durkan says.

Pictures of sparkling Elliott Bay and majestic mountains are important, Durkan says, and he won't stop taking those and posting them to his pages. They are part of Seattle; this town's makeup. The "pretty," Durkan says, to this new series of "gritty." He's just pointing his camera in different directions, now, too. And he's waiting for people to connect.

To see more of Durkan's work, and to follow his "Emerald Story" project, click here. Follow him on Twitter @timdurkan.