Police, firefighters greet 9-year-old girl at crosswalk where she nearly lost her life


RENTON, Wash. -- It's a walk 9-year old Yaretzy and her mom have made hundreds of times, but on Wednesday before they crossed 116th in Renton, troopers shut down the road.

"We're going to greet her as a surprise, welcome her back to school," said Washington State Patrol Trooper Chase Van Cleave. "Help her and her family get safely back to school, and really just make it a memorable day for her."

First the tentative steps into the crosswalk where Yaretzy and her mom nearly lost their lives last April when a driver hit them here as they walked to school.

She broke several bones and has not been back to school since.

Along with state troopers, local police and firefighters who responded to that tragic crash greeted the family with signs and smiles.

"It was terrible. It's mother and daughter. It's the accidents we don't want to see but we do," said Renton firefighter Kayla Eychner. "It's great to see them here today and to see them walking in the same crosswalk."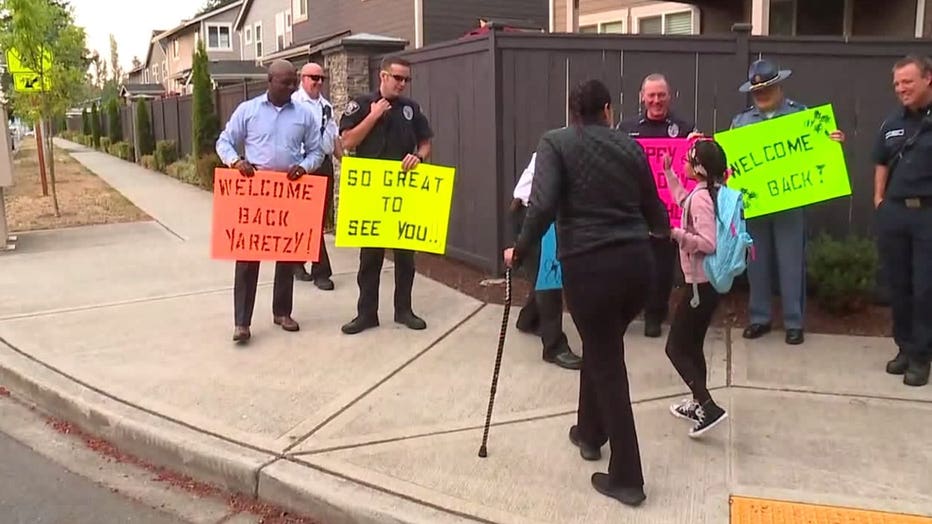 Yaretzy admits she was nervous about crossing the street, but she can't wait to get back to school.

"I missed my friends and my teachers because I don't get to see them that much," said Yaretzy Colis.

They made up for lost time as they entered the campus of Benson Hill Elementary to cheers.

It helped that the first person to greet Yaretzy was her teacher Jessica Leber.

"I'm just so happy to see her again and that she can walk," said Jessica Leber. "It was a really hard time for our class and we were just really worried for her... we're just happy to see that she's made such a great recovery."

"I think a thank you is not enough. It's more than that. All the support I have from the district and people I never met before," Yaretzy's mother Imelda Colis said. "It's really hard to see your kids hurt, but she made it."

To make sure every kid makes it, police say now is the time for all of us to slow down, pay attention to signs and crosswalks so kids, like Yaretzy, can make it to school safe.

"Watch out for people, take care of things and just make sure we're slowing down and being safe for everybody that's on the road," said Trooper Van Cleave.