Scientists tap volunteers to save integral species to Puget Sound ecosystem
STEILACOOM, Wash. - It's a chilly morning as Adam Obaza stepped out of his truck in Steilacoom. 
"It could be worse for diving," said Obaza. "It could be windy."
The cold temps weren't stopping Obaza, or the three divers joining him on a handful of dives around Puget Sound on Wednesday. Obaza, a marine biologist with Paua Marine Research Group, is ping-ponging throughout Puget Sound this week to survey rockfish.
The research is part of a NOAA-funded project, required by a federal recovery plan for both bocaccio and yelloweye rockfish in Puget Sound.
The data, as he explained, can be "noisy." Counting fish can be hard enough, they move and hide, their job Wednesday was even harder—they're searching for young-of-year rockfish, or baby rockfish.
A scuba diver deep beneath the waves in Puget Sound searching for rockfish species as part of a NOAA project. Photo by Adam Obaza.
From: FOX 13 Seattle
"They used to be very abundant," explained Obaza. "They're a species people don't necessarily think about when they think of the Salish Sea, and that's too bad. They can be incredibly important in maintaining the balance of an ecosystem."
In Washington state plenty of people pay attention to salmon recovery and the Southern Resident killer whales. Those with an eye for the science of Puget Sound likely know the concern over eel grass and kelp, but as you move down the list, the concerns become lengthy. By the time you reach the plight of lesser-known species like rockfish, public knowledge tends to fall off.
PREVIOUS COVERAGE: 'Quiet Sound' program offers hope for Southern Resident killer whales
Obaza explains that you need to see the whole picture to protect the ecosystem.
"When you love that predator—rockfish—you have a problem because that can impact foundational species like kelp," he said.
Rockfish play an important role. As a middle-predator, they eat a number of species that feed on kelp and eel grass, at various stages of life they intersect with salmon too. In a nutshell: Puget Sound has a natural cycle. Losing species that play a role can have negative effects on everything else found in that cycle.
Which leads us to Wednesday, a cold day when volunteers and scientists alike squeeze into dry suits and dive up to 100 feet beneath the waves to collect data. Counting baby fish on a spreadsheet may be boring to some, but to those taking part, there's an understanding that this is the first integral step to ensuring rockfish survive.
There has been recovery of rockfish in other locations, in Puget Sound this work helps scientists better understand the conditions that are present when rockfish populations boom, or bust. That information will eventually help guide rockfish recovery.
Perhaps, the most interesting part of the project are the volunteers. The data collection can't be a one-time event. In fact, NOAA is collecting data four times a year, which requires more eyes than Paua Marine Research Group alone.
Citizen scientists have become a big part of tracking rockfish. Washington has a huge population of recreational divers, so scientists regularly tap their knowhow to help with surveys like this.
Joe Drelling, a retiree, has been diving since the 70s. He's met up with the team at several sites this week, and also helped guide them at Sunnyside Beach, where he's logged more than 450 dives over the years.
Drelling told FOX 13 News he loved getting a chance to see new sites. He began working with the team in 2022, and came back for a second year.
"They were going some places I haven't been," said Drelling. "I said, 'That'd be fun to do.'"
On this day, Drelling did not spot any young-of-the-year rockfish, though Obaza said that's not surprising at this time of year in the South Sound. Though, they had better luck in northern sites this week.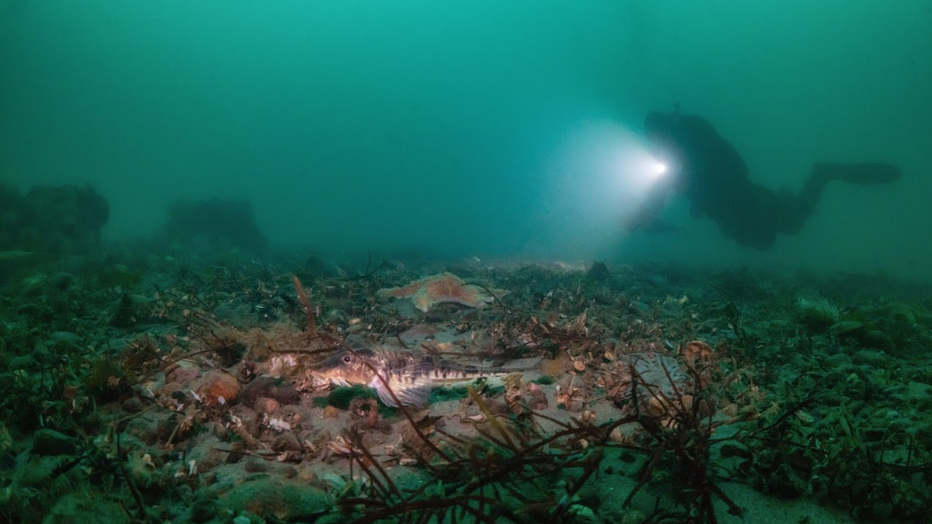 Each location the team dives varies -- some have great visibility, others require lights as conditions can be murky. Photo by Adam Obaza.
"It's a really big area," said Obaza. "So, what's going on in one part of the Salish Sea, may not be going on in the other."
RELATED: Invasive species pose serious threat to Washington state
Get breaking news alerts in the FREE FOX 13 Seattle app. Download for Apple iOS or Android. And sign up for BREAKING NEWS emails delivered straight to your inbox.
Biologists with Paua Marine Research Group will continue to hit other sites this week along with volunteers, there is hope that their data will ultimately give NOAA a better understanding of how these young rockfish "recruit" into the adult population that has struggled.