Thousands of Washingtonians lose unemployment benefits


SEATTLE -- Over the past week unemployment benefits ended for 25,000 Washingtonians who have been out of work longer than six months.  And thousands more will lose them over the next several months if Congress doesn't extend the program.

"I have about a month or two worth of savings," said Brett Ivey, who has been receiving benefits since summer.  "I don't think about beyond that because it's far too stressful."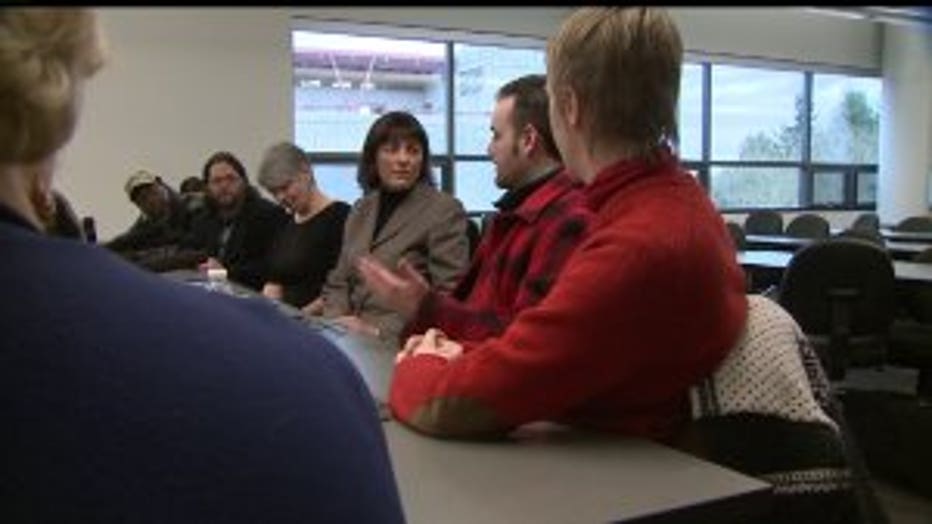 Rep. Suzan DelBene, D-Wash., center, listens Thursday to state residents who have had their federal unemployment benefits cut off.


Democrats say it's one of their highest priorities when Congress reconvenes Monday.  But so far Republicans say no deal, unless the benefit extension, which averages about $300 per week for each beneficiary, is offset by cuts elsewhere in the budget.

On Thurday. Rep. Suzan DelBene, D-Wash., hosted a forum with a number of people whose benefits just ran out.

Ivey, a health care worker who was laid off earlier this year, says he's applied for dozens of jobs, but that the competition is fierce for openings that do exist. 

"Without these benefits I would be probably on the street, you know, no source of income, no way to get by," he said.

Another local resident who just lost her unemployment is Elaine Kim.  She worked in financial services up until last spring, when she was laid off.

"I've worked since I was 13," said Kim, who is 72.  "The system doesn't accommodate people who are going through transitions."

Kim has been applying for jobs ever since she was laid off and has received regular training to keep up her computer skills.  She is thankful that two of her daughters have pitched in financially to help out.

"I'm a little embarrassed, cause you think mom and dad are always going to take care of themselves," Kim said, with tears in her eyes.  "As a country we have to have our people back to work, we really do."

DelBene says she will be pushing for a three-month extension of benefits when members of Congress are back in session.

"That's what this is about," DelBene said.  "Helping people out through a point in time so that they are able to get back to work."

A three-month extension of benefits would cost the federal government $6 billion.