Tree lighting ceremony goes off with no major disruptions


SEATTLE - Holiday festivities kicked off Friday around western Washington.

"The star's lighting up!" exclaimed 8-year-old Claire Correll, watching the Macy's star light up with her siblings at Westlake Center in downtown Seattle for the first time.

Watching with them, their father, Dan Correll says he's aware of safety concerns but it doesn't keep him from making memories with his family.

"Keep them close by, and keep an eye on them, you can't stay inside, you have to get out and live your life and that's what we do," said Correll.

Keeping an eye on the crowd, Seattle police officers were everywhere, on bikes, on foot, high above the crowd on the balcony at Westlake Center and people in the crowd said their presence made them feel safe. Police vehicles were also used to create barricades around Westlake Center blocking cars from accessing areas with crowds.

"I think it's always a concern when you're in a big crowd, but their pretty good about having the police come by especially when there's a Christmas tree lighting, especially holiday stuff, I know emotions run high but I think they've done a good job of making us feel safe out here," said Maddison Newel, who comes to watch the holiday festivity each year.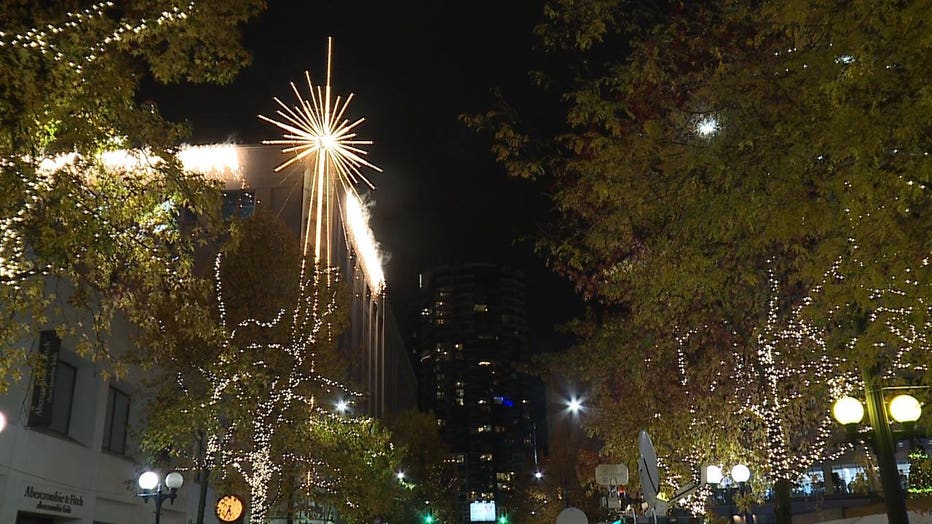 Like in years past, protesters used Black Friday to make their voices heard about various issues. This year, protesters used Black Friday to highlight the Black Lives Matter movement.

"There were protesters blocking the entrance to one of the stores, we worked with them and we were able to get that back open so it wasn't a fire hazard for people inside," said Detective Patrick Michaud with the Seattle Police Department.

SPD says there were no major disruptions this year.

Working with SPD, the Downtown Seattle Association plans this event, months in advance.

"When you have a peaceful protest and a holiday celebration happening concurrently and there are no issues, then that's great. I think I you looked around the crowd you saw a lot of families, a lot of little kids running around, that's what we want the holidays in downtown to be about," said James Sido with the Downtown Seattle Association.

The holidays in downtown may become a new family tradition for the Correll's

"It was awesome, it was really cool, we had a great time tonight," said Correll.

And now that the tree is lit, it's all about what goes under it.

"Presents!" squealed six-year-old Julianna Correll.

SPD says Seattle is a very safe city during the holidays and although they do see a spike in belongings being stolen out of people's cars while they are enjoying events like the lighting ceremony at Westlake, heading to downtown for the holidays is not something people should feel unsafe about.