Woman hit by suspected wrong-way drunk driver dies; State Rep. calls for DUI law change


SEATTLE -- Two people had to be extricated from their vehicles Thursday morning after a high-speed, head-on collision on eastbound State Route 520. A woman who was struck by the suspected wrong-way drunk driver later died from injuries.

Shortly before 5:30 a.m. crews responded to the accident, which happened near the Montlake Boulevard exit. A 25-year-old man , Michael Anthony Robertson, was identified as the driver of a 1996 Ford Explorer who was driving the wrong way. He was conscious when crews arrived, but had to be helped out of his vehicle.

Robertson was arrested for drunk driving on Dec. 15 when he was pulled over with a blood alcohol level of .197. He was slated to appear in Tacoma Municipal Court on April 11. Detectives allege Robertson smelled of alcohol after Thursday's crash. He also allegedly admitted to drinking in Seattle's Capitol Hill neighborhood. He is in police custody.

The driver who was struck was identified as Morgan Williams, 58. She was traveling in a 2003 Mazda Protege. Crews said Williams was alert after being hit, but it took them several minutes to extricate her. Firefighters had to cut off the roof and door of her car and then cut out the dashboard to free her.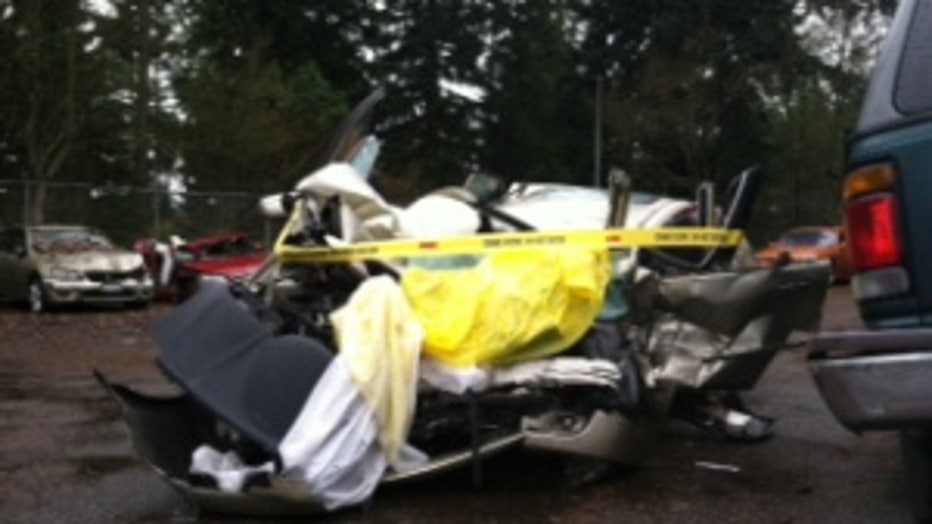 Williams was transported to Harborview Medical Center in critical condition. About 10:30 a.m., the Washington State Patrol confirmed that Williams had died from injuries suffered in the crash.

Williams was driving to work at the time of the crash. A veteran employee at Eddie Bauer, the retailer released the following statement Thursday afternoon:

"We are saddened to learn the news of Morgan Williams' death this morning. She has been with Eddie Bauer for 32 years, and was the manager of accounts payable. She will be greatly missed by her friends and colleagues. We are working to support her family and friends as they receive this difficult news, and send them our deepest sympathies."

Officers said each of the drivers were wearing their seat belts at the time of the collision. The accident closed the eastbound lanes of 520 for a few hours, snarling the morning commute. It also further reiterated urgency behind House Bill 1428, State Legislator Roger Goodman, D-Kirkland said, a bill that would crack down on wrong way DUI drivers.

"Driving the opposite way is an extremely dangerous situation," Goodman said. "We'd be increasing penalties on that as well as reduce the number of misdemeanors it takes to become a felony DUI conviction."

Goodman feels it's time to send a stronger message to drunk drivers with at least three fatal DUI crashes in the last month.

"We're going to be gathering everyone next week to find out what's possible and with a bill pending here in the House we might be able to amend it with even stronger provisions to protect people more on the roadways," Goodman said.