Storm advance to WNBA semifinals with 97-84 victory over Mystics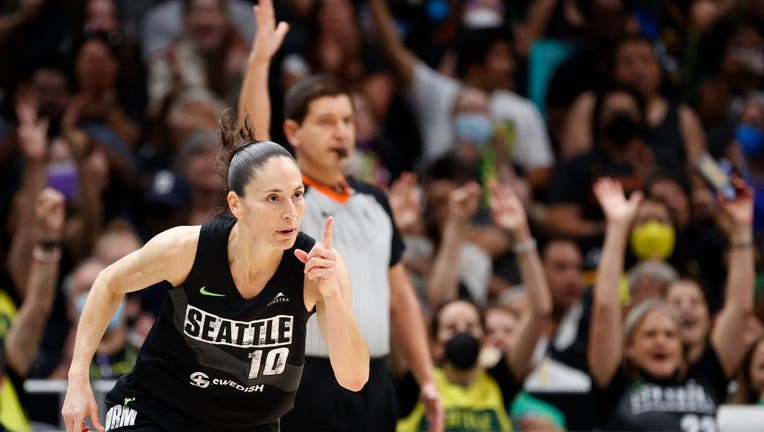 article
SEATTLE - Jewell Loyd, Breanna Stewart and Sue Bird came through with a dominant second half performance to carry the Seattle Storm to a 97-84 victory over the Washington Mystics for a 2-0 series win on Sunday to advance to the WNBA semifinals.
Bird's 3-pointer with 40 seconds left to play put an exclamation on the Seattle victory as the WNBA legend's career will continue through at least one more playoff round.
Stewart's 21 points, 10 rebounds and eight assists carried the way for Seattle. Loyd added 19 points behind 5-of-10 shooting from 3-point distance, and Bird added a double-double as well with 18 points and 10 assists to take Seattle into a meeting with the top-seeded Las Vegas Aces in the semifinals. Both totals were season-highs for Bird.
"Vintage Sue," Storm head coach Noelle Quinn said.
"There's something about these moments that make me understand why she's so great. You see here just keep a different gear mentally and physically. … I've seen it time and time again and it always still impresses me just how she's able to lock in and excel in those moments."
Per Kevin Pelton of ESPN, Bird is the first WNBA to record a double-double in her 40s. Bird turns 42 in October.
The Storm led by as many as 17 in the fourth quarter, 83-66, before Washington made a late run to close the gap. With the lead back down to nine, 88-79, inside the final three minutes, Lloyd would snag a critical rebound that led to a Tina Charles bucket and Bird picked the ball from Natasha Cloud for a breakaway layup to push the lead back to 13, 92-79, with 2:02 left to play.
"That steal just felt like a moment, like this is over," Bird said. 
The Storm raced out to a 27-17 lead at the end of the first quarter behind nine points on three 3-pointers from Bird in the opening frame. Cloud and Ariel Atkins brought Washington back into the game before half. Three-pointers from Delle Donne, Cloud and Alyshya Clark gave the Mystics a 32-31 midway through the quarter.
Loyd dropped a pair of 3-pointers and Gabby Williams added six of her 14 points to keep the Storm level toward the end of the half. After a Cloud 3-pointer tied it at 43-43, Williams basket inside the final 10 seconds of the half gave Seattle a 45-43 edge at the break.  
Bird, Stewart and Stephanie Talbot sparked a 9-0 run to extend the lead back to double-digits at the end of the third quarter. Ezi Magbegor joined Loyd and Stewart in pushing the advantage to its largest of the day just over a minute into the fourth quarter.
The Mystics were the WNBA's best defensive team this season. It didn't appear that way on Sunday as the Storm shot 55.6 percent from the field and racked up 97 points en route to their victory.
"I didn't think our defense was that bad for part of it but every time I looked around, they're knocking down some big shots. That's why they have a chance to win a championship. Their offense is really good," Mystics head coach Mike Thibault said.
Cloud's 21 points led the way for the Mystics. The Storm limited Elena Della Donne to just 12 points on 5-of-14 shooting from the field and kept her scoreless from the 7:02 mark of the second quarter until the 8:50 mark of the fourth quarter.
"As a collective, everyone did really well guarding Elena," Stewart said. "She's tough and she really gets to her spots and can elevate over people and knock down shots and we just wanted to make it hard for her."
Williams left the game in the third quarter with a concussion. Charles added 12 points offensively with five rebounds for Seattle.
"I only have so many games left," Bird said. "… That was definitely in the back of my mind as I entered today. It wasn't some overwhelming motivator. Just kind of a thought as I entered (the day)."
But there was another motivator for Bird and her teammates as well. She said they all had been getting their flight check-in notifications for their trip to Washington over the last two days  for a possible Game 3 in the first round series. It was a trip none of them wanted to make and they'd been focused on avoiding the trip in their group text.
"Simultaneously, none of us wanted to travel. I said it on the court. It's a big part of it. Now we have all this rest, all this time to prepare," Bird said.
Seattle will open the semifinals with the Aces and former University of Washington star Kelsey Plum next Sunday, August 28, in Las Vegas. The first two games and Game 5 are scheduled for Las Vegas. Games 3 and 4 would be in Seattle, if necessary, in the best-of-five series. Bird will get at least one more home game in Seattle.