Takeaways from Seahawks 37-31 overtime victory over Lions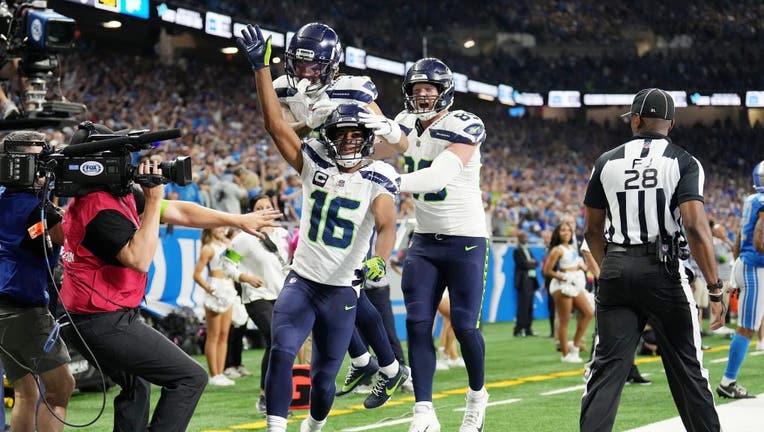 article
After a massive Week 1 dud against the L.A. Rams, the Seattle Seahawks bounced back with a thrilling 37-31 victory over the Detroit Lions in overtime with Tyler Lockett serving as the hero with a 6-yard walk-off touchdown on the opening drive of the extra period.
Despite being just the second game of the year, it was a critical result for Seattle as they look to keep pace in the NFC West with the Rams and San Francisco 49ers.
Geno Smith threw for 328 yards and two touchdowns, Ken Walker III rushed for two scores, and the defense forced three turnovers, which included a 40-yard interception return touchdown by Tre Brown that helped carry Seattle to victory. The Seahawks managed to get the win despite being without both starting tackles Charles Cross and Abe Lucas as well with Stone Forsythe and Jake Curhan stepping up admirably in their place.
It wasn't a flawless performance for the team. Jason Myers missed two field goals that nearly proved disastrous. Smith took a bad 17-yard sack on the final possession of regulation that helped give the Lions a chance to win the game outright, and Seattle's pass rush wasn't much of a factor again until after starting right guard Halapoulivaati Vaitai left with a leg injury.
But it was enough to move to 1-1 on the year and allow the season to get back on track after the frustrations of the opening week.
Here are the takeaways from the win over the Lions:
– Stone Forsythe, Jake Curhan step up in a big way for Seahawks
The storyline of the week for Seattle was the impending absence of Cross and Lucas and how that would impact an offense that only managed 12 yards of offense in the loss to the Rams last week.
Fosythe and Curhan got the nod over new additions Jason Peters, Raiqwon O'Neal and McClendon Curtis to hold down the fort in the interim and played a pretty clean game that allowed the Seahawks to get a much-needed win.
"There's a lot of people that wrote us off because they didn't think that Stone could get it done and Jake could get it done, but they did. They did a phenomenal job today. They held up their end of it stepped up just like we ask guys to do and came through in a huge way," head coach Pete Carroll said.
"They were the first two guys I wanted to see."
Smith was sacked just once in the game and it was the only time he was hit during the contest as well. Seattle did give Forsythe and Curhan some help by using tight ends and running backs to help with chip blocks on the edge. With the quarterback adequately protected, Smith was able to author a big day to carry Seattle to a win.
"That's what we expected from those guys," Smith said. "You know, the funny thing is Jake and Stone, they've both played a lot of games for us and they  stepped up big time and a bunch of games so we know who they are. Also, they're not out there alone. You know, they got other guys out there, nine other guys out there playing with him, and I'm just so happy for those guys to see what they did today. They were a big part of this offense, a big part of the reason why we scored the points we did. And you know, I think they themselves may have silenced some people."
The offensive line didn't create much in the running game. Walker, Zach Charbonnet and DeeJay Dallas combined for just 62 yards rushing on 22 attempts for an average of just 2.8 yards per rush, though Walker was able to find the end zone twice. But the pass protection gave Smith the time he needed to run the offense effectively and Forsythe and Curhan deserve credit for their performances.
– Jason Myers missed field goals are a bit concerning.
Myers missed just three field goal attempts in the entirety of last season. Through two games this year, Myers already has three misses on his resume.
The 54-yard attempt Myers missed at the end of the first half isn't particularly problematic. It's a 50-yard kick that just missed outside the left upright. Those happen throughout a season and are understandable misses.
However, the 39-yard try that clanged off the right upright last week against the Rams, and the 45-yard try that Myers snapped hard left on Sunday in Detroit are uncharacteristic misses that are more difficult to absorb.
It's nothing to be overly concerned about yet. Myers was a perfect six on 50-yard field goal attempts last year. He owns the team record for most consecutive field goals made at 37, the longest field goal in team history at 61 yards, and the longest playoff field goal made at 56 yards, which occurred in last year's playoff game against the 49ers.
Myers signed a four-year extension with the team this offseason. He's not going to be going anywhere. He is undoubtedly the team's kicker. However, three misses in two games is far from ideal.
– Geno Smith shines again at quarterback.
Smith had a strong day carrying Seattle's offense as he showed the form that made him a Pro Bowl selection a season ago.
Smith was efficient once again, completing 32-of-41 pass attempts for 328 yards with a pair of touchdown passes to Lockett on the day. He was 6-of-7 for 69 yards in overtime with the second touchdown pass to Lockett serving as the game-winner.
"Geno had a spectacular day. He had the one crazy sack but other than that he had a spectacular day and leads us down the field in OT to win the game with some great throwing," Carroll said.
Smith completed passes to nine different receivers with DK Metcalf catching six passes for 75 yards on the day, which included a couple key third down receptions. Metcalf battled through a rib injury that happened early in the game to lead the team in receiving yards.
"Very confident that we can go out there and get it done," Smith said. "You know, we've been moving the ball game. Shane was calling a great game. He had been in rhythm. You know, we somewhere found a rhythm somewhere in the second quarter and kind of got rolling, and just felt like we knew the ball was in our hands, we knew the opportunity was there for us to go win it. And that's what you want as an offense and I'm just so proud of the guys and the way we got it done."
– Uchenna Nwosu and Tre Brown come up big for defensive effort.
While the Seattle defense appears to still be firmly a work-in-progress, plays made by Uchenna Nwosu and Tre Brown were vital in getting the Seahawks a road victory on Sunday.
Nwosu forced a fumble from Lions running back David Montgomery on the first play of the third quarter to thwart a chance for Detroit to take control of the game coming out of halftime. Seattle turned that into opportunity into Walker's second touchdown run of the day to tie the game at 14-14.
"It was a really, really big play," linebacker Bobby Wagner said. "I mean, to come out and force a fumble and you know, have the offense come and score, I think it changed the game. It was such a huge play for us and definitely shifted momentum in our way."
Myers had missed a field goal at the end of the half and Detroit got the ball to have a chance to make it a two-score game. Instead, Nwosu's forced fumble gave Seattle a short field and the chance for a counter punch.
Brown then delivered a pick-six of Jared Goff with just over eight minutes left to play that gave Seattle a 10-point lead at 31-21. It snapped a run of 383 consecutive passes without an interception for Goff, which is the third-longest streak in NFL history.
Nwosu factored on this play as well as his rush off the right tackle pressured Goff into throwing quicker than he wanted with the ball coming out behind intended target Jahmyr Gibbs. Brown took the ball back 40 yards for the score.
"I saw it was a condensed formation," Brown said. "[Gibbs] is their scatback guy. They were running a lot of Texas routes, that's where they've got the angle route, in-breaking route. So my safety [Julian Love] put me in a really good call -- smash, Cover 2 basically -- and so all those guys went in, the only person I had was the running back to my side so I knew I was able to squeeze that and I chased that route and then I looked up and next thing I know the ball was in my hands and then I just ran to the races."
Brown came into the game in place of Riq Woolen, who left the contest with a shoulder injury. He took over at right cornerback with rookie cornerback Devon Witherspoon playing on the left side. Brown finished the day with a sack of Goff, an interception, and a forced fumble on Amon-Ra St. Brown on the final play of the first half.
Nwosu's pass rush also led to another sack for Seattle's defense as he forced Goff to step up into Dre'Mont Jones for the second sack of the day for the Seahawks defense.
"We got three turnovers today and like we know, we preach, they come in bunches and today, huge. and Tre's pick-six was such an extraordinary moment for us to get that done. Uchenna's big hit to start the third quarter just to send the signal that we're ready to go. All of those plays. We needed every one of those plays to get this win as close as it was."