Why you MIGHT want to be worried about the Legion of Boom and 4 other things to watch in the Cowboys vs. Seahawks game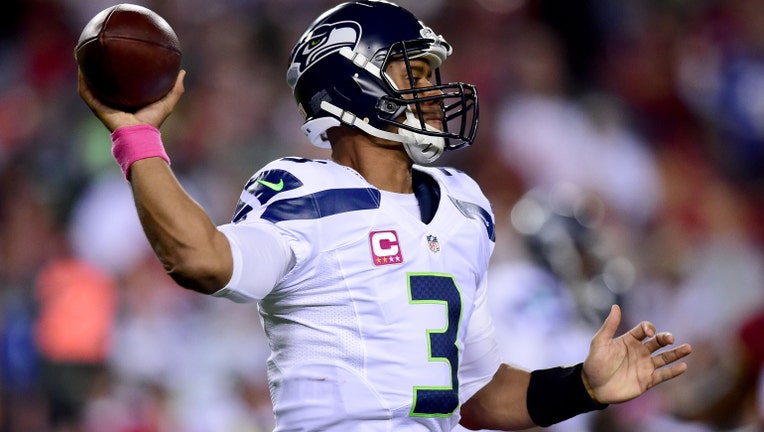 article


SEATTLE -- America's team comes to town Sunday to face the Seattle Seahawks.

Are your rooting allegiances torn, 12s? I mean you love America, with its beef and American made cars. But Tony Romo and Dez Bryant just don't do it for you, right? Oh, the tough choice you face!

We're kidding, of course.

But despite your distaste for the "America's Team" moniker, you're certain to tune into this game at 1:25 p.m. Sunday on Q13 FOX. Mostly because the Hawks are playing at home. Also because you're interested in what a gunslinger like Tony Romo can do at CenturyLink Field with a strong offensive line and an electric runningback. This is no longer the pushover Cowboys we've grown to hate. This is the real deal, and could make for one of the best match-ups of the season.

Coverage starts at 1:20 p.m. on Q13 FOX

5 Things to Watch for in the Cowboys vs. Seahawks game 

5. Russell Wilson -- You were going to watch Number 3, anyway. But watch him. REALLY watch him. He's coming off arguably the best game of his career, where he put the team on his back, going 18-for-24 with two touchdowns and rushing for 122 yards -- a combined record for a quarterback on Monday Night Football.

As 12s, we've known for a long time he's special. But the way he extends plays as the offense collapses around him is truly remarkable, and something that comes along once a decade or so. Watch this man. Now. While he's in his prime.

4. Seahawks Penalties -- Ahhh, the yellow flag. Does anyone else think all those things are slowing down the game to unbearable levels? But I digress... Penalties have plagued the Hawks before. Last year, the Hawks were the league's most penalized team with 152 yellow flags for 1,415 yards; 30 more whistles and 400 more penalized yards than any other team.

While they're not quite most penalized team this season, the Hawks certainly stashed a few away Monday against Washington. The team compiled 13 penalties for 90 yards. Three flags came on three separate Percy Harvin touchdowns. One was a Russell Okung hold so blatant, Art Thiel of Sportpressnw.com joked on 1090 The Fan that Okung nearly married the defender after locking him down for four seconds. Penalty yards are wasted yards. The Seahawks can hardly afford a bevy of wasted yards against a 4-1 Dallas team.

3. DeMarco Murray -- For quite a while, the Cowboys were thought of as a gunslinging kind of offense. But after multiple mediocre seasons, the Cowboys put a premium on drafting strong O-line players and now have arguably the best rushing offensive in the NFL. DeMarco Murray is leading the league with most rushing yards and most attempts, with 670 yards on 130 runs.  A healthy Murray is a tough beast, and by all accounts he's feeling good and the Cowboys are committed to the run. Can the Seahawks front four -- rated the League's best run defense -- stop Murray this week at CenturyLink Field?

2. The Legion of Boom -- After watching Kirk Cousins throw two deep balls to DeSean Jackson Monday night, you start to wonder, "Is the Legion of Boom silenced." Sadly, it's a valid question. The Seahawks rank next to last in interceptions, with just one for the team. They also rank last in balls tipped with only five. Cincinnati is second to last with 12.

Perhaps most stunning, the Seahawks rank 21st in Opponent Passing Yards Per game, coming in just behind Buffalo. That's right, the Legion of Boom is beat by the Legion of Buffalo. Can Earl Thomas, Richard Sherman and others rise from a mediocre season back to dominance? We'll find out against Tony Romo's arm.

1. Offensive Line -- Every 12 hater across the nation only needs to utter one sentence when trying to emphasize the hurdles the Hawks face in repeating a championship-- "What about the Seahawks offensive line?"

Despite what O-Line coach Tom Cable has to say, the Seahawks offensive line is not playing at a really high level. The O-Line had seven penalties last week. Russell Okung has a hurt foot, and looks outmatched. Max Unger has a strained foot. Zach Miller, an excellent pass blocker, is out. Russell Wilson is running for his life. Though numbers like sacks allowed and rushing yards per game look good, it doesn't take an expert to see that Wilson is taking hits to get the ball out of his hand. Can the Seahawks function with this O-Line? Yes. But is it stellar? No. Lets hope they get it together before Wilson takes a hit he can't get up from.

Bonus thing to Watch: All the shots of Cowboys owner Jerry Jones in the visiting team's owners box.