18,000 acres burned so far by Mills Canyon Fire; new blaze erupts west of Lake Chelan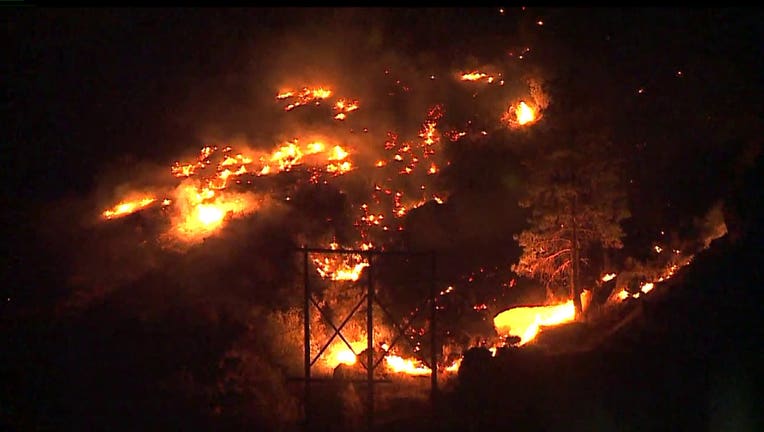 article


CHELAN COUNTY -- The Mills Canyon Fire near Entiat, Wash., has burned an estimated 18,000 acres and was still going strong Thursday night. Meanwhile, a new blaze erupted just west of Lake Chelan and forced the mandatory evacuation of 25 homes.

The Mills Canyon Fire, which is about 2 miles west of Entiat, is zero percent contained and had forced people to leave 109 homes or structures along U.S. Route 97A with mandatory Level 3 evacuations. That was reduced to a Level 1 alert Thursday.

A Level 3 mandatory evacuation was ordered Thursday afternoon for Roaring Creek Road for 14 structures. Highway 97A is open to all traffic, after being closed Wednesday night. Approximately 122 structures are at a Level 2 "be ready" for evacuation measure on Entiat River Road between Mile Post 1.5 and Roaring Creek Road.

There are more than 450 firefighters battling the blaze. A half-dozen helicopters and three air tankers are attacking the fire from above, while at least 250 firefighters and 15  fire engines fought the flames on the ground.



A Red Flag Wind warning Wednesday caused the blaze to spread from around 5,500 acres. A Red Flag warning means critical weather conditions for fires such as high winds, low humidity and warm temperatures contribute to extreme fire behavior and the spread of fire.

As well as people, herds of sheep were endangered by the fire and were being moved out of the area. Local fruit orchards also saw some damage from the suppression activities.

"Fire behavior has increased significantly since the (Thursday) afternoon report, with winds pushing the fire east to the Columbia River and south to Spencer Canyon," the Incident Information System said on its website. "Fuels burning are mostly dead grass, brush and tree plantations to the west"



The Mills Canyon Fire started near the city of Entiat on Tuesday, July 8. Despite the efforts of local resources, the fire quickly grew to over 1,000 acres by that evening. Three outbuildings were damaged. The cause of the fire is under investigation by the Washington Department of Natural Resources.

Meanwhile, the state Department of Natural Resources said a new wildfire dubbed the 25 Mile Fire had started on the west side of Lake Chelan. It had burned about 350 acres so far, the department said.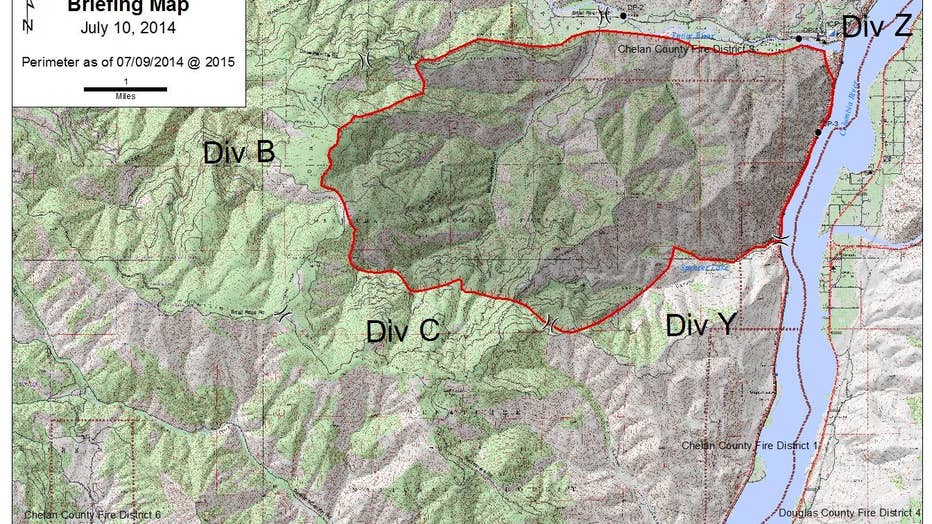 The perimeter of the Canyon Mills Fire in Chelan County. (Image: Inciweb.nwcg.gov)