2 stranded snowmobilers rescued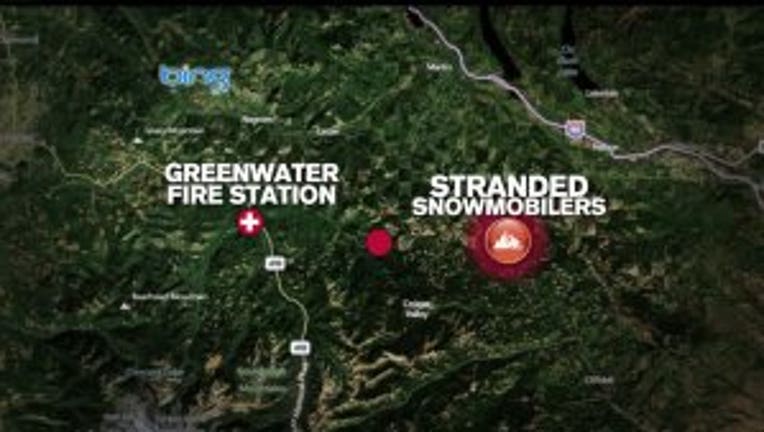 article
GREENWATER, Wash. -- Rescuers  reached two stranded snowmobilers in heavy snow in the Snoqualmie National Forest and brought them to safety Tuesday morning.

The King County Sheriff's Office said the two -- Glenn Markovitz, 44, and Renee Bennette, 41 -- were stranded between Blowout Mountain and Twin Camps in the Snoqualmie National Forest, which is near the Crystal Mountain ski resort.



[trib_ndn vid=24490870 site_section=dash]

Monday night, one rescue crew was about 1 mile from the couple's location, the sheriff's office said, but conditions worsened with heavy snow and strong winds. Worse, Bennette was "apparently showing signs of hypothermia setting in," the sheriff's office said.

The trouble began Sunday when the couple was on the way back to their truck near State Route 410 east of Enumclaw and "weather conditions became so bad that hey decided to shelter in place," the office said. "They stayed the night on the mountain in a snow cave they built.

"Monday morning, (Markovits) was able to walk out far enough to find a cell signal and he contacted his daughter," who then contacted the sheriff's office, the statement said. "He was able to provide his GPS coordinates."

Greenwater Fire Department spokesman Peter Linde said after Markovits called his daughter, he then hiked back to the shelter to rejoin Bennette. The couple did have extra clothing, food and water.

"We would have had to cross areas where we just couldn't -- it was very steep, windy, visibility zero -- when you are trying to maneuver a 500-pound machine in those conditions, it's really tough, especially when it's night," Markovits said.

The sheriff's office said about 40 volunteers in the field worked their way on snowshoes, snowmobiles and snow cats.