$2,000 reward offered after family's cat shot with arrows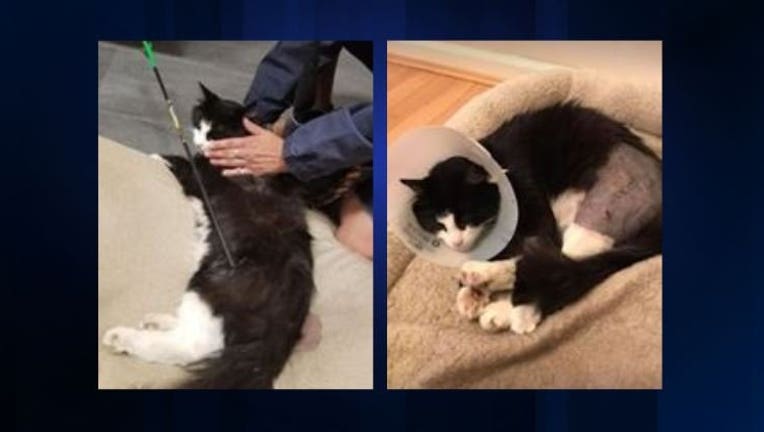 article
LAKE STEVENS, Wash. -- Lake Stevens police are looking for someone they say shot two arrows through a family's cat and then left it to bleed out.

A Lake Stevens family says their cat went missing on Saturday, July 7th. The 1-year-old cat named Hunter Moon, had access to both the inside and outside of the house, Tina Mercer said.

Mercer is the cat's owner. She says when Hunter Moon did not return, she started to worry.

"He always comes when you call, and the fact that he hadn't, I knew something wasn't right," said Mercer.

Mercer said when her son told her Hunter Moon had returned home, she was excited, but the excitement did not last long.




"I thought it must have been some sort of accident," said Mercer. "I realized it was not an accident, and my little Hunter had been hunted," she added.

The one-year-old cat had an arrow sticking out of its leg. Mercer raced her pet to the vet to try and save its life.

"It's disturbing and concerning people feel fearful for their own pet safety," said Officer Cindy Brooks.

Brooks works with the Lake Stevens Police Department.

She is trying to find the person that shot an arrow through a family's cat and then left it to limp away

"As a pet owner and pet lover, I'm horrified to see it in that condition," said Brooks.

Thursday, the Mercer family was happy to bring Hunter back to their home from the vet. They hope sharing this story will make people aware, and possibly find the person who did this.

Pasado's Safe Haven, joined by Washington's Most Wanted host David Rose is offering a $2,000 reward for tips leading to a conviction.

If you have any information on this case please call either 425-334-9537 or 206-300-7218.