3rd teen arrested in death of 'Tuba Man'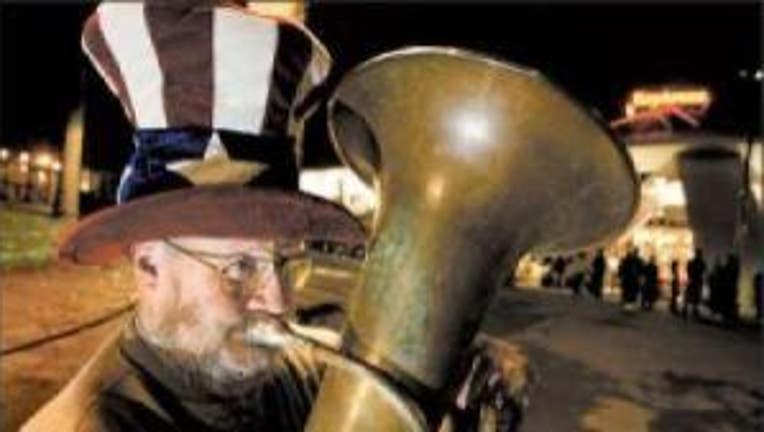 article
SEATTLE -- On Nov. 7, 2008, Seattle police arrested a third suspect connected with the homicide investigation involving the death of 53-year-old Ed "the Tuba Man" McMichael.

Police say McMichael was beaten and robbed by a group of juveniles on Oct. 25, 2008, near 5th Avenue and Mercer Street in lower Queen Anne.  He was treated at Harborview Medical Center and later went home. Early Monday, McMichael passed away after suffering head injuries. The King County Medical Examiner has ruled his death a homicide.

The suspect is a 15-year-old boy who was arrested yesterday in Seattle.  He was booked into the Youth Services Center for investigation of homicide. Detectives are still seeking additional suspects.

Meanwhile, Seattle sports and music fans continue to mourn for an iconic figure who loved to play his tuba outside Seahawks, Mariners, and Sonics games.

At McMichael's favorite eating spot, Zeek's Pizza on Denny, workers like Sarah Sutton have been grieving for their favorite customer.

"I've totally been balling all day yesterday," said Sutton.

Sutton started a memorial for McMichael, where employees and customers can sign a picture in remembrance of "Tuba Man."

Manager Daniel Branca says he knew something wasn't right with McMichael when he came in for Pizza this past weekend.

"Talk to me, how are you? He looked fine physically but his demeanor was much lower that he usually was. He kept grabbing his face like this," said Branca.

Other Zeek's employees like Trisha Thompson say she'll remember the joy that McMichael brought to the restaurant.

"Everybody is really upset. He was here every single day, every day he had a joke, or a big smile," said Thompson.

For years McMichael played his tuba outside Qwest and Safeco Fields, Key Arena and McCaw Hall. His fans would drop him a bit of money on their way in, or out of a music or sporting event.

McMichael lived at the Vermont Inn. Friend Rony Chesvick called "The Tuba Man" one of a kind.

"He was unique, he was his own person. He was doing the thing that he loved and enjoyed what he did, enjoyed life, enjoyed people," said Chesvick.