After high lead levels found, Tacoma Water says up to 1,700 lead gooseneck pipes may still exist in city


TACOMA, Wash. -- Concern is growing about lead in the Tacoma city water system.

At first tests showed only a handful of customers had high lead levels. But now the city now worries hundreds more could also have the same problem.

"My granddaughter drinks this water," said homeowner Keri Pulley.

Pulley worries that her 17-month-old granddaughter Kora could have been unknowingly drinking lead-contaminated water since birth.

"How lovely would that be if her grandmother has been feeding her lead?" she asked rhetorically.

Pulley's home might be one of hundreds that the  water utility worries could have high levels of toxic lead.

"I don't want to be one of the people that puts my trust in the system and find out too late that's it's causing problems," she said.

Tacoma Water said tests found high levels of lead in gooseneck water pipes providing service to four homes nearby Lincoln High School.

The samples showed more than 100 lead parts per billion; with the worst testing at 400 lead parts per billion. The Environmental Protection Agency insists anything over 15 parts per billion is a concern.

Late Thursday afternoon, Tacoma Water estimated that up to 1,700 lead gooseneck pipes may still exist in its service area.

"Providing safe water is very important to us. Tacoma Water is working on a plan to pay for water testing at the homes and businesses where lead goosenecks are suspected," said Tacoma Public Utility Board Chairman Bryan Flint. "The plan and schedule for testing may take some time, so we appreciate customer patience as we work through the details. Between now and then, those who may have lead goosenecks should continue to flush their water."

Tacoma Mayor Marilyn Strickland said, "Tacoma Water is taking a proactive and transparent approach to this potential lead issue. We learned today that none of the schools in the Tacoma School District are connected to the system with lead goosenecks. We will share information regarding other locations that serve vulnerable populations as it comes in."

Homeowner Steven Barbee was furious to learn his supply could be contaminated.

"You take care of yourself and then you find out the city is poisoning you," he said.

Tacoma city officials believe the contamination might be coming from galvanized pipes, or something called a gooseneck pipe, which are used to funnel water from the mainline into a customer's water meter.

At Spectra Labs, technicians are already taking orders from Tacoma homeowners. Spectra is one of two local labs that are allowed to test water samples from the public.

"Phones have been ringing off the hook," said lab manager Steve Hibbs.

But Pulley wants to know when the city of Tacoma can say for certain that her drinking water is safe.

"If there is lead in our water, I see that as a problem," she said. "Let's put it together, get to the root of it and get it fixed."

Tacoma Water said in a news release it "has been working to identify locations of lead goosenecks that may still exist in its water system. As part of that, the utility conducted special sampling at four customers' homes and found unexpected levels of lead.

"Tacoma Water currently estimates that up to 1,700 lead goosenecks may still exist in the area it serves. The utility has combed through its records, many of which are more than 100 years old, to identify houses and businesses that may have lead goosenecks – short sections of pipe that connects the galvanized service pipe to the water main."

A map, which is available at bit.ly/gnlocations, shows the areas where lead goosenecks may exist. People served by Tacoma Water can visit that web page to learn whether their home or business might have a lead gooseneck, and to request further information or testing if appropriate.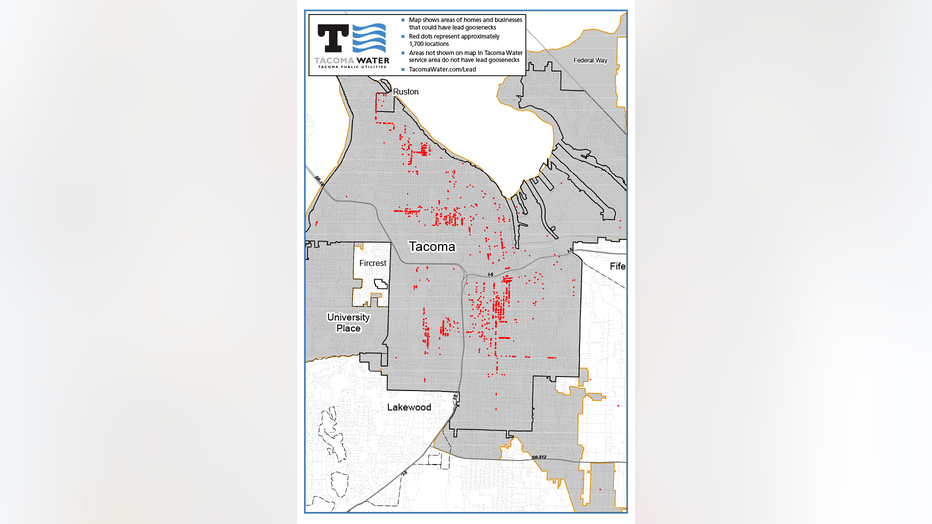 Customers not identified as having potential lead goosenecks should still consider flushing their water after long periods without use.

To flush pipes at home or at a business, people should:


Customers who want more detailed information should visit TacomaWater.com/Lead or call (253) 502-8207 or (253) 502-8384.