After Pennsylvania school stabbing, authorities and community ask: 'Why?'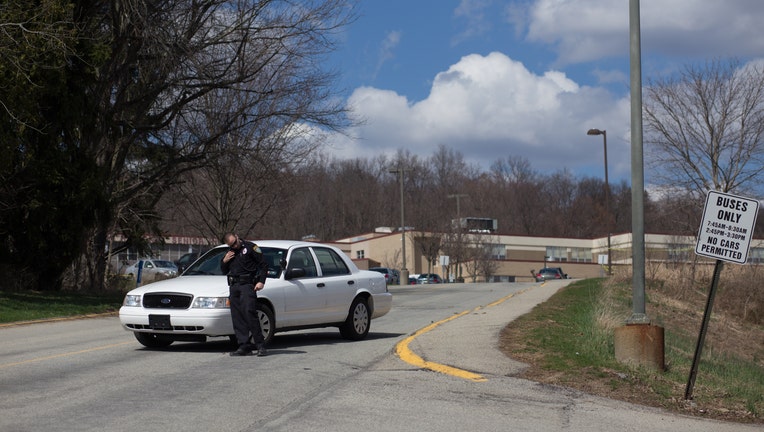 article


MURRYSVILLE, Pennsylvania (CNN) -- A day after a Pennsylvania student rampaged through his high school's hallways, stabbing wildly with two kitchen knives, hints of a motive remain elusive.

Who is 16-year-old Alex Hribal, and what troubled him?

Hribal was charged as an adult and faces four counts of attempted homicide and 21 counts of aggravated assault related to the 21 people he allegedly wounded.

Some classmates at Franklin Regional Senior High School describe him as having few friends and being quiet, but also as a "really nice kid."

"This is not a dysfunctional family," Hribal's lawyer, Patrick Thomassey, told CNN on Thursday. "They're like the Brady Bunch. These parents are active with their two sons, and we're trying to figure out what happened."

Murrysville Police Chief Tom Seefeld said investigators haven't yet made sense of the mass stabbing, either.

"We believe, through the investigation, that this was random," he told CNN's "New Day." "We don't have anybody that was targeted, as far as we know at this point."

The man who stopped the attacker by tackling him is a 60-year-old assistant principal. The administrator, Samuel King, and Hribal are neighbors, living only two houses from each other on the same street. So what led to them coming face to face, not on Sunflower Court, but in the chaos of a nightmarish attack?
One thread that police are looking into is the possibility that there was a phone threat the night before, Seefeld said. But there was no immediate evidence found to confirm that such a call was made.

The FBI has seized electronics belonging to Hribal, including a computer and cell phone, and will analyze them for any clues, the police chief said.

'Happened so fast'

A doctor who treated six of the victims, primarily teens, said at first they didn't know they had been stabbed.

"They just felt pain and noticed they were bleeding," said Dr. Timothy VanFleet, chief of emergency medicine at the University of Pittsburgh Medical Center.

"Almost all of them said they didn't see anyone coming at them. It apparently was a crowded hallway and they were going about their business, and then just felt pain and started bleeding."

One of the victims, Brett Hurt, told reporters Thursday that all he noticed was that a "kid" ran by and hit him on the back.

A friend who was with him started screaming.

"I didn't really know what was going on at the time," Hurt said. "It was all kind of a blur."

As the attacker continued to charge down the crowded hallway, Hurt began to wonder if he was going to survive or die.

Speaking from the hospital, Hurt said he suffered a stab wound in the back and a bruised lung. He expected to be released as early as Thursday.

He reflected on whether Hribal would have chosen the path he did if he had more friends or a better support group.

"I feel he has some issues he has to work out," Hurt said.

Hurt's mother said everyone must ask themselves what alienated the suspect so much that he allegedly committed an act like this.

Another student at the school who witnessed the attack said the attacker didn't utter a word.

"He was very quiet. He just was kind of doing it," Mia Meixner said. "And he had this, like, look on his face that he was just crazy and he was just running around, just stabbing whoever was in his way."

Hribal wounded 20 students and a security officer before the assistant principal tackled him, authorities said.

A soundtrack of chaos

Murrysville, with a population of about 20,000, is a quiet middle-class enclave roughly 20 miles east of Pittsburgh on U.S. Route 22.

"We are so small compared to other communities," said Paula Fisher, who left Pittsburgh to move to Murrysville almost 20 years ago. "I came out here purposely to raise my children in a school district that we felt was safe as well as academically sound."

Recordings of emergency calls released after the attack provide a soundtrack of sorts to the terror and chaos that played out inside the school.

"I don't know what I got going down at school here, but I need some units here ASAP," one officer can be heard saying.

Minutes later, in another call, another official breathlessly details casualties: "About 14 patients right now."

Then another call for help. "Be advised inside the school we have multiple stab victims," one of the officers said. "So bring in EMS from wherever you can get them."

Hoodies as tourniquets

Students standing outside the school heard its fire alarm go off.

That probably helped get more people out of the building during an evacuation order, Seefeld said.

Students were running everywhere, and there was "chaos and panic," he said.

Student Matt DeCesare saw two students come out of the school covered in blood.

Then he saw teachers running into the building and pulling "a couple of more students out," he said. They had also been stabbed.

To stanch the bleeding, the teachers asked the students for their hoodies.

"We all took our hoodies off and handed them to the teachers to use as tourniquets to stop the bleeding," DeCesare said.

On Thursday, Seefeld praised faculty members for their reaction. Police meet with them often, he said, and the school has plans in place to react to violence.

"It all came together," he said.

Investigators have finished collecting evidence in the school, he said. "The crime scene was quite bloody." About 50 officers from the FBI and local law enforcement agencies worked on the case, he said.

'I'm not sure he knows what he did'

Hribal couldn't seem more normal, the way his lawyer describes him.

"I heard these rumors about being bullied. I don't believe that's true," Thomassey said. "I'm sure that at a certain point, we'll find out what caused this. Maybe there is something that was going on at school that I'm not aware of yet or his parents aren't aware of yet."

The young man also did not seem to embody the cliche of digitally connected youth.

According to Dan Stevens, the county deputy emergency management coordinator, Hribal had a very minor Facebook presence and didn't have much experience on Twitter.

Thomassey said he would file a motion to move the case to juvenile court. And he wants a psychiatrist to evaluate his client.

"I'm not sure he knows what he did, quite frankly," Thomassey said, adding that Hribal feels remorse. "He's scared. He's a young kid."

Westmoreland County District Attorney John Peck argued against bail, saying that there could be no conditions that would protect the community and that Hribal made "statements when subdued by officials that he wanted to die."

Hribal is being held without bail at the Westmoreland County juvenile detention center. He was treated for injuries to his hands, police said.

One victim 'eviscerated'

The students who were hurt range in age from 14 to 17, emergency coordinator Stevens said. The injuries were stabbing-related, such as lacerations or punctures.

Four victims were in critical condition Wednesday, including one who was "eviscerated" and may not survive, Peck said.

The school said that half a dozen prayer vigils were held overnight, and counseling services were being arranged for students.