Bill Cosby facing litany of allegations spanning decades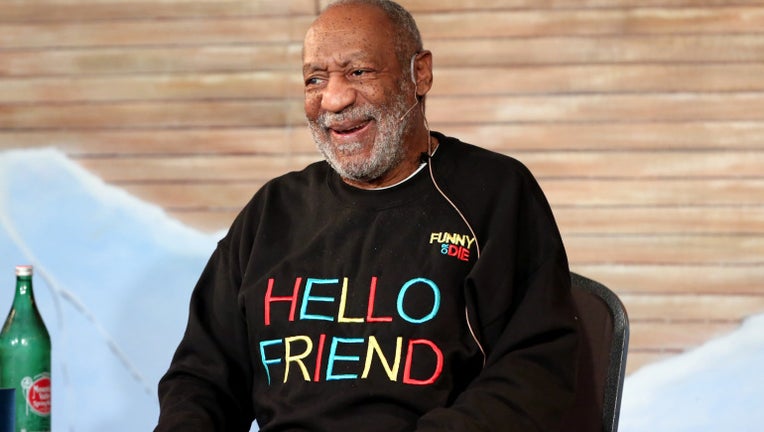 article


NEW YORK -- It seems lately as if every day brings another allegation that further dismantles Bill Cosby's image as the jovial, pudding-loving patriarch whose family-friendly brand of comedy tickled successive generations.

Though the star has vehemently denied most of the accusations that he drugged and sexually assaulted young women seeking career guidance, the stories are taking their toll on his reputation and bankroll.
The stories of Cosby's purported misdeeds have been around for about a decade, but they recently were given new life when a comedian took aim at Cosby and a social media stunt inviting fans to meme the comic went awry.
Cosby shoots a story down, and another surfaces, and while the 77-year-old comic has never been convicted, let alone faced a judge and jury, over the allegations, it's clear many people have already tried him in their minds.
When an NPR reporter gave him a chance to deny the allegations, he provided an awkward moment of radio silence, refusing to answer the question. Given the same chance by The Associated Press, he offered no comment. When the interview concluded, he told a reporter that asking him about the allegations was a mark of low integrity and said he'd be appreciative it if that portion of the interview was "scuttled."
Here's a rundown of the events altering Cosby's image:
Andrea Constand
In January 2004, Constand, then a 31-year-old staffer for the women's basketball team at Temple University, Cosby's alma mater, was at the comedian's Cheltenham, Pennsylvania, home when Cosby provided her medication that made her dizzy, she alleged the following year.
She later woke up to find her bra undone and her clothes in disarray, she further alleged to police in her home province of Ontario, Canada, in January 2005.
Though his attorney initially called Constand's claim "utterly preposterous" and no charges were filed, Cosby settled a civil suit with Constand that alleged 13 Jane Does had similar stories of sexual abuse.
When Cosby attorney John Schmitt this week sent out a blanket denial of several allegations that have cropped up recently, he later amended his denial to say he wasn't referring to Constand, who resolved her differences "to the mutual satisfaction of Mr. Cosby and Ms. Constand years ago."
On Wednesday, ex-prosecutor Bruce Castor told CNN he felt Cosby was "lying " and "evasive" during his 2005 interrogation surrounding the Constand case, but he didn't have enough evidence to take it to trial because Constand waited so long to file a complaint.
"I had a theory that Cosby had drugged the woman using something to make her sleepy and to make her defenseless or unable to recall what happened, but because of the delay, I couldn't check her blood," he said.
Joan Tarshis
Tarshis was a 19-year-old actress in 1969 when, she says,she met Cosby in Los Angeles. The two became friendly. One night after taping his sitcom, he invited her back to his bungalow and fixed her a "redeye" (a Bloody Mary topped with beer), she alleged this month.
"The next thing I remember was coming to on his couch while being undressed," she told Hollywood Elsewhere. "I was sickened by what was happening to me and shocked that this man I had idolized was now raping me. Of course I told no one."
It was the first of two similar incidents, said Tarshis, who is now a journalist and publicist.
Tamara Green
In 1970, attorney Green was an aspiring model in her early 20s. At a working lunch with Cosby and others, she was suffering from the flu and Cosby "went into some sort of office area at the back of the restaurant and he produced two capsules in his hand," she told Matt Lauer of the "Today Show." At first, they made her feel "great" and then left her "almost literally face down on the table of this restaurant."
Cosby took her to her apartment and started "groping me and kissing me and touching me and handling me and you know, taking off my clothes," Green said. After telling Cosby "that if he didn't kill me and he tried to rape me, it was going to go very badly," he left two $100 bills on her coffee table and left, she said in her 2005 allegation.
A lawyer for Cosby told the show, "Miss Green's allegations are absolutely false. Mr. Cosby does not know the name Tamara Green or (maiden name) Tamara Lucier, and the incident she describes did not happen.
Janice Dickinson
Cosby was a familiar face in 1982, not only for his comedy, but also for his Jell-O and Coca-Cola commercials. Dickinson was a supermodel in her late 20s.
Dickinson alleged this week that she and Cosby had dinner in Lake Tahoe, Nevada, and he gave her a glass of red wine and a pill she believed was for menstrual cramps.
"The last thing I remember was Bill Cosby in a patchwork robe, dropping his robe and getting on top of me. And I remember a lot of pain," she told "Entertainment Tonight."
Cosby's attorney, Martin Singer, said in a statment that Dickinson's allegation was a "fabricated lie" that contradicted what she wrote in her autobiography and what she said during a 2002 New York Observer interview.
Beth Ferrier
Ferrier told media outlets in 2005 that she met Cosby in Denver in the mid-'80s. He mentored her for a time, but one night, she said, he gave her a drugged cappuccino.
"I woke up in my car in the parking lot with my clothes all a mess," she said. "I wondered, I still wonder, 'What did he do with me? Why was my bra unhooked?' "
The two later conducted an "on-and-off consensual affair" that lasted several years, she alleged to People magazine.
"He kept luring me in," Ferrier told the magazine. "I felt like I couldn't say no."
At the time, Cosby's publicist told People that he had no comment.
Barbara Bowman
In 1985, when Cosby was starring in his eponymous No. 1 TV show as a doting, wisecracking dad and doctor, Bowman, a 17-year-old model and actress, met Cosby in Denver. She came forward with her allegations in 2006 and recently wrote a column in The Washington Post questioning why no one listened to her the first time.
According to Bowman's account, Cosby visited her numerous times, giving her acting lessons and "flying me around to major cities to events," she told Newsweek. After she turned 18, Cosby "assaulted (me) a number of times." In an incident in New York, Bowman "had one glass of wine and then I blacked out. I woke up throwing up in the toilet. ... I was wearing a white T-shirt that wasn't mine, and he was in a white robe."
In an incident in Atlantic City, an angry Cosby "got on top of me and started taking his pants off and I was screaming and crying and begging him to leave me alone and I fought so hard and I was screaming so loud that he got mad and threw me aside and got away from me, and that was it."
The Cosby camp replied, "Over the last several weeks, decade-old, discredited allegations against Mr. Cosby have resurfaced. The fact that they are being repeated does not make them true. Mr. Cosby does not intend to dignify these allegations with any comment."
And here is a rundown of how the allegations are affecting his career:
Netflix
On the Netflix website, it still lists the availability of "Bill Cosby 77" as"coming soon." However, the streaming and DVD service announced this week that the stand-up comedy special, filmed before a live audience in July, will not premiere the day after Thanksgiving as planned.
The company did not elaborate, issuing a statement that said only, "At this time we are postponing the launch of the new stand up comedy special 'Bill Cosby 77.'"
A Netflix spokeswoman declined to comment further.
NBC
NBC has also decided against moving forward with its own Cosby project.
The network said Wednesday that it has opted to stop developing the comedy show, which was billed this summer as a "classic, big extended-family sitcom" revolving around Cosby.
"We can confirm that the Cosby project is no longer in development," NBC said.
The network had no further comment.
TV Land
TV Land, one of the networks that have reruns of "The Cosby Show" in their lineups, quietly removed the sitcom from its programming schedule Wednesday.
TV Land also deleted the "Cosby Show" page from its website.
The channel did not respond to requests for comment about the disappearance of the show.