Bring on the cake: France's baby panda has his 1st birthday
PARIS  — France's first baby panda celebrated his first birthday Saturday with a cake of bamboo, honey, apples, oranges, strawberries and lemons.

The panda named Yuan Meng — which means "accomplishment of a dream" — weighs about 30 kilograms (66 pounds). He has recently started eating bamboo while still suckling milk from his mother, Huan Huan.

For the occasion, Saturday, the Beauval Zoo south of Paris was open for free to all visitors born on Aug. 4.

Yuan Meng's mother and father Yuan Zi are at Beauval on a 10-year loan from China aimed at highlighting its good ties with France.

Other nations in Europe also have giant pandas, including Austria, Britain, Belgium, Germany, the Netherlands, Spain and Finland.

French first lady Brigitte Macron, considered the panda's "godmother," did not attend Saturday's celebration. She has already gone to see the baby panda twice.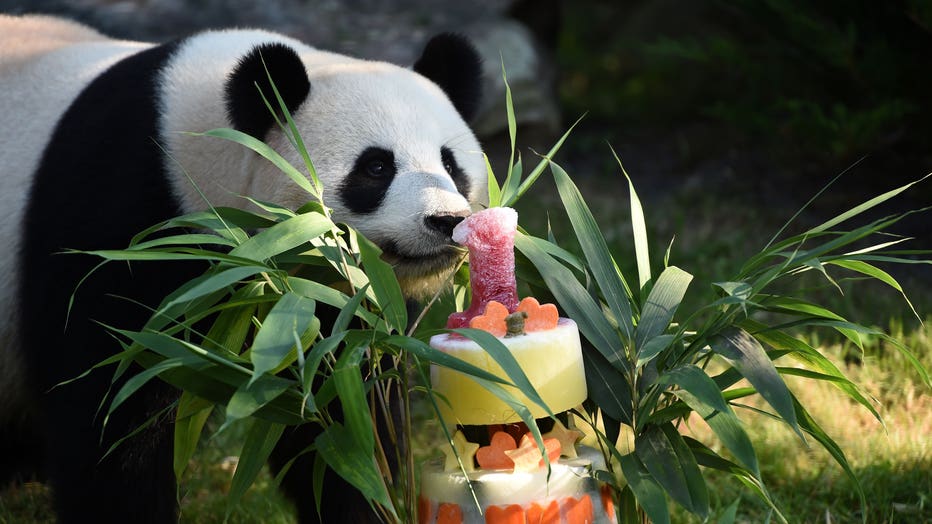 Panda Huan Huan samples the birthday cake of her cub Yuan Meng inside their enclosure at The Beauval Zoo in Saint-Aignan-sur-Cher, central France on August 4, 2018. (Guillaume Souvant/AFP/Getty Images)