Burien Police seize more than 40,000 fentanyl-laced tablets during arrest
BURIEN, Wash. - Burien Police detectives seized 41,530 fentanyl-laced tablets in an arrest Tuesday.
The department is contracted through the King County Sheriff's Office. Sgt. Tim Meyer, public information officer, said getting the pills off the streets helps save lives.
"But we know those pills will keep coming," said Meyer. "Fentanyl is such a challenge right now because these pills are so often disguised— whether it be through the imprint or through their color, they may look like pharmaceutical grade pills."
Authorities say the tablets were en route to Southwest King County and Burien, and the person delivering these drugs was arrested.
The counterfeit pills often have an "M-30" marking on them. Health experts said fentanyl is a substance that is 50 percent more lethal than methamphetamine and morphine.
Meyer said more and more of these pills are showing up in every part of the county.
"There has been such a shift in public safety and law enforcement of now seeing really substance use disorder as what it is—it's a disease. We want to help folks get through to a better place."
Police note 2021 has been a deadly year for fentanyl overdoses, and King County has already set the record for most fentanyl deaths in a year. Public Health-Seattle and King County said 219 people in the county have died from overdose so far this year. Most deaths were related to fentanyl-laced substances.
"People who are dying are much younger. They're younger than 40, the number of teenagers who are dying of fentanyl-related overdose is increasing," said Brad Finegood, strategic advisor for overdose prevention with the health department.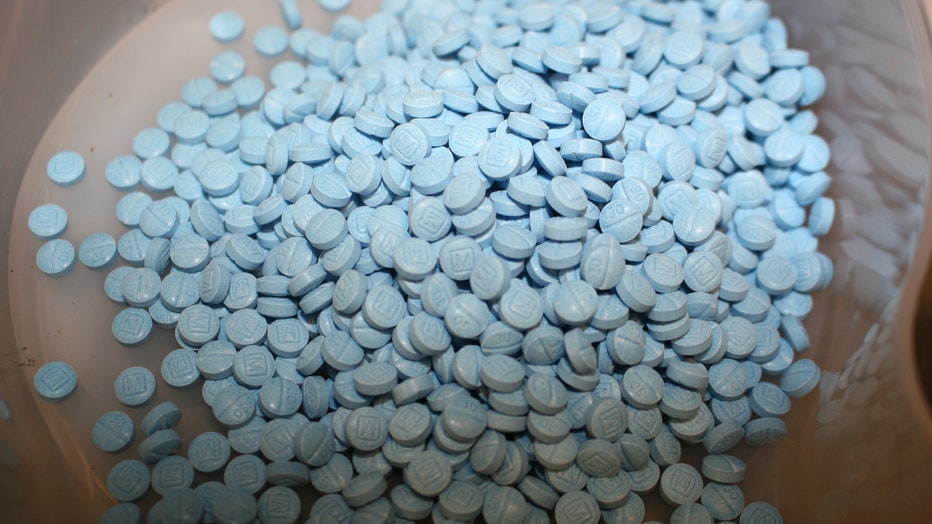 Meyer said the county's Controlled Substance Homicide unit has been busy thoroughly investigating the uptick in deaths.
"Determine what evidence do we have? Can we find the person that sold them the drugs that took their life? And if we can do that we're then going to forward that case over to the King County Prosecuting Attorney's Office and we start looking at the felony of controlled substance homicide. If you sell someone or provide someone those drugs and those drugs take their life, well that's murder," said Meyer.
Finegood said a key tool in saving lives against the fentanyl crisis is awareness. The county's Laced & Lethal website offers information and talking points to help communities learn and discuss the dangers of the drug.
"It's really important to have conversations with your community members and with your kids about what's going on in a non-judgmental way. What do kids know? What are they hearing? Often social media is a conduit of information for people. So, just open those conversations with people family members, community members," said Finegood.
Health officials said it's critical for those struggling with addiction to have access to supportive help. Ideal Option specializes in addiction treatment and recovery at its clinics across the country. The company has offices in 10 states, with 30 clinics located throughout Washington.
"It's especially important to educate people to avoid any and all street substances and come into a service, a clinic like ours to receive support. In addition to the medication, there's also counseling and we can connect with our many community partners for other types of services they may need," said Benjamin Rae, director of provider relations for Ideal Option.
Providers with Ideal Option specialize in addiction and emergency medicine, internal medicine, OB/GYN, and family medicine, among other specialties. It also employs social workers, counselors, mental health practitioners to develop a holistic approach towards recovery and positive outcomes.
The Washington Recovery Helpline is 1-866-789-1511. It's available 24/7 for anyone to get connected to resources in their neighborhood that would best fit their needs towards a healthy recovery.
READ MORE: 15,000 fentanyl pills seized in arrest at downtown Seattle hotel
RELATED: Routine call leads Shoreline Police to massive drug bust
Stay connected with Q13 News on all platforms:
DOWNLOAD: Q13 News and Weather Apps
WATCH: Q13 News Live
SUBSCRIBE: Q13 FOX on YouTube
DAILY BRIEF: Sign Up For Our Newsletter
FOLLOW: Facebook | Twitter | Instagram