Capitol Hill residents to patrol in bid to stop hate crimes


SEATTLE -- Some in the LGBT community say hate crimes are getting worse in the Capitol Hill neighborhood.

Now a group is getting aggressive.

Starting next Thursday, a group called Outwatch will patrol the streets of Capitol Hill. They will monitor the area and walk people home from the bars if requested. They say too many in the LGBT community are getting harassed and it's time to do something about it.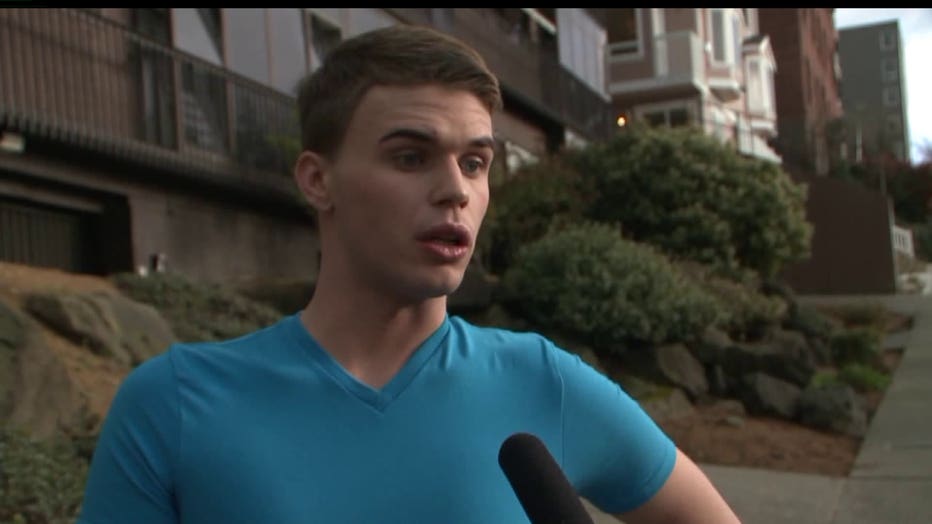 Mikkel Prim, through social media, said he is helping to recruit volunteers who will patrol Capitol Hill three nights a week to stem violence against gays. (Photo: KCPQ-TV)


Paul Mayer says he and his boyfriend were harassed just the other day.

"There is more aggression around here, it seems like it's getting worse," Mayer said.

The King County Prosecutor's Office has filed six malicious harassment cases so far this year.

There were nine cases in 2013 and also in 2012.

"It's scary, it creates fear, it circulates fear," Capitol Hill resident Frank Lent said.

The verbal attacks sometimes turn violent. Last year, five men were accused of beating up a 20-year-old while yelling gay and racist insults. Mikkel Prim says he's been physically assaulted as well.

"I believe I've been targeted by the way I dress, the way I look," Prim said.

Now Prim is on the offensive. Through social media, he is helping to recruit volunteers who will patrol Capitol Hill three nights a week. They will be armed with Mace and matching T-shirts.

"On the front, it will say Outwatch and on the back it will say watchout," Prim said.

Outwatch is a spinoff of the Q safety patrol, an anti-violence organization that manned the streets of Capitol Hill for more than a decade starting in the early 90s.

"It's having a presence on the streets to make them think twice about what they are doing," Prim said.

Prim says he is not relying on Seattle police. In fact, he says, he has not reported any of the attacks against him.

"I think for them it's a very low priority over something else," Prim said.

Seattle police say that's not true, adding they take hate crimes very seriously but they are powerless if people don't report attacks. Mayer agrees.

"I don't know why they wouldn't report it because Seattle police seem like they have their things together when it comes to crimes being reported and looking into it," Mayer said.

So far the group has 20 volunteers they say it's not just to protect the LGBT community but anyone who needs help. The patrols will be Thursday through Saturday, from 10 p.m.-3 a.m.

For more information, you can email Outwatchpatrol@gmail.com.