Catholic school vice principal forced out over same-sex marriage


SAMMAMISH, Wash. -- The sudden resignation of a beloved swim coach and school administrator because of his gay wedding has shocked the students and staff at Eastside Catholic School.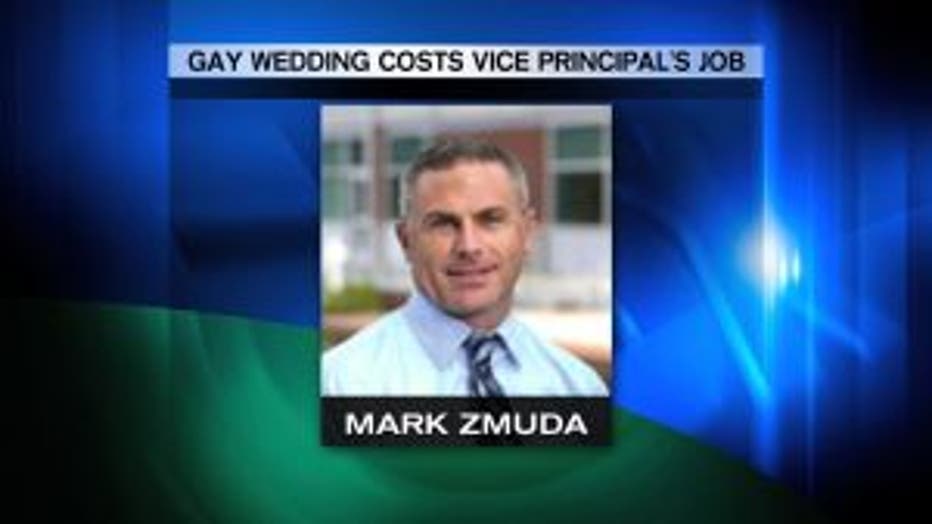 Kids were so outraged they marched into the streets in protest.

The fact that Vice Principal Mark Zmuda is gay isn't the issue, the school said. The problem Eastside Catholic has with Zmuda is that he married another man – even though same-sex marriage is legal in Washington.

"Mark's same-sex marriage over the summer violated his employment contract with the school," the school said in a letter sent to parents. "As a Catholic school, Eastside Catholic abides by the official teachings of the Catholic Church, and as such, the decision to discontinue his employment was determined by the Catholic Church."

The student demonstration against the decision began inside. Students at the religious school skipped classes to protest what they believe is Zmuda's forced resignation.

"We're all here for him; we accept him for who he is," said student Julia Burns. "We're ashamed that this has happened. We're going to do everything we can to stop it."

But their protest soon moved to the streets, where nearly 100 kids lined 228th Avenue shouting cheers in support of their former vice principal.

Zmuda has been working for nearly a year at Eastside Catholic School.

Zmuda married his partner in July shortly after same-sex marriage was legalized in Washington state.

Mike Patterson,  a lawyer for Eastside Catholic, said that church teachings don't approve of same-sex marriages.

"Mark understands when he agreed to work for a Catholic school, one of the requirements is you have to follow the magisterium (the authority that lays down the religious teachings) of the church," Patterson said in a statement.

Once the school discovered Zmuda was married to a man, he resigned, effective Friday.

But clearly the students at Eastside Catholic believe that mentality is outdated.

"Why fire someone for that reason, that's not a good reason to fire someone," said student Josh Huff. "That's why we're having the protest, it doesn't seem right to me."

"I think it's an issue because I thought people saw past this at this point," said Burns. "It's now been a law in Washington state and the fact that our school, Catholic or not, can't see past what's right or wrong is disgusting."

Some kids say they plan to gather signatures in a petition – and present that to the Archdiocese of Seattle in an effort to get Zmuda's job back.

Plus, those students won't be coming to class on Friday. Their Christmas break begins early because of snow in the forecast – and the emotional day everyone had on campus Thursday.