Crews working to cool derailed oil train, contain fire in Columbia River Gorge; I-84 closed


MOSIER, Ore. -- A train towing cars full of highly volatile Bakken oil derailed in the Columbia River Gorge, leaking oil, sparking a fire and forcing the closure of Interstate 84 Friday afternoon.

Emergency crews were first called to reports of the derailment in the Mosier area around 12:30 p.m.

"A Union Pacific train derailed just after noon today on tracks paralleling Interstate 84 in the town of Mosier, Oregon," Oregon officials said in a news release late Friday night. "Eleven oil tankers derailed and several caught fire. There were no injuries and no structures have been lost. Water and air monitoring is being conducting and as of 9:30 p.m., no oil or fire suppression water has reached Rock Creek, the Columbia River, or its tributaries.

"Union Pacific Railroad crews have placed three lines of sorbent booms across Rock Creek and a containment boom at the mouth of the creek in the Columbia River to protect these waterways during response operations. The plan overnight is to continue to cool off the derailed rail cars. When crews determine the railcars have cooled enough, they'll apply foam to the burning rail cars to suppress the fire. Until then, risk of further fire and possible explosion remains.

"Wasco County Sheriff's Deputies evacuated residents in an area about one quarter mile around the incident. The Red Cross opened an evacuation shelter at the Dry Hollow Grade School in The Dalles (1314 E 19th St.). Wasco County deputies are patrolling the evacuated area to protect evacuated properties. The Wasco County Sheriff's office will assess any continuing need for evacuation Saturday morning, and will contact citizens with an update.

"Federal, state, tribal and local authorities have established a command center near the scene to coordinate response, cleanup and investigation into what happened.

"Interstate 84 remains closed in both directions between Hood River (milepost 64) and The Dalles (milepost 87). As soon as safety allows, Interstate 84 will be reopened. Until then, travelers should use U.S.26, OR 35 and U.S.97 to get around the closed area. "

Union Pacific spokesman Aaron Hunt said Friday that 11 cars in the 96-car train derailed around noon near Mosier, about 70 miles east of Portland, and that oil had leaked out.  The train was hauling oil from Eastport, Idaho, and was headed for Tacoma, Washington, he said.  It was carrying Bakken crude oil, a type of oil known to be highly volatile.

A large plume of black smoke was visible over the gorge as the oil caught fire.

 

Union Pacific said at a news conference Friday evening that the cause of the derailment is under investigation.

Authorities say a mobile home park in Mosier, Ore., with about 50 homes close to the incident was evacuated and will remain evacuated until further notice.

Authorities said Friday evening they were moving into what they described as a cooling operation at the blaze and said they'd work into the night on suppressing the fire.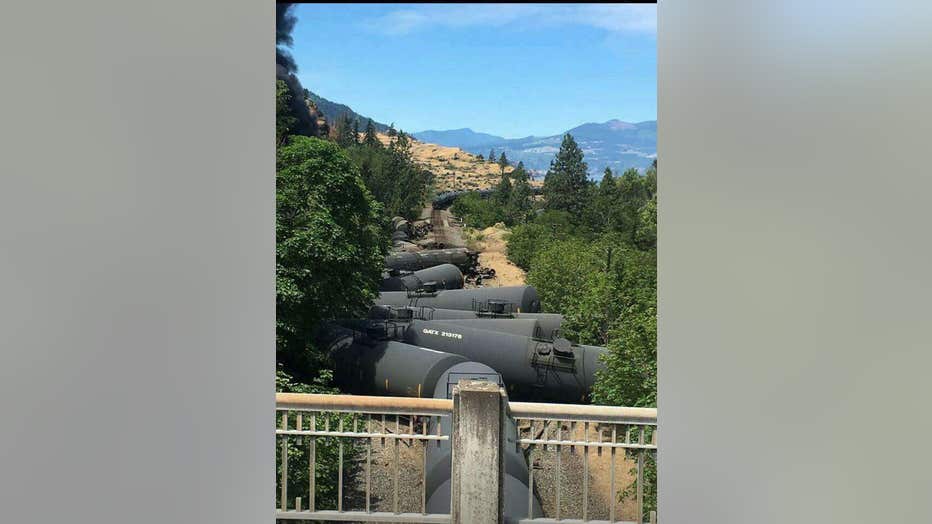 From Mid-Columbia Fire & Rescue


The Oregon Department of Transportation shut down I-84 around 1 p.m. as black smoke billowed into the sky.




Everyone within a half-mile was evacuated, including a nearby charter school.

 

Oregon Gov. Kate Brown released a statement about the derailment Friday.

"I am grateful to local first responders, HazMat teams, and other state agencies for doing their best to keep the community of Mosier safe. I am closely monitoring the situation and ready to make every state resource available as needed. I ask that travelers seek alternate routes away from this area until further notice. The Oregon Department of Transportation will provide continuous updates on travel conditions."   -Gov. Kate Brown

Washington Gov. Jay Inslee issued this statement:

"Today's derailment of a train carrying Bakken crude oil in the Columbia River Gorge is yet another reminder of the risks and concerns of crude-by-rail transport in our region. I join Gov. Brown in commending the swift response from Oregon's public safety and transportation officials.

"There are no reports of oil entering the Columbia River, and fortunately no reports of injuries. Along with the Department of Ecology and the Utilities and Transportation Commission, I will continue to monitor the situation and provide support to Gov. Brown in whatever way we can."

Read more: http://www.kptv.com/story/32134839/emergency-crews-respond-to-train-derailment-in-gorge-school-evacuated#ixzz4AYrAszcr

This is a developing story and will be updated.