Death toll climbs to 96 in Maui wildfires as Hawaii's governor warns more people could be found dead
LAHAINA, Hawaii - Hawaii's governor warned that scores more people could be found dead following the Maui wildfires as search crews go through neighborhoods where the flames galloped as fast as a mile a minute and firefighters struggled to contain the inferno with what some officials complained was a limited water supply.
The blazes that consumed most of the historic town of Lahaina are already the deadliest in the U.S. in more than a century, with a death toll of at least 96. The cause was under investigation.
"We are prepared for many tragic stories," Gov. Josh Green told "CBS Mornings" in a recorded interview that aired Monday. "They will find 10 to 20 people per day, probably, until they finish. And it's probably going to take 10 days. It's impossible to guess, really."
As cellphone service has slowly been restored, the number of people missing dropped to about 1,300 from over 2,000, Green said.
RELATED: FOX, American Red Cross team up to support victims of Hawaii wildfires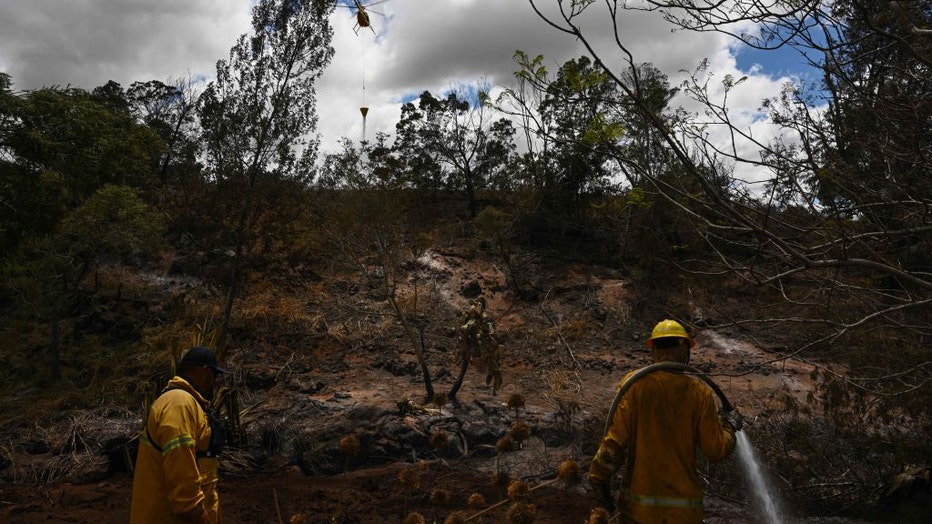 A firefighting helicopter makes a water drop as a Maui County firefighter extinguishes a fire near homes during the upcountry Maui wildfires in Kula, Hawaii on August 13, 2023. (Photo by PATRICK T. FALLON/AFP via Getty Images)
Twenty cadaver dogs and dozens of searchers are making their way through blocks reduced to ash.
"Right now, they're going street by street, block by block, between cars, and soon they'll start to enter buildings," Jeff Hickman, director of public affairs for the Hawaii Department of Defense, said Monday on NBC's "Today."
Meanwhile, some state officials say there is a shortage of water available for firefighters, and they blame a recent ruling by an environmental court judge. It's part of a long-running battle between environmentalists and private companies over the decadeslong practice of diverting water from East Maui streams that started during Hawaii's sugar plantation past.
Elsewhere, evacuees were expected to begin moving into hotels Monday evening. Green said Sunday that 500 hotel rooms were being made available for displaced locals and an additional 500 rooms will be set aside for workers from the Federal Emergency Management Agency who are aiding in the recovery.
In addition, FEMA has started to provide $700 to displaced residents to cover the cost of food, water, first aid and medical supplies, agency administrator Deanne Criswell said Monday. The money is in addition to whatever amount residents qualify for to cover the loss of homes and personal property.
"We're not taking anything off the table, and we're going to be very creative in how we use our authorities to help build communities and help people find a place to stay for the longer term," Criswell said. More than 3,000 people have registered for federal assistance, according to FEMA, and that number was expected to grow.
On the water-supply issue, the deputy head of the U.S. Fire Administration, Tonya Hoover, said she did not have details on the island's current water supply. She said the head of her agency has been meeting with firefighters, including one who was badly hurt and hospitalized.
The Biden administration is seeking $12 billion more for the government's disaster relief fund as part of its supplemental funding request to Congress.
Authorities had required anyone traveling into the disaster areas to get a police-issued placard, but that was suspended Monday due to overwhelming demand. Lahaina resident Kevin Eliason said when he was turned away, the line of cars with people waiting to get a placard had grown to at least 3 miles (4.8 km) long.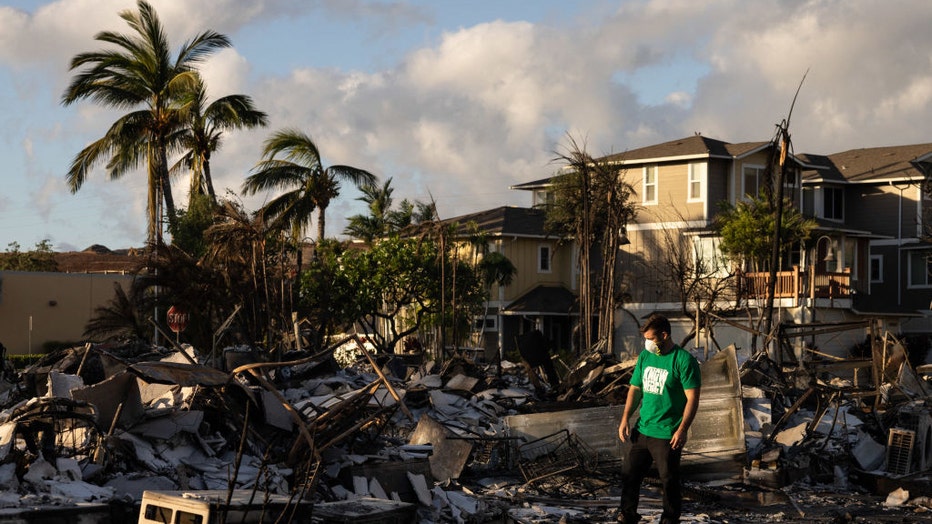 A Mercy Worldwide volunteer makes damage assessment of charred apartment complex in the aftermath of a wildfire in Lahaina, western Maui, Hawaii on August 12, 2023. (Photo by YUKI IWAMURA/AFP via Getty Images)
"It's a joke," Eliason said. "It's just crazy. They didn't expect, probably, tens of thousands of people to show up there."
The blaze that swept into centuries-old Lahaina last week destroyed nearly every building in the town of 13,000. That fire has been 85% contained, according to the county. Another blaze known as the Upcountry fire has been 60% contained, officials said.
"There's very little left there," Green said of Lahaina in a video update Sunday, adding that "an estimated value of $5.6 billion has gone away."
RELATED: Jeff Bezos and Lauren Sanchez offer $100 million to Maui recovery effort
Even where the fire has retreated, authorities have warned that toxic byproducts may remain, including in drinking water, after the flames spewed poisonous fumes. And many people simply have no home to return to.
The Red Cross said 575 evacuees were spread across five shelters on Monday, including the War Memorial Gymnasium in Wailuku. Among the visitors was Oprah Winfrey, who told Hawaii News Now that she delivered personal hygiene products, towels and water in recent days.
Winfrey, a part-time Maui resident, warned that news crews will eventually depart from the destruction and the world will move on. But she said that "we're all still going to be here trying to figure out what is the best way to rebuild. … I will be here for the long haul, doing what I can."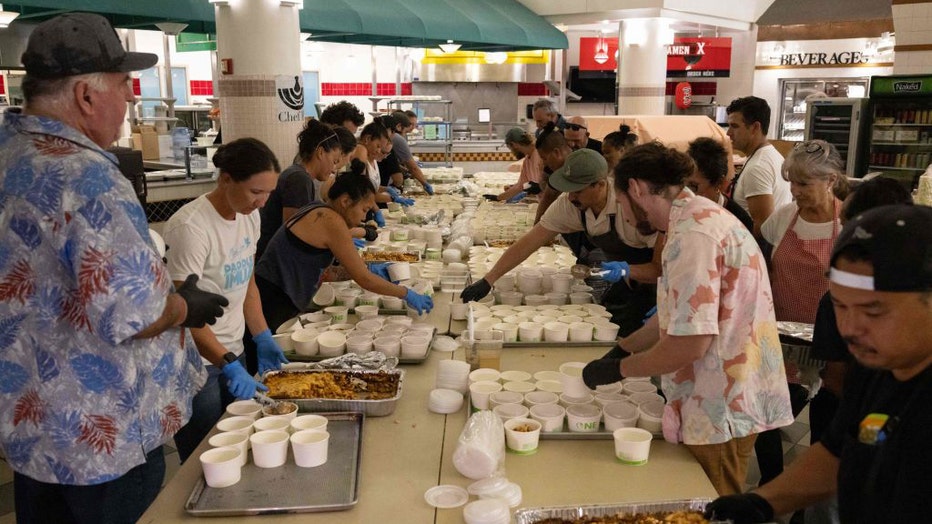 Volunteers prepare free meals to donate to West Maui families affected by wildfires, at the University of Hawaii Maui College in Kahului, central Maui, Hawaii on August 13, 2023. (Photo by YUKI IWAMURA/AFP via Getty Images)
As firefighters battled the flames, a flurry of court actions were lodged last week over access to water. On Wednesday morning, Judge Jeffrey Crabtree issued an order temporarily suspending water caps he imposed for 48 hours. He also authorized water distribution as requested by Maui fire officials, the county or the state until further notice if the judge could not be reached.
But that wasn't enough for the state attorney general's office, which later filed a petition with the state Supreme Court blaming Crabtree for a lack of water for firefighting. The state asked the court not to let Crabtree alter the amount of water to be diverted or to put a hold on his restrictions until the petition is resolved.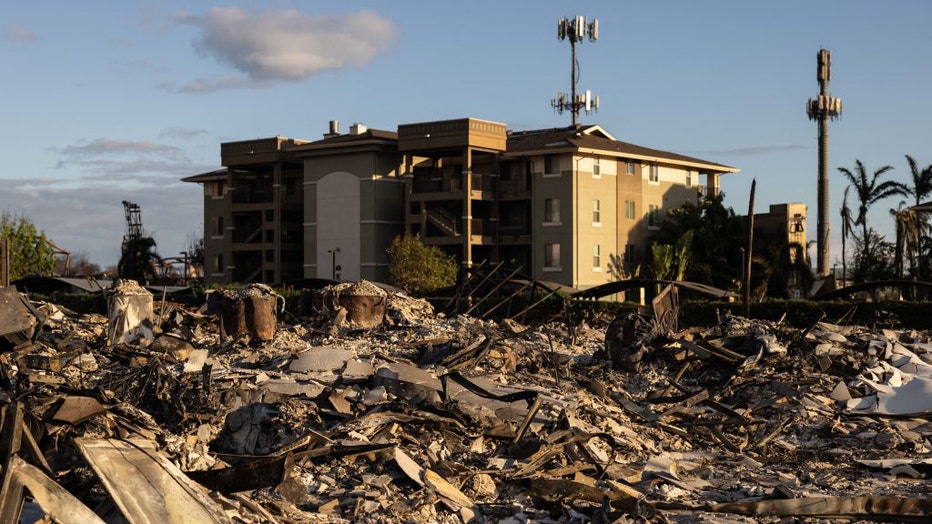 Charred remains of an apartment complex in the aftermath of a wildfire in Lahaina, western Maui, Hawaii on August 12, 2023. (Photo by YUKI IWAMURA/AFP via Getty Images)
The judge "substituted his judgment for that of the agency," the petition said, referring to the Board of Land and Natural Resources. "As a result, there was not enough permitted water to ... battle the wildfires."
Wayne Tanaka, executive director of the Sierra Club, said Monday that the attorney general's office exaggerated the effect of water diversion caps on firefighting.
RELATED: Video shows Lahaina's 150-year-old banyan tree smoldering but 'still standing' in Lahaina, Maui
"It's a shameless exploitation of this horrible tragedy," he said. "The central Maui reservoirs are of no use to west Maui, where most of the devastation is ongoing."
He said he's concerned the state is out to help a private company monopolize water.
Representatives for former sugar plantation land owner Alexander & Baldwin and the East Maui Irrigation Company did not immediately respond to an email seeking comment. A spokesperson for the Board of Land and Natural Resources said it does not comment on pending litigation.
The attorney general's office said in a statement Monday that Alexander & Baldwin uses water for wetting the ground for preventative fire suppression, and that Crabtree's previous orders affect only the central Maui area water supply and "does not directly affect the water situation for Lahaina."
The main focus of the petition "is that administrative review is more appropriate than having the court monitor this type of activity," the statement said.
Fueled by a dry summer and strong winds from a passing hurricane, the flames on Maui raced through parched brush. One fire moved as fast as a mile (1.6 kilometers) every minute, according to Green.
"With those kinds of winds and 1,000-degree temperatures, ultimately all the pictures that you will see will be easy to understand," the governor said.
___
Kelleher reported from Honolulu, and Weber from Los Angeles. Associated Press journalists Haven Daley in Kalapua, Hawaii; Beatrice Dupuy in New York; and Josh Boak in Washington contributed.
___
Associated Press climate and environmental coverage receives support from several private foundations. See more about AP's climate initiative here. The AP is solely responsible for all content.