DOCS: How seven teens managed to escape Echo Glen Children's Center
KING COUNTY, Wash. - Newly obtained documents reveal how seven juvenile inmates escaped the Echo Glen Children's Center (EGCC), a facility in Snoqualmie that holds Washington's most violent offenders, on May 28. 
According to court documents, the inmates had worked together to craft a master plan, which began with manipulating staff members into believing they were friendly and trustworthy. Each inmate who participated played key roles in the escape plan.
Hours before executing their escape, detectives reviewed surveillance footage showing the inmates casually interacting with staff, playing with squirt bottles, hugging the guards, and wrestling with one another. At one point, a guard allowed an inmate to take a cordless phone from the control desk to use the flashlight.
The escapees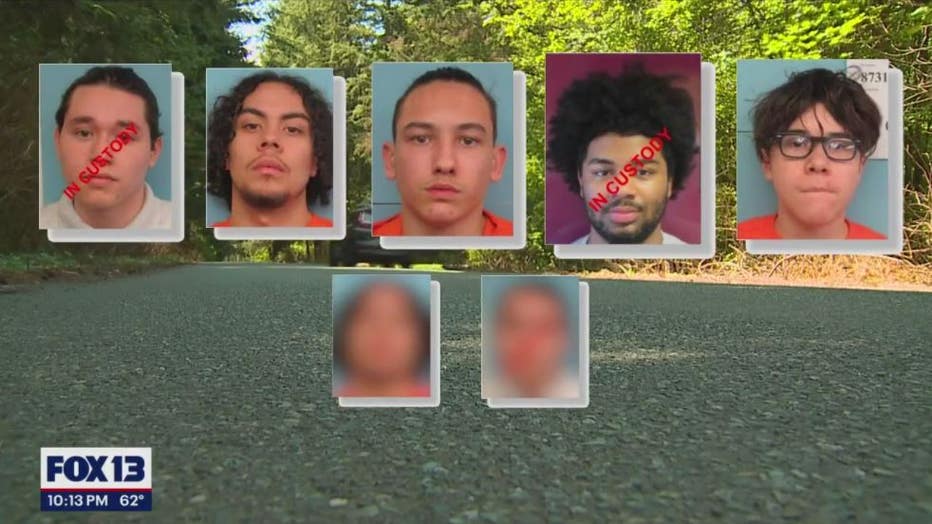 Torres-Topete is serving a sentence for first-degree robbery
Navarro is serving a sentence for first-degree assault and second-degree possession of a firearm
Krikorian is serving a sentence for second-degree murder and two counts of second-degree assault
Hernandez-Ebanks is serving a sentence for first-degree murder and second-degree unlawful possession of a firearm
Chavez is serving a sentence for first-degree robbery and first-degree assault
Burnett is serving a sentence for possession of a stolen vehicle, second degree assault, theft of a motor vehicle, first-degree escape and eluding police
Booker is serving a sentence for second-degree possession of a firearm
Echo Glen's 'Willapa Cottage'
Before getting into the timeline, it is important to understand the layout of EGCC's Willapa Cottage.
The facility currently holds 15 inmates, however, one inmate was in the hospital during the Sunday night incident. 
Inmates are housed in their own individual cells. The cottage has a 2-door system to leave the building and gain access to the open-air complex. The inmates are supposed to be locked in their cells without access to the common area, according to court documents.
There is a command center in the cottage that has a control module for locking and unlocking the individual cells. Court documents reveal that staff members eventually developed enough trust in the inmates to occasionally leave the command center unattended.
Sunday, May 28 at 8:00 p.m.
Detectives reviewing surveillance footage from inside the cottage say the escape plan was developed at around 8:00 p.m. 
After seeing inmates and staff members casually interact with each other, detectives noticed that every time a guard would turn their back, the seven inmates would whisper to each other – devising their plan.
According to court documents, in a 30-minute time frame, 16-year-old Jaiquan Burnett and 16-year-old Detron Booker Jr. had constructed a replica of a sleeping person in their beds using bedding, clothes and pillows. 
Directly across from Booker's cell is a bathroom that the two would later hide in for hours.
8:30 p.m.
According to court documents, Booker goes into the bathroom at around 8:30 p.m. 
Another inmate, 16-year-old Daniel Navarro, walks up to Booker's cell and closes the door shut. Doing so indicates to the guards that Booker is locked in for the night.
Surveillance video then shows Navarro walking into the common area, and giving out hand signals to the other inmates while the security guards are not looking. 
At around 8:45 p.m., 16-year-old Jessy James Lee Krikorian and 16-year-old Ramon Pedro Chavez Jr. begin wrestling. Chavez then pretends to be injured, distracting the security guard.
While the guard was distracted, Burnett joins Booker in the bathroom where they would patiently wait for their opportunity to strike.
11:15 p.m., the attack
A 36-year-old female security guard was patrolling the facility, under the impression that all the inmates were locked in their cells for the night. According to court documents, she was not wearing her radio or her distress beacon.
After passing the bathroom door, Burnett and Booker are seen bursting out of the bathroom, tackling her into a wall. With closed fists, they punched her repeatedly in the head and face causing her to bleed. 
The two then brought her down to the ground, and dragged her into the common area to be seen by all the other inmates. 
According to the documents, after Booker gained control of her, Burnett made a run for the command center to release the other escapees using the central computer system. The group then forcefully took her keys and cell phone, and dragged her into a cell – locking her in with no way to call for help.
17-year-old Timothy Hernandez-Ebanks, who had escaped from Echo Glen in the past, emerged from his cell wearing clothes that were not allowed in the facility. He is then spotted on video approaching the victim in her locked cell, demanding her phone passcode – refusing to release her. 
The group of seven then ran out, damaging staff equipment along the way, and took off in the security guard's white Chevrolet Equinox.
12:21 a.m., a 911 call from Echo Glen
According to court documents, more than an hour later, another staff member patrolling the facility found the victim beaten badly inside the locked cell, and called 911. 
At 12:21 a.m., the King County Sheriff's Department (KCSD) received the 911 call from Echo Glen, reporting that seven inmates had escaped from their cells, assaulted a security guard, locked her in a cell, stole her car and took off.
In a matter of minutes, KCSD deputies and Snoqualmie Police officers arrived at the facility to review surveillance footage. 
Monday, May 29 at 12:30 p.m.
According to court documents, the KCSD received information that Hernandez-Ebanks and Burnett, along with 16-year-old Diego Torres-Topete, were at an apartment complex in Burien. 
At around 3:30 p.m., police arrived, and spotted the three walking away. As soon as they saw officers, they took off running, but were eventually arrested and brought to the King County Juvenile Detention Center.
3:30 p.m.
According to court documents, someone called the KCSD saying they spotted Booker, Navarro, Krikorian and Chavez were seen staying at Booker's family residence in Vancouver, Washington. 
The four were eventually arrested by the Clark County Sheriff's Office, and booked into the Clark County Juvenile Detention Facility.
According to court documents, authorities have developed probable cause that all inmates worked together to execute a carefully planned escape.
All of them are now facing new charges of first-degree robbery, first-degree kidnapping, third-degree assault, escape in the first degree and theft of a motor vehicle.