Doctor diagnosed with Ebola arrives in U.S. for treatment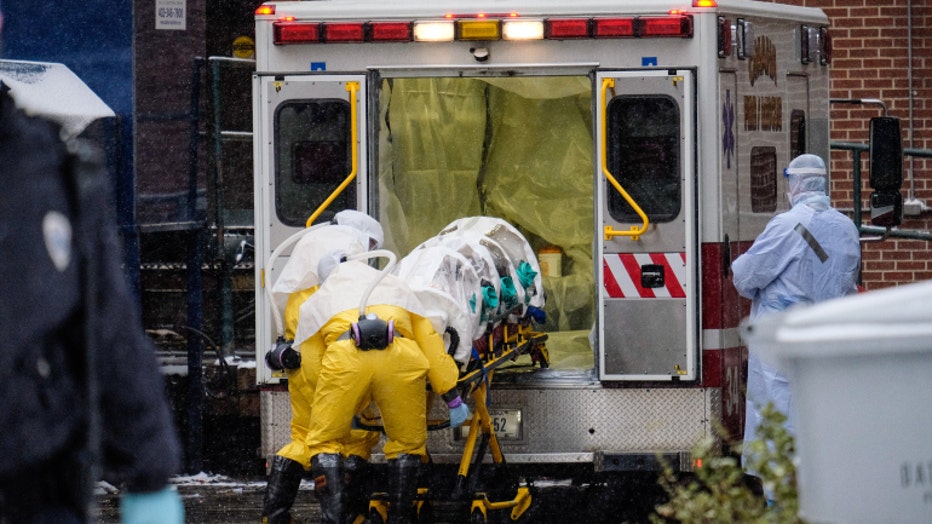 Dr. Martin Salia, a surgeon infected with the Ebola virus while working in Sierra Leone, arrives at the Nebraska Medical Center on November 15, 2014 in Omaha, Nebraska. Salia arrived in Nebraska on Saturday after working at Kissy United Methodist Hos


(CNN) -- A surgeon diagnosed with Ebola in his native Sierra Leone arrived Saturday afternoon in the United States, where he will undergo treatment at The Nebraska Medical Center in Omaha.

"I can confirm a patient with the Ebola virus has landed here," hospital spokeswoman Taylor Wilson told CNN.

While Wilson did not identify the patient, the family of Dr. Martin Salia has previously said he is the patient.

Salia, who is a legal permanent resident of the United States, is married to a U.S. citizen, his relatives told CNN Baltimore affiliate WJZ.

The U.S. Embassy in Freetown confirmed a flight carrying a doctor recently diagnosed with Ebola departed Saturday (11 p.m. ET on Friday) en route to The Nebraska Medical Center. Taylor confirmed a flight landed carrying an Ebola-stricken patient arrived at 3:51 p.m. local time Saturday.

The Sierra Leone team that was caring for the patient characterized him as critically ill, possibly sicker than the first patients successfully treated in the United States, according to a statement from The Nebraska Medical Center.

"My sister is very worried and upset," Salia's brother-in-law, Ibrahim Kargbo, told CNN, referring to Salia's wife, Isatu. "Right now, she is pretty devastated. ... We're all just praying he recovers soon."

The doctor was splitting his time between New Carrollton, Maryland, and Sierra Leone, where he works at a Methodist hospital, WJZ reported.

"He doesn't think of himself as someone important," his son, Maada Salia, told WJZ. "He puts himself down and helps those who really need help."

Salia treated all sorts of patients at the hospital in Sierra Leone -- one of three countries most affected by the deadly virus.

"The fact that he left here and went back to his country, that made me worry a little bit, especially when he's a doctor ... because he doesn't know who has the virus," his son said.

The evacuation came at the request of his wife, a Maryland resident, who has agreed to reimburse the government for any expense, the U.S. State Department said in a statement. The cost is not known.

An air ambulance crew evaluated him in Freetown this week and determined he was well enough to travel to Omaha.

"We've obviously been through this a couple of times before so we know what to expect." Dr. Phil Smith, medical director of the biocontainment unit at The Nebraska Medical Center, said in a statement. "Our staff has had a break since treating our last patient, so I know we're ready to go."

The Nebraska Medical Center is one of four hospitals in the United States with biocontainment units and years of preparation in handling highly infectious disease such as Ebola.

It has successfully treated two American Ebola patients -- Dr. Rick Sacra, who was released in September, and Ashoka Mukpo, a freelance NBC cameraman who was discharged last month.

Both contracted the virus in Liberia and were later flown to the United States for treatment.

A number of factors could affect the latest patient's treatment, said Dr. Sanjay Gupta, CNN chief medical correspondent.

"We don't know how sick he is," Gupta said. "We don't know what stage of the disease he is (in)."

The virus has killed at least 5,177 people mostly in Sierra Leone, Liberia and Guinea, according to the latest figures from the World Health Organization.

Of those, Sierra Leone has reported nearly 1,200 deaths in the outbreak, which started this year.

In a statement, G20 leaders meeting in Brisbane, Australia, said member nations were committed to "do what is necessary to ensure the international effort can extinguish the outbreak," to "promote safe conditions and training for health care and relief workers," and "expedite the effective and targeted disbursement of funds and other assistance."

Eight of the previous nine Ebola patients treated in the United States survived. Liberian national Thomas Eric Duncan, who was treated in Dallas, died last month.




CNN's Janet DiGiacomo, Ray Sanchez and Elizabeth Cohen contributed to this report.