Gender pay gap in US hasn't changed much in two decades, report finds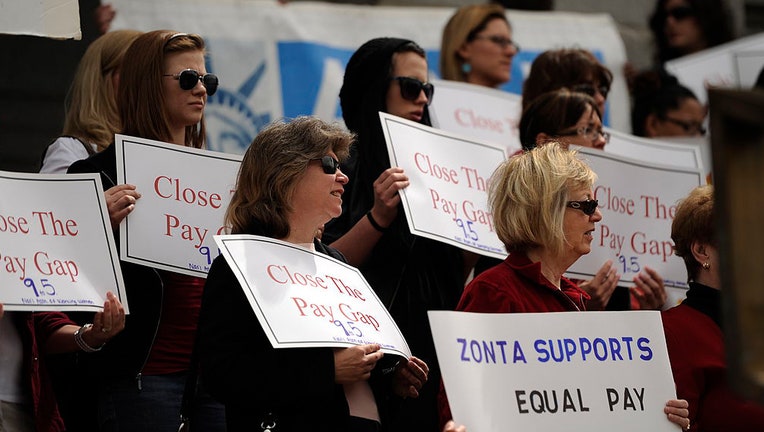 article
Disparities in pay between men and women workers in the U.S. is an ongoing issue, and a new study sheds light on factors contributing to this. 
Pew Research released a new report looking at the pay inequities between men and women for hourly earnings of both full- and part-time workers, which the analysis suggests has not changed in 20 years. 
Last year, women earned 82 cents for every dollar earned by men, which was the same as in 2002, when they made 80 cents to the dollar. But Pew Research explains that the gender pay gap has narrowed slightly compared to the past 20 years. In 1982, women earned only 65 cents to each dollar earned by men. 
RELATED: US House passes equal pay bill in latest women's soccer win
The study reflects slow growth in pay equity in part based on child care based on women avoiding demanding jobs for part-time positions to have the flexibility and work-life balance to take care of their kids.
According to Pew Research, approximately 68% of men 16 and older – with or without children at home – are employed or seeking employment compared to 57% of women. The study notes that this gap was larger in 1982 but declined slightly by 2002. Additionally, men worked about three hours more at a job than women in 2022, on average, down from a gap of about six hours per week in 1982.
Parenthood has led some women to put their careers on hold, but it's had little effect on men. In 2022, 70% of mothers ages 25 to 34 had a job or were looking for one, compared with 84% of women the same age without children at home, the report notes. 
Pew says this contributed to 1.4 million younger mothers leaving the workforce. However, when younger moms are employed, they tend to put in a shorter workweek – by two hours per week, on average – than other women their age. 
Race and ethnicity play a role in the gender gap as Pew reveals in their report. Black women in 2022 earned 70% as much as White men and Hispanic women made only 65% as much. White women made 83% compared to Asian women making 93% as much as White men.
The pay gap narrowed for all groups of women from 1982 to 2022, but more so for White women than for Black and Hispanic women.
While having a degree, working in specific industries that offer higher salaries, and having the requisite skills and experience has helped women close the gender gap slightly since 1982, Pew notes that the pay gap has been stagnant since 2002, ranging from 80 to 85 cents to the dollar.
The report explains that closing the pay gap may depend on a shift in attitudes with societal and cultural norms and companies offering workplace flexibility, offering men and women the chance to balance their careers and family lives. 
This story was reported from Washington, D.C.