Has James Dean's famed, cursed Porsche been found in Whatcom County?
BELLINGHAM -- Has the wreckage of James Dean's famed -- and some say cursed -- Porsche 550 Spyder been found near Bellingham?

It's a possibility.

The car, which has been missing since 1960 when it was lost in transit, is possibly behind a "false wall" in Bellingham, FOX News and ABC 7 report. And at least one local resident stands to collect $1 million for knowing where it is.

Following 24-year-old Dean's deadly wreck on a highway in Sept. 30, 1955, the tiny Porsche was sold to one of Dean's racing competitors. The car was stripped, and toured around the nation as part of the National Safety Council's program to promote car safety, FOX News reports.

But in 1960, the wreckage was lost in route from Miami to Los Angeles. Many searched, but no sign of the car, or its carrying crate, was ever found.

Some even suggested that the car shouldn't be found, saying the automobile was cursed given Dean's crash and a few other high-profile incidents.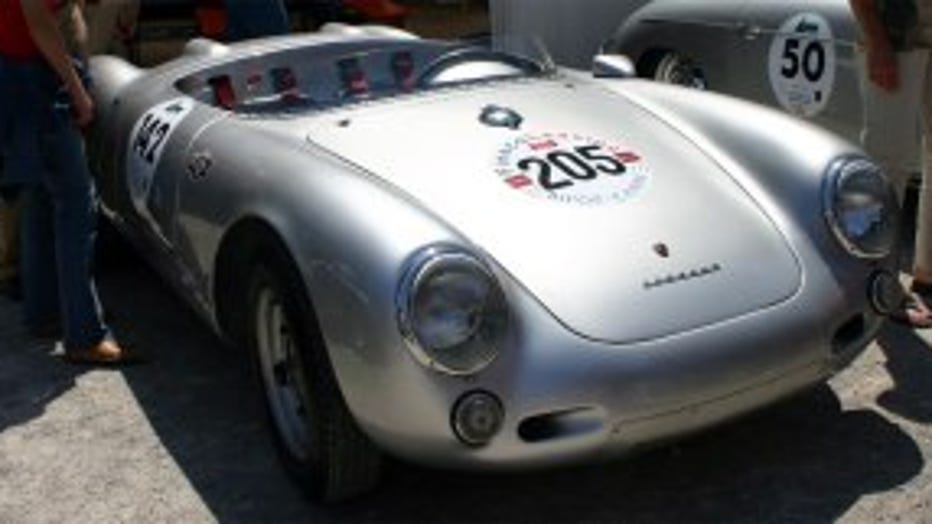 A Porsche 550 Spyder, the same model as Jame Dean's car.


Lately, however, search for the wreckage has heated up.

According to ABC 7 and FOX News, in 2005, Volo Auto Museum in Chicago made a public offer to buy the car for $1 million if it could be found. Since the offer, the museum has investigated a number of false leads. But this spring, a man in Whatcom County called the museum to say that as a boy in the 1960s, he witnessed a car being hidden behind a false wall.

He believes that car was Dean's.

The story, according to FOX News, was consistent with a number of reports on the last known whereabouts of the car.  The Whatcom County man has allegedly even passed a polygraph test regarding the authenticity of his tale.

"The guy's story is awesome, and our most believable lead to date," Brian Grams, director of the Volo Auto Museum, told ABC 7. "It's kind of like Al Capone's vault. If it's there, it continues the legend of this car's notorious history."

The Volo Museum is now working with the Whatcom County man to secure the location of the car, since he doesn't own the building the wreckage is supposedly housed in.

The exact location of the car is being kept secret until the man can secure a "finders fee" portion of the reward, FOX News reports.

We'll bring you updates on this when -- and if -- it plays out.