Heart of baby boy killed in Fife still beats, gives life to another child


FEDERAL WAY -- Dozens of people headed to the Cascade Regional Blood Services Center Tuesday to give blood in memory of Jayden Wayman, a baby boy killed in 2010 by a drunken driver in Fife.

Tuesday would have been his fourth birthday.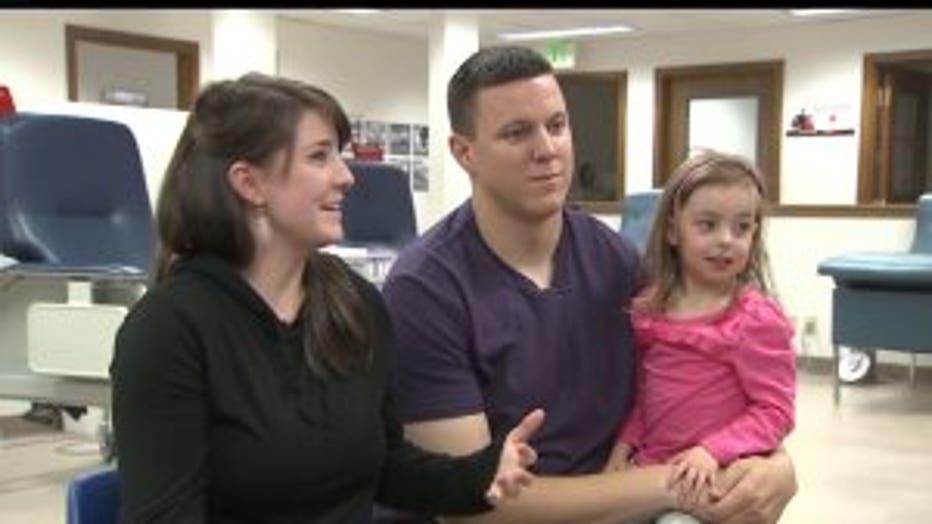 Cate and John Pomelow with heart-recipient daughter Ali.


Cate Pomelow was one of the people who came to donate.  For her, it will never feel like enough.  In November 2009, in Colorado Springs, Colo., Cate gave birth to a baby girl named Aliyah.  At just 1-week-old, doctors diagnosed her with a rare heart condition.

"She had this heart defect that's called hyperplastic left heart syndrome.  Essentially your heart has four beating chambers and she was missing two of them," Pomelow said.

Little Ali needed a new heart.  More than 1,000 miles away in Fife, 3-month-old Jayden Wayman was on life support after being hit by a drunken driver.

"Immediately we responded yes, that we wanted to donate his (Jayden's) organs so that another baby or another person, another life, could be saved," said mother Karla Wayman.

Jayden's kidneys went to a 13-year-old girl, his liver to an 11-month-boy, and his heart went to Ali.

"Our daughter was given a second chance, but, at the same time, another life was taken.  It seemed unfair that not only were we going through something really difficult, but here's this family going through something impossible,"  John Pomelow said.

The transplant was a success.  When Ali was 18-months-old the Pomelow family got word John was being transferred to Washington state for work.  The Waymans and Pomelows now live 15 minutes away from each other and have become close friends.

"Seeing her scar and knowing that my baby's heart is beating in this little girl, it's an amazing thing that God has done.  It's a miracle to me," said Karla Wayman.

So Cate Pomelow did her part Tuesday.  Giving blood may be a simple way to pay it forward, but there is deep meaning behind it, too.

"You talk about loving someone with your whole heart.  That's a beautiful picture.  It was the heart that saved Ali and we're giving blood. It's very symbolic," said Pomelow.  "To continue his legacy and honor the family.  To show them my gratefulness and support by continuing to save lives the way Jayden saved Ali's is the very least I can do.  I'm happy to do it."

The Jayden Wayman blood drive ran from 8 a.m. until 7 p.m. at Cascade Regional Blood Services in Federal Way.  All appointments were full, but anyone wishing to donate later in the week can call  253-383-2553.