Helicopter crashes into building in Salt Lake City


SALT LAKE CITY, Utah -- A helicopter crashed into a building in North Salt Lake City Tuesday afternoon.

FOX 13 News reported the crash occurred in the area of 900 North and 500 West and a witness told the station the aircraft crashed into a business called Wimpole Street.

KSL-TV reported at least two people were believed to be on-board the helicopter.

Another chopper pilot, Ben Tidwell who flies for KSL-TV, was at a nearby airport when he heard a frightening noise and told his own news station he instantly knew something bad had happened.

"That is the sound of things coming to pieces big time," he said. "This is an in-flight breakup."

Moments later, Tidwell said his mechanic pounded on his door and told him he had just witnessed the helicopter fall apart in mid air and crash.

"The entire tail rotor and assembly is sitting about 200 yards away from where the rest of the aircraft crashed down into the building. The aircraft itself is smoldering, seemingly on fire in the building, completely inside the building," he said.

Debris from crash was spread out over a 400- to 500-yard area, Tidwell told KSL.

It's unknown what lead to the crash or whether anyone on the ground was injured.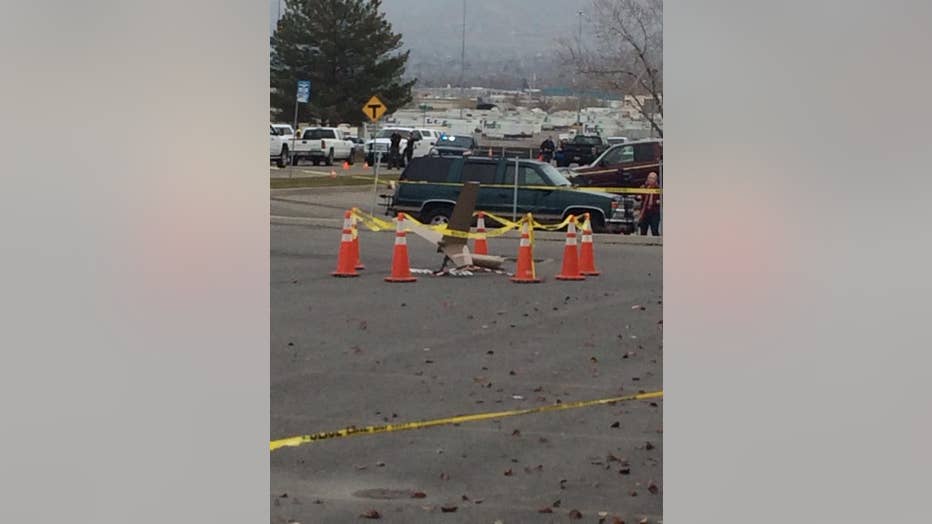 Tail of the helicopter that crashed into a building in North Salt Lake. Robert Boyd/FOX 13 News