Idaho murder suspect Bryan Kohberger had 'normal conversation' with neighbor: 'You heard about these murders?'
MOSCOW, Idaho - In the days following the murders of four University of Idaho students, Bryan Kohberger had a seemingly "normal conversation" about the event with his neighbor.
FOX News spoke with the neighbor, who said Kohberger initiated the conversation.

University of Idaho students Kaylee Goncalves, 21, Madison Mogen, 21, Xana Kernodle, 20, and her boyfriend, Ethan Chapin, 20, were stabbed to death in the early hours of Nov. 13 in Moscow, Idaho. Bryan Kohberger, a Ph.D. student in criminology at nearby Washington State University, has been charged with four counts of first-degree murder and felony burglary for the quadruple homicide.
"He actually says, 'Have you heard about the murders?'" FOX Nation host Nancy Grace asked Kohberger's neighbor, who wished to remain unnamed. 
"Yeah," the neighbor said. "He's like, 'Yeah, it seems like they don't have any leads.'"
RELATED: Idaho murders suspect Bryan Kohberger trades intensity for fear in 2nd court appearance: body language expert
The neighbor told FOX Nation Kohberger had suggested an early theory that the murders were a "crime of passion." He said the interaction ended shortly thereafter. 
Grace said Monday that Kohberger's father, while helping move him into the apartment, asked if the neighbor would be friends with his son.
"It's like setting up a play date," Grace said. "And at some point, the neighbor's wife said, 'Don't bring [Kohberger] back. I've got a bad feeling. Do not have him back in this apartment.'"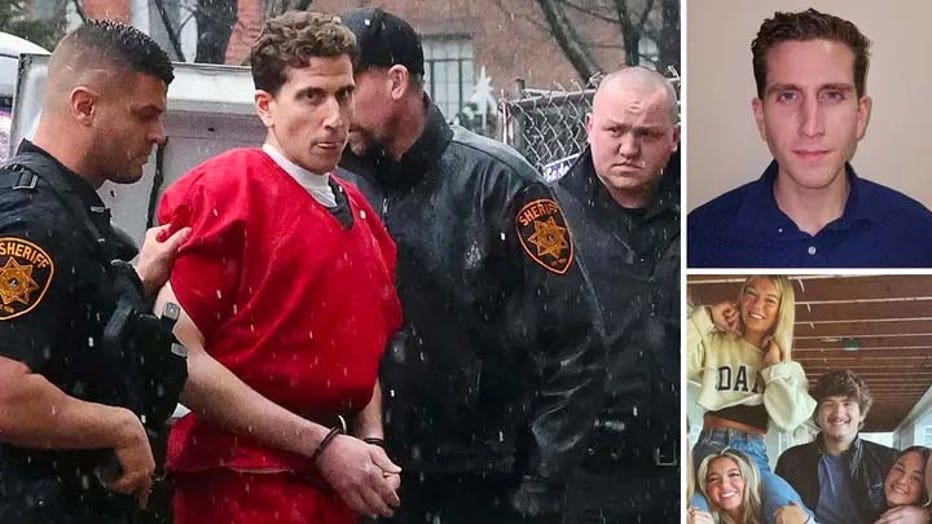 Bryan Kohberger escorted to court in Pennsylvania prior to his extradition back to Idaho to face charges in the deaths of Maddie Mogen, Kaylee Goncalves, Xana Kernodle and Ethan Chapin. Inset: Kohberger's WSU portrait and the last known image of the
Grace said Kohberger's father has been characterized as a straightforward, friendly, talkative person, and speculated that he may have been aware of the incident.
"We all see our own children with blinders on, so I don't know how much he knew but didn't want to know," she said. 
The news of Kohberger's conversation with his neighbor came at the same time Kaylee Goncalves' parents revealed that she had already moved out of the house at the time of the murders. She was reportedly visiting for the weekend.
"She wasn't even supposed to be there," Grace said.
Kaylee was reportedly set to take an I.T. job in Austin, Texas, but she returned to her Alma mater for the weekend to attend a party and show off her new car to her long-time best friend Madison Mogen, who was also murdered on Nov. 13.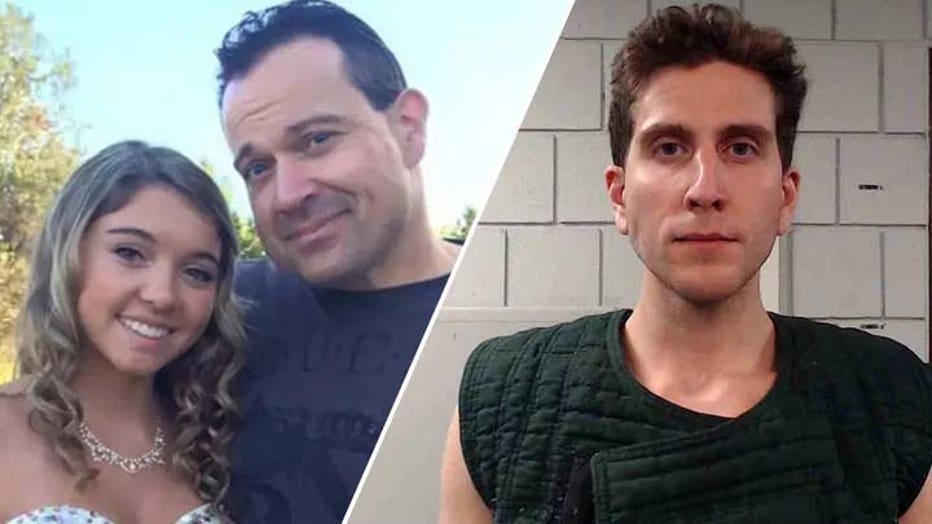 A split photo of slain Idaho college student Kaylee Goncalves with her dad, Steve Goncalves, and the suspected murderer Bryan Kohberger. (Instagram/Monroe County (Pa.) Correctional Facility via AP)
"I'm also learning that it could be evidentiary and that she may not have been the target, unless he was watching her on social and knew she was coming back," Grace explained.
RELATED: Idaho murders trial: Bryan Kohberger to face preliminary hearing in June
Get breaking news alerts in the FREE FOX 13 Seattle app. Download for Apple iOS or Android. And sign up for BREAKING NEWS emails delivered straight to your inbox.
"That is heartbreaking because she almost missed the entire incident," Grace said.