'It's just hard to watch:' Deputies recover race car stolen in Everett, found stripped for parts
EVERETT, Wash. - Snohomish County deputies on Sunday recovered a haul trailer and race car stolen from a business in Everett.
According to the sheriff's office, deputies found the trailer abandoned on Kayak Road in Stanwood around 10:30 a.m. The trailer was emptied out, except for the race car chassis and its tires. The car was completely stripped for parts.
The car was stolen from Mary's Towing of Highway 99 in Everett.
"We're frustrated," said Chris Caulder, manager for Mary's Towing. "We can't stop the thieves from doing what they're doing. Now we're without our race car."
Surveillance video shared with FOX 13 shows an individual casing the towing truck company's property. A man is seen walking around the 28-foot hauler trailer before attempting to break into the Ford 350 pickup it's attached to.
"It's just hard to watch," said Caulder.
He said the theft has him and the entire Mary's F.E.A.R. 5 Racing Team upset.
"That race car means a lot to me," he said. "It's a lot of hard work! I spend five days a week working at work and two days a week working on the race car during racing seasons with no time off. It's seven days a week, so that's a lot."
The race car is bright electric blue in color with a pink number 5 on it. It also has Mary's Towing in pink lettering along the side.
"I'm just thankful and blessed to be able to be able to have a race car," said owner Mary Brubaker. "I didn't know a lot about car racing or the lingo when I first bought it, but I've learned a lot and have become part of a wonderful community."
Since the theft, people from across the racing community have been reaching out.
"They've been wonderful," she said. "Some people are even looking for it. We really want it back."
The concern is for the upcoming racing season. Without a race car, the team can't compete.
"I just hope whoever stole it hears our message of how much it means to us and to the community. I hope in some way they find it in the heart to return it," said Mary.
The charcoal gray car hauler trailer is 28 feet long and 8.5 feet wide. It has a diamond-plated drop-down gate and has yellow and red decal on the rear door that reads 1-800-SUE-BOAT.
"If you see it, please call us," said Caulder.
The tow truck company said it will offer a $2,000 reward for information leading to an arrest and conviction for the person or persons responsible.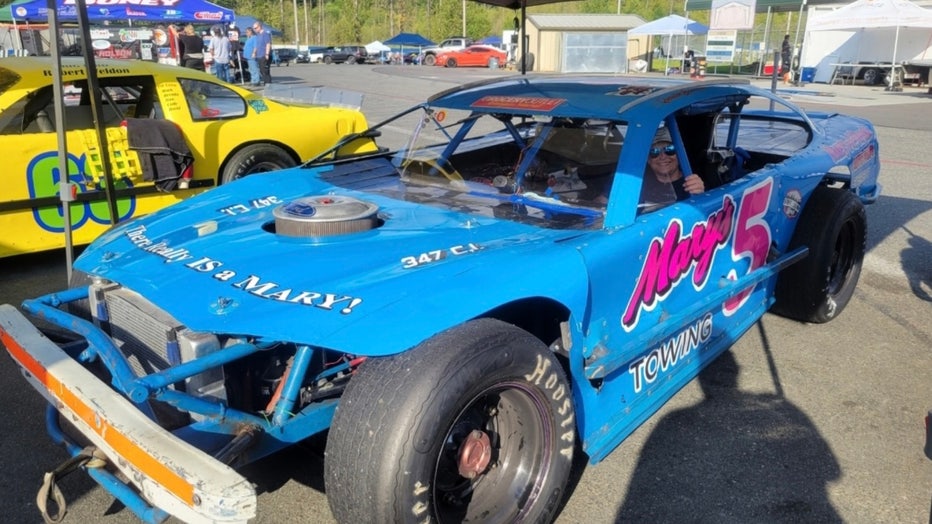 The Snohomish County Sheriff's Office is investigating. Contact them at 425-388-3845.
The Ford-350 pickup truck was recovered after being abandoned at a state park in Stanwood, so they're still searching for the hauler and race car.