Judge: 'It is truly difficult to describe how sickened people ... are at the sight of you'
NEW YORK -- A 29-year-old father who butchered his wife in a jealous rage and then hacked to death his two, slumbering toddler daughters was sentenced to 45 years in state prison on Friday, WPIX-TV reported.

Before sentencing Miguel Mejia-Ramos, Queens Supreme Court Justice Kenneth Holder delivered an epic tongue-lashing against the killer.

"It is truly difficult to find words to describe how sickened people are in this courtroom at the sight of you," Holder said, saying what he did repulses even the most hardened of criminals.

Calling him a "vile and despicable man," the justice, seething with outrage, said the convicted killer was lucky the death sentence can no longer be imposed in New York.

He tore into a man who murdered his wife over "nothing" and had the audacity to kill two innocent children he was supposed to protect.



As his 21-year-old wife, Deisy Garcia, slept at their Jamaica home last January,  a drunken Mejia-Ramos arrived home and thumbed through her cell phone, finding a photo of her with another man, he told authorities.

She awoke to the knife's thrusts into her body, and was so brutally eviscerated the blade broke.  He then repeatedly plunged the knife into his two young daughter,  2-year-old Daniela Mejia and 1-year-old Yoselin Mejia.

Mejia-Ramos pleaded guilty on Oct. 10 to three counts of first-degree manslaughter.

After the murders, he drove south in an attempt to reach Mexico, but was apprehended in Texas by U.S. Marshals in January.

In court on Friday, a cool Mejia-Ramos briefly spoke before the judge lashed into him,

"I would like to ask God for forgiveness," as well as the entire family, he said. "This sentence is not enough for me to pay for what I have done to these people. And I ask for forgiveness for the horrible damage that I have caused."

Justice Holder gave voice to the collective outrage over Mejia-Ramos' acts.

"I truly believe that the person who invented the electric chair or the gas chamber most certainly had you in mind when they designed it," he said.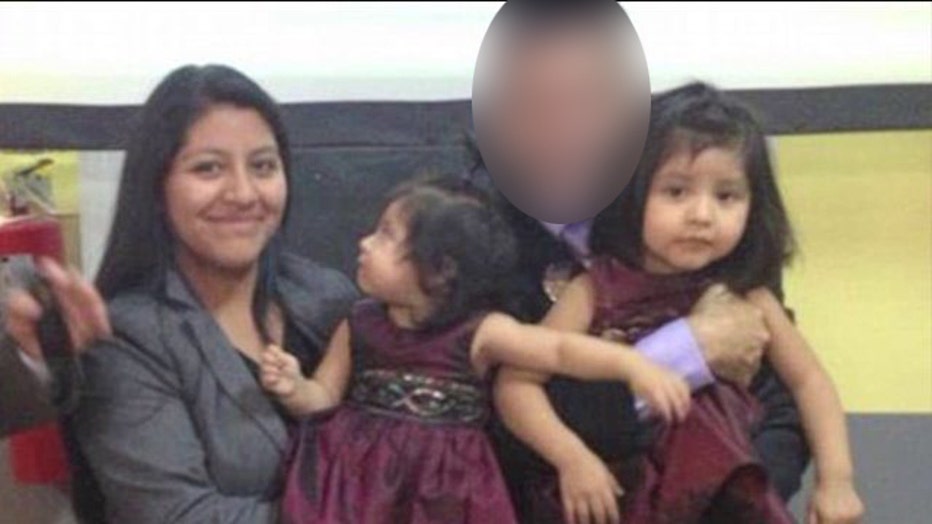 Wife and two daughters of Miguel Mejia-Ramos, 29, pictured with an unidentified man. (Photo via WPIX-TV)