'Keep the dogs safe': Dozens protest The Dog Resort following Monday's fire
SEATTLE - Dozens of people gathered Saturday along Elliot Ave. protesting a local dog daycare business following a fire earlier in the week. 
"I'm just heartbroken that the second location had a fire this week," said Janelle Simms.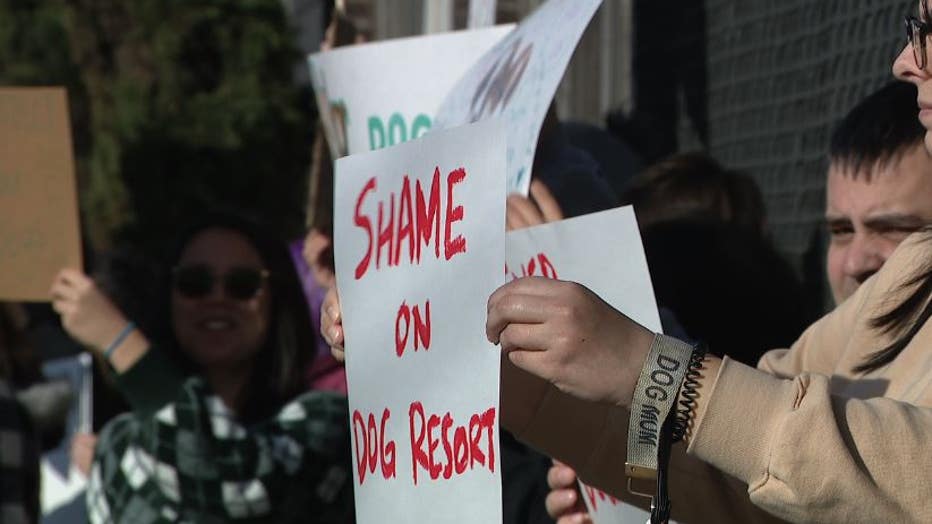 Simms held a sign that read "Shame on Dog Resort." 
Simms told FOX 13 she was a former client of The Dog Resort at its Lake City Way location.  
"We no longer do business," Simms said. "My dog, Kevin, was in the first location that experienced a fire. I just chalked it up to a freak, horrific accident, but the second time, it's just two too many." 
Other protestors, like Julia Irick, came out to stand in solidarity with the crowd. She's a dog daycare worker at a different location.
"If we're not out here showing up for the dogs, who's going to," she asked. "We need to have better standards for the dogs, raise the standards. Everyone needs to have an emergency evacuation plan if you're watching dogs."
Monday's fire at The Dog Resort resulted in many dogs being evacuated to a fenced-in area.
When firefighters arrived at the scene, the gate was opened, forcing a number of the dogs to escape. A number of them ran out, two were hit and killed by cars. Others had to be rounded up by volunteers. Some were found with injuries. 
"This could have been prevented," said Nicholas Faulke.  
"Keep the dogs safe," said Julie Webster. "It's devastating what happened."
Since the fire, The Dog Resort's owner, Mona Elassiouti has been quiet. 
While she hasn't made any public statements, the business has posted a few updates on social media. 
One message read in part:
"...We want to assure you that a thorough investigation is underway to determine the cause, and while we are currently unsure of why this has happened, we are committed to keeping you informed as we learn more."
"Our message is that we want Mona to take accountability," said protest organizer Johanna Gotz.  
"Mona has got to go," said another protestor. 
Questions still remain. Pet parents have questions about refunds, the fire itself and the business's fire safety plan. Some people have told FOX 13 that getting information from the Dog Resort has been difficult. 
"I think communication could be better overall," said Simms. "I know a lot of owners were at the SoDo location and never heard anything from the owner."  
Some dogs have been reunited with their owners; others are being temporarily sheltered at The Downtown Dog Lounge. 
"We've had this space vacant for almost five and a half months," said Elise Vincentini, owner of The Downtown Dog Lounge. 
Vincentini said she doesn't have a direct connection to Mona Elassiouti or The Dog Resort, but simply offered up space when news of Monday's fire spread. 
"It was just instant, what can we do to help," she said. 
Vincentini was at the scene during Saturday's protest. She said volunteers originally brought 43 dogs from the fire to the location. 
As for the protest, she said she understands why people would be upset. 
"I don't like that they're outside my business, but I realize people are upset, and it's a sad situation," she said. 
She said the focus is reuniting pets with their owners. 
"My priority right now, rather than pointing the finger, is taking care of the dogs." 
FOX 13 has reached out to Mona Elassiouti multiple times since Monday's Fire. We are working to secure an interview with her. 
The cause of the fire remains under investigation by the Seattle Fire Department.
Stay with FOX 13 on-air and online as we continue to follow developments with this story.