Kodiak Enterprise fire: Fire mostly out on the boat, flammable tanks still intact
TACOMA, Wash. - Crews have nearly knocked down a fire that started on a fishing vessel early Saturday morning and continued burning through Tuesday. 
The fire was reported around 8:30 a.m. on April 8 on the Kodiak Enterprise, a large fishing boat that was docked at the Trident Seafoods in the Hylebos Waterway in Tacoma.
According to the Coast Guard, the fire has progressed throughout the ship and was last reported approximately 100 feet from the vessel's freon tanks. Freon is a non-combustible gas that is used as a refrigerant in air conditioning applications.
The vessel is reported to have an estimated 55,000 gallons of diesel and 19,000 pounds of freon onboard. The heat from the fire can cause pressure to build in the freon tanks.
While freon can be toxic if inhaled in large quantities or in a confined space, any release of the gas into the atmosphere is not expected to pose any health and safety risks to the public, the Coast Guard said.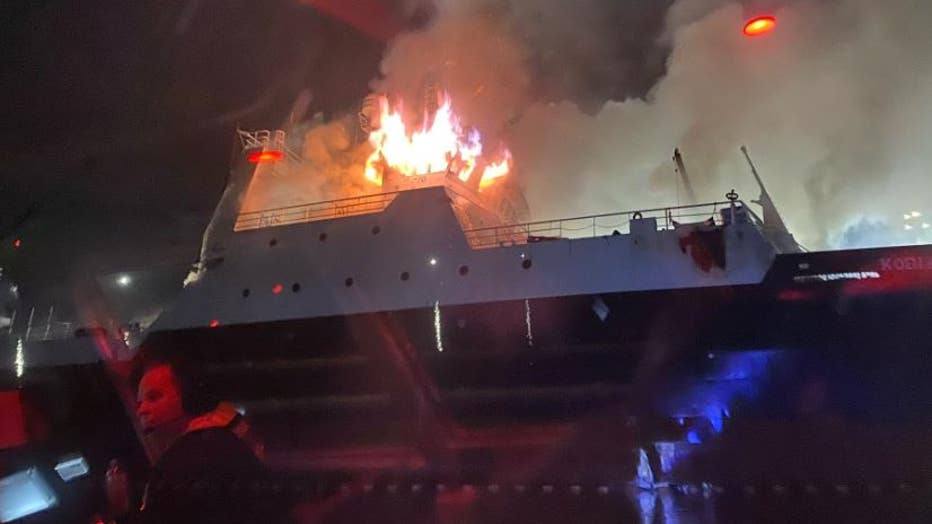 Photo from South King Fire
As a precaution, the Tacoma Fire Department issued a temporary shelter-in-place directive for those in NE Tacoma, Browns Point and Dash Point neighborhoods. People in those areas should remain indoors to limit their exposure to smoke.
Due to the conditions, several schools in Tacoma Public Schools were on a two-hour delay Monday. 
The shelter-in-place order was lifted Monday morning.
As an additional precaution, the Environmental Protection Agency has been conducting air quality monitoring.
While the flames have died down and the smoke is easing up, the concern is the potential for a spill into the water.
"Crews are still putting water on the outside of the vessel to cool things down," said Ty Keltner, public information officer for the Washington Department of Ecology. "They're making progress, so we'll see what happens here."
"We're prepared," Keltner said. "There are three levels of boom surrounding the vessel right now, and we also have skimmers on standby. On top of that, there are sensitive areas nearby and those have been boomed off as a precaution." Keltner said.
No injuries were reported and there were no reported signs of pollution in the water, according to the Coast Guard.
The Department of Ecology will be using drones and thermal imaging to look for any signs of a spill. 
Crews have been able to get on board and reported that the fire was mostly out as of 3 p.m. on April 11, but there were still some hot spots. 
All the flammable liquids, fuel and freon tanks are still intact.
The cause of the incident is under investigation.
The Coast Guard, The Tacoma Fire Department, South King Fire and the Environmental Protection Agency (EPA) have all responded to fight the fire. The response has been scaled back as of Tuesday. 
This is a developing story.