Missing Man: A call to police from 'stabbing victim'; cops find blood, knives and a note for help
PORT TOWNSEND, Wash. -- Police issued a missing/endangered person alert Tuesday for Max Wood, 56, of Port Townsend, after he reportedly called dispatch to say he had been stabbed in a motel. Officers found blood and knives and a note for help there -- but nothing else.

Wood and his truck were missing.

Police are asking for the public's help in finding him.

Shortly after 3 p.m. Monday, a man identifying himself as Wood called Jefferson County dispatch on a non-emergency line and said he'd been stabbed overnight at a Port Townsend motel, police said.

"The caller said there was blood in a room at the Aladdin Motel in Port Townsend, Washington. Before the call-taker could get more information or a callback number the line was disconnected," a Port Townsend Police Department news release said.

"Officers responded to the motel and located the room Wood was staying in. Officers found evidence that someone had been injured. Officers located knives, blood and a note requesting help. There was no sign of Wood or where he might have gone," the release said.

Just before 5 p.m. Monday, officers obtained the GPS location of Wood's cell phone in unincorporated eastern Pierce County, in the Bonney Lake or Buckley areas. Pierce County sheriff's deputies were unable to find him.

Police said Wood moved to Jefferson County in the past couple of months, but previously resided in the Des Moines/Normandy Park area.

"Wood is known to suffer from mental illness and investigations have not been able to rule out that the injuries were self-inflicted," the release said. "However, no possibilities have been ruled out as the investigation is ongoing.

"Wood is a white male, 6-foot tall and weighs about 160 pounds. He has gray short hair and green eyes. He is possibly driving his 2014 White Ford F-150 truck, WA LIC# C35403B. The truck was last seen to have writing on the passenger side and a skeleton in the passenger seat (Attached pictures are actual photos of the truck).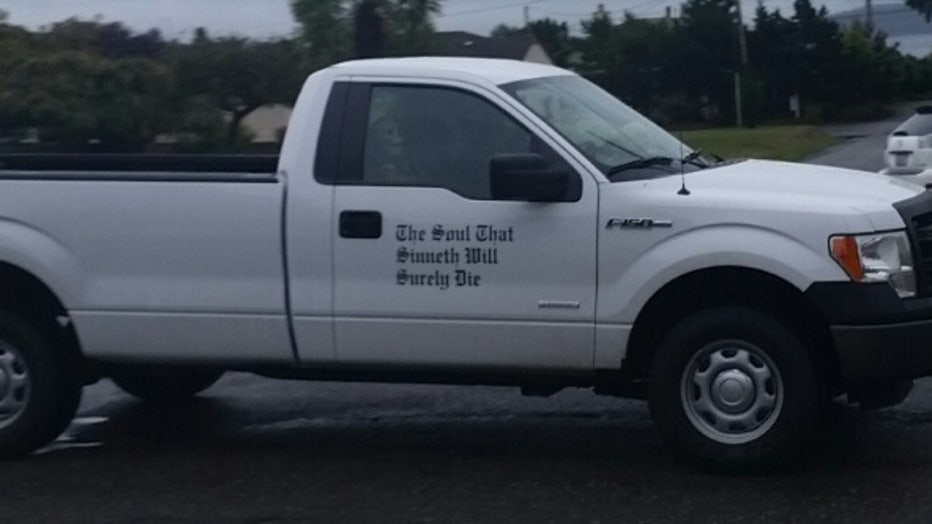 Max Wood's truck, with wording on the side, and a fake skeleton in the passenger seat. (Photo: Townsend Police Dept.)


"At this time the Port Townsend Police Department is looking to check the welfare of Wood and try to obtain more information on what occurred at the motel.

"The Port Townsend PD is asking anyone who saw Wood or his truck AFTER October 12, 2014 to call with information. They are asked to call Jeffcom at (360)385-3831 ext. 1.