This bald eagle is actually incubating a rock: 'We have yet to see a rock hatch'
VALLEY PARK, Mo. - A bald eagle at a Missouri wildlife sanctuary is getting a lot of attention for the meticulous care of what he thinks is his future offspring.
The World Bird Sanctuary in Valley Park, Missouri, said Murphy the eagle – "very quietly and inconspicuously" – built a nest on the ground and started incubating a single "egg" with great care.
"Every so often he rearranges the sticks in his nest, and cackles at any other eagles that come too close," the sanctuary said on its Facebook page. "He is not welcoming help with his nest, nor is he seeking it!"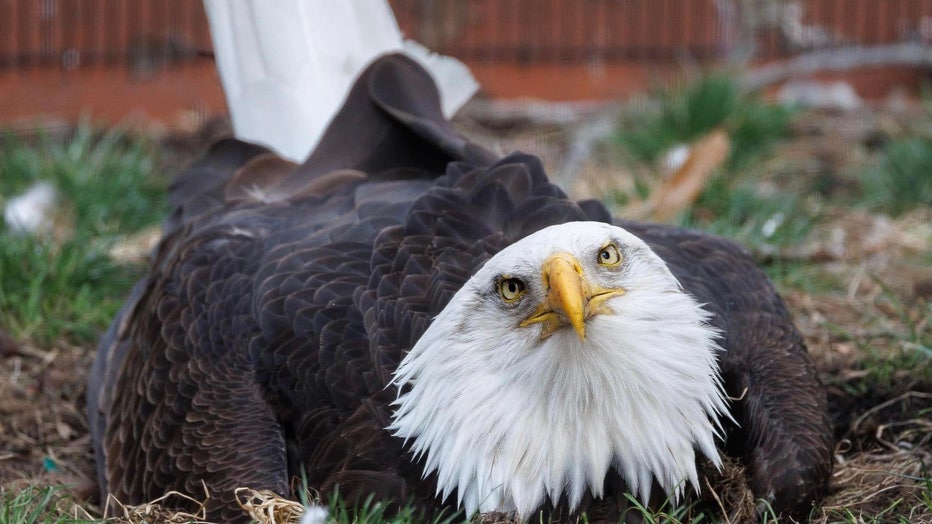 Murphy the eagle (Dawn Griffard/World Bird Sanctuary)
It's a normal spring activity for male eagles, as they take equal part in raising their young. But Murphy's "egg" is no ordinary egg. In fact, it's not an egg at all.
"We wish Murphy all the luck in the world, but we're not telling him the reality of the situation. We have yet to see a rock hatch," sanctuary workers quipped on their Facebook page.
READ MORE: That's the spot: North Carolina bear enjoys scratching its back on tree in viral video
If you're feeling bad for Murphy, don't: "It's just his hormonal response to spring," the refuge explained.
"Murphy is not sad, so you don't need to be," they said. "He is perfectly content."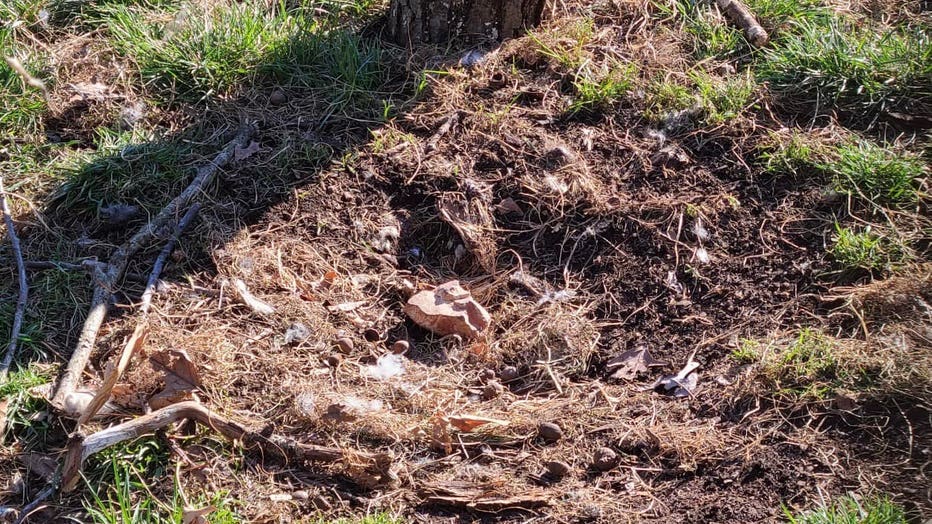 Murphy's "egg" (Dawn Griffard/World Bird Sanctuary)
Murphy is housed with four other eagles in an enclosure that's custom-fitted for their birds' various disabilities. He has a permanent injury to one of his wings and will never be able to fly again.
Murphy is not lonely, the sanctuary said, and he'll remain "very spoiled" at the sanctuary for the rest of his life.
READ MORE: Bald eagle swipes lunch to go as Connecticut nature photographer snaps picture: 'America's bird likes pizza'
"Murphy does not need a real egg to feel accomplished," the sanctuary said. "He's quite content with his rock, and VERY protective of it! After his spring hormones have run their course, he will get bored and move on to other activities.
"This is where you can feel sad - for the rock."