New aerial photos of ailing orca J50 show 'worrying continuation' of decline in past month


SEATTLE -- NOAA Fisheries and its partner Sealife Response, Rehab and Research on Monday released new aerial photos of ailing local orca J50 to document a "dramatic decline in condition" between 2017 and 2018 and a "worrying continuation of this decline in the last month."

Since early August,  the National Oceanic and Atmospheric Administration (NOAA) and its partners has started a "medication strategy" to try to administer antibiotics and dewormer.

The dramatic action is being taken because there are only 75 orcas left in the pods that live in the Puget Sound and Salish Sea.

J50, also known as Scarlet, was part of the southern resident "baby boom" that occurred when 11 calves were born between 2014-2016. Including Scarlet, only five calves from the "baby boom" are still alive.

NOAA Fisheries said on Monday: "New aerial images collected through a collaboration between SR3 and NOAA Fisheries' Southwest Fisheries Science Center has given us new insight into the condition of J50 and her mother, J16. These images will help the teams assess further options to support J50."

Sealife Response, Rehab and Research (SR3) said, "Working under a research permit from NOAA Fisheries, we have been able to fly a custom-made research drone high (typically >100ft) above the whales, to non-invasively collect images to measure the width (to infer fatness) and length (to monitor growth) of the whales.

"In particular, we have been able to document a dramatic decline in condition of J50 between 2017 and 2018, and a worrying continuation of this decline in the last month (see photographs below). Of further concern, our quantitative measurements from these images indicate that her mother (J16) has also declined in condition over the last month, perhaps due to the burden of helping to catch and share food with J50."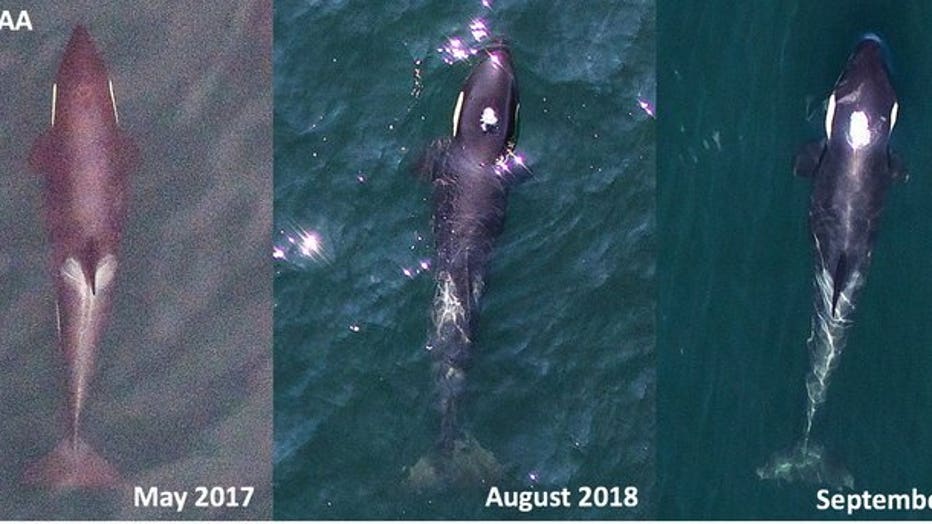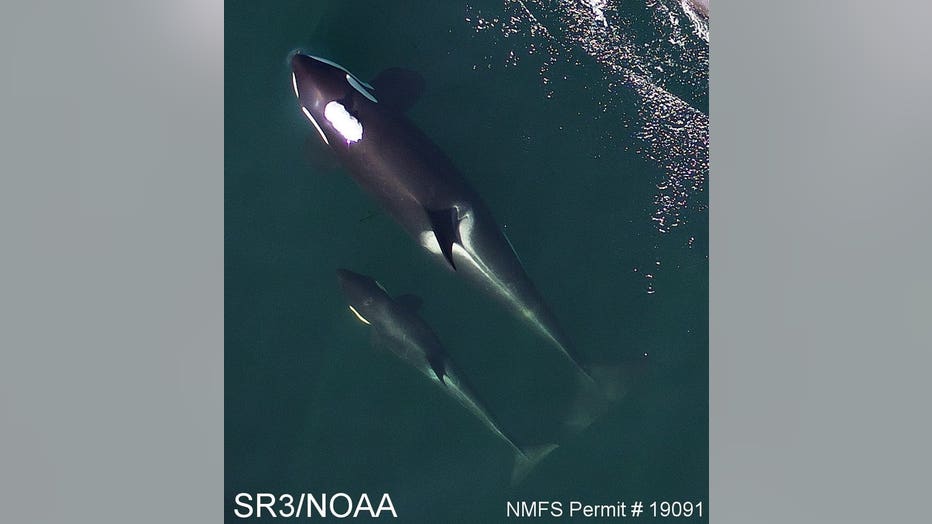 Aerial image of Southern Resident killer whale juvenile J50, swimming alongside her mother (J16) on September 3rd 2018 (right) for comparison. This highlights the small size and thin body profile of J50. Images by Holly Fearnbach (SR3) and John Durban (NOAA) obtained with an unmanned drone, piloted non-invasively >100ft above the whales under NMFS research permit #19091.