NO JOKE: 'Weed Fairy' giving away free pot on Capitol Hill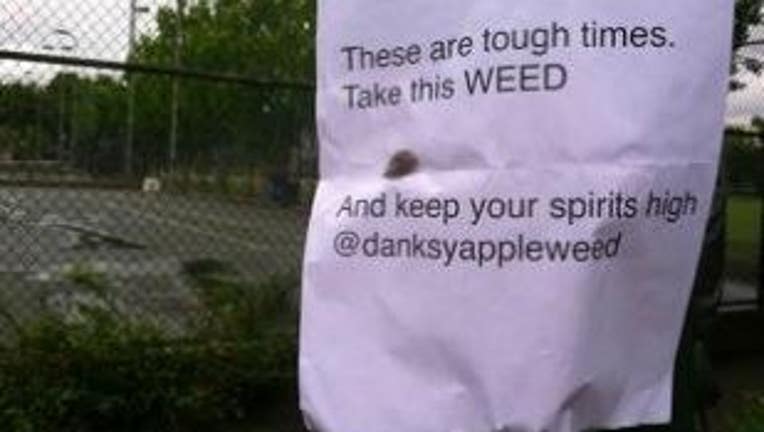 article
SEATTLE -- A woman wants to keep your spirits high -- by giving you free weed.

The 'Weed Fairy' -- whose fliers contain the Twitter name Danksy Appleweed and who says her real name is Yeni Sleidi -- is posting signs on Capitol Hill, with a nugget of pot taped to them.

The woman behind the signs says she just wants to give people a gift in these tough times.

"I think people are a little worried, because this is something new, and suspicious," she said. "But it's real weed and it's not dangerous. It will get you high."

The Weed Fairy is from California and is in town for only a few weeks.

She said she did a similar thing in New York a few months ago, and the positive feedback keeps her going.

On Seattle's Capitol Hill, it was getting a lot of reaction, both on the street and social media, and regardless of how you feel about marijuana, the fliers are getting a laugh out of people.



"I wouldn't take anything for free from someone I didn't know," said resident Jvon Spann.

Others were tempted to grab the free high.

"I would smell it and if it's good and I could tell it was good, then perhaps," resident Corey Kimball said.

The woman behind the unconventional distribution says she just wants to make people smile.

"It's definitely easy to get it in Seattle, but not everyone has the money," Yeni Sleidi, said.

From trees to lights posts to utility poles, the Weed Fairy is leaving her mark all over Capitol Hill.

"It definitely makes me laugh to be the national Weed Fairy," Sleidi said.

On Twitter she goes by @Danksyappleweed and the comments and retweets are spreading faster than she can put the fliers up.

"I decided to give it out to people during the government shutdown; people's reaction was instantly positive," Sleidi said.

"I've been more open about it in Washington. f you are around Capitol Hill you will probably see me," Sleidi said.

With pot now legal in Washington, Sleidi said she isn't afraid of getting arrested.

"They probably have worse things to worry about.  I don't think they will come after the Weed Fairy," Sleidi said.

Seattle police admit her free giveaway is not on their priority list but there are concerns that people under 21 could get their hands on it.

"The marijuana, once it's out there in that format ...  it's really unregulated, it could fall into anybody's hands," Seattle police spokesman Drew Fowler said.

"I try to leave it in areas that the majority of the people are of age," Sleidi said.

"If this was in a more of a suburban area, it would me more of a concern. But this Capitol Hill," Kimball said.

She's already posted about 40 fliers with free pot.