Pierce County detectives believe vehicle may have intentionally struck cyclist in deadly hit-and-run
PIERCE COUNTY, Wash. - Detectives are seeking surveillance video of a hit-and-run collision that killed a cyclist Monday morning near Parkland.
According to the Pierce County Sheriff's Department, a 911 caller reported a crash involving a vehicle and a bicyclist on Waller Rd. E. just south of SR 512.
When deputies arrived they found the victim on the side of the road. The cyclist died.
Now investigators are trying to track down the vehicle involved in the crash.
Sgt. Darren Moss with the Pierce County Sheriff's Department says a witness saw the actual crash.
"This vehicle went over that curb, ran over the pedestrian, and then continued back on the roadway," he said.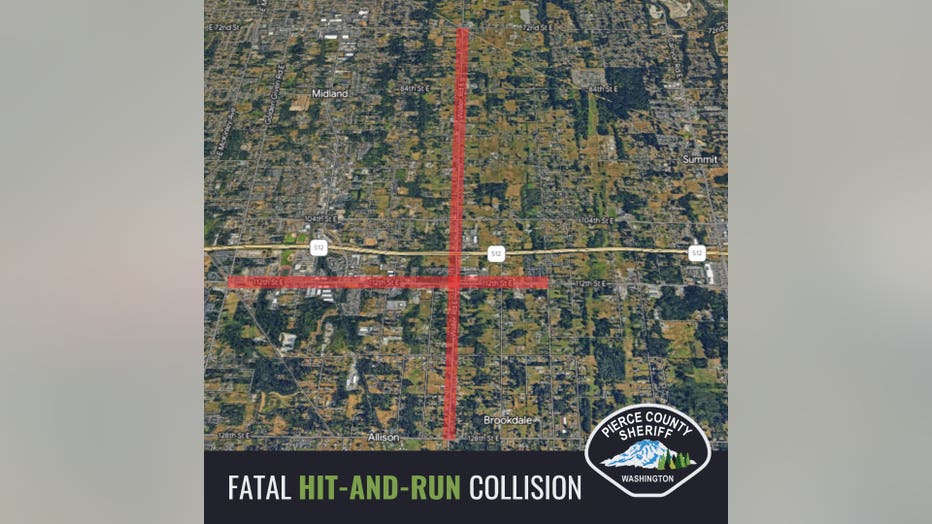 "If you live or work on Waller Rd E, between 128th St E and 72nd St, or on 112th St E, between Vickery Ave E and Golden Given Rd E, please review and submit any video footage of passing vehicles between 7:30 a.m. and 8:10 a.m," deputies wrote in a news release. "We are also interested in dash camera video. Unfortunately, we do not have a detailed description of the suspect's vehicle to help narrow down your search."
Videos can be uploaded here and sent directly to investigators.
Investigators believe the suspect's vehicle is a 2000-2006 Gold/Beige Chevy Tahoe, with possible front-end damage. If you know where we can find the vehicle or the suspect, please call 911.
"If you're the person that hit this person, you need to come forward and report it, because at the end of the day, we're going to find out who you are, and you're going to have a lot harsher punishment for attempting to evade capture," said Moss.
If you'd like to remain anonymous, you can submit a tip to Crime Stoppers using the P3 Tips app on your smartphone or by calling 1-800-222-TIPS. You may be eligible for a cash reward.
A month ago, two teens intentionally drove a stolen car into a former police chief who was riding a bike in Las Vegas, investigators said. The teens recorded the entire incident and posted the video to social media. 
FOX 13 News asked the Pierce County Sheriff's Department if this recent crash could be connected to the Las Vegas incident through some sort of trend. Officials with the department say it is currently under investigation.
This is the second deadly crash on Waller Road in less than a month. On Sept. 3, investigators reported a 27-year-old man was riding a skateboard on the 15700 block of Waller Road when he was hit by a car that kept driving.
The man died in the hospital.
The 80-year-old driver of the car made an online report about the incident.