Police arrest anti-fascist protesters in Portland
PORTLAND, Ore.  — Police made several arrests as they clashed with anti-fascist protesters in Portland on Sunday.

Hundreds of people turned out to oppose a much smaller demonstration by the right-wing Patriot Prayer group. The Portland Police Bureau said the crowd became "violent and criminal," with anti-fascist protesters throwing smoke devices and other projectiles at officers in a waterfront park.

Police responded with pepper spray and warnings that the crowd would be arrested if it didn't disperse.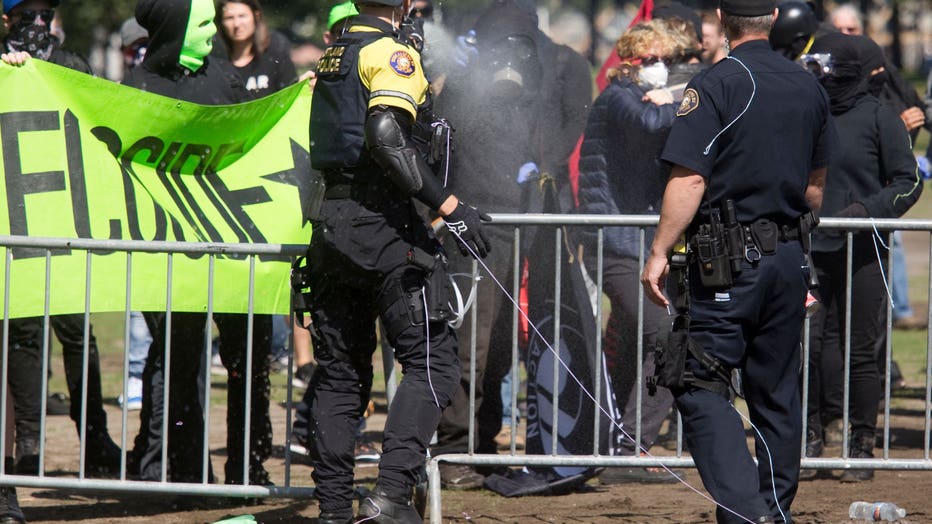 Antifa spray police with a Silly String Spray and the police respond with pepper spray during a protest to oppose the right wing group "The Patriot Prayer Movement," that was having a rally in downtown Portland, Oregon on September 10, 2017.Several h


The department said on its Twitter feed that two officers had been injured and that photographers had also been attacked.

The Patriot Prayer group also held a demonstration featuring speakers, including group leader Joey Gibson, in Vancouver, Washington, later Sunday. Officials in Washington and Oregon closed the footpath of the Interstate 5 bridge over the Columbia River between the cities.

The Oregonian/OregonLive reported that a protester had also been arrested at the Vancouver event.