Police, businesses gear up for May Day protests; Sawant appeals for peace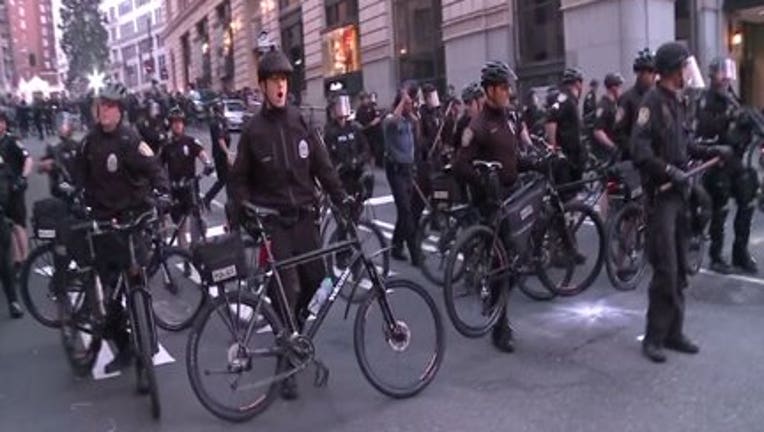 article
SEATTLE -- Police and business owners are preparing for possible protests on May Day.

Last year, the protests turned violent in parts of Capitol Hill.

"I remember actually seeing it on TV," Courtney Linehan, a student at Seattle Central College, said Tuesday. "It did look a little crazy, a little insane."

So she understands why the school decided to cancel all Thursday night (May 1) classes this year.  Even though there was no damage on campus last year, officials said they didn't want students to have to navigate through crowds.

"I was fine with it, because it's early in the quarter so it's not like we're going to be missing a whole lot. But I think it's a little silly."



Sun Distillery was one of the businesses that were vandalized by protesters. But employees said they'll be open this May Day, and they're not planning to bring in extra security.

Many in the business community are hoping they can operate like they would on any other day.

"We have a lot of confidence in Seattle Police Department," said James Sido of the Downtown Seattle Association. "We think they're very well-equipped to handle anything that comes our way on May 1."

Police would not release numbers on how many officers will be working, but say they will be fully staffed. Their goal is to allow peaceful demonstrations, but step in if someone commits a crime.

"If individuals come down and commit a violent crime or serious property damage, then we'll make every effort to develop probable cause and arrest them for that, to allow the other people that are here peacefully to continue on," SPD Capt. Chris Fowler said.

City Councilwoman Kshama Sawant said she will be marching on Thursday "shoulder to shoulder with my sisters and brothers fighting for immigrant rights and for a $15/hour minimum wage. The fight for immigrants' rights is inextricably linked to the struggle for all workers for a dignified life."

Sawant added that, "I strongly oppose violence and property damage because this plays into the hands of the police and the political establishment who aim to discredit and undermine our struggles. ... I appeal to those young people and activists who are protesting the Youth Detention Center to not fall into the trap of the police and instead act in a peaceful manner and join the mass, non-violent demonstration for immigrant and workers' rights."

The Downtown Seattle Association said it will have someone at the police command center, so they can monitor the progress of the march and any violence that may occur, and alert business owners who may want to close early if protesters start to act up. But everyone is hoping protesters behave better than the past two years.

"Freedom of speech is a great thing; destroying things in the process doesn't seem to make much sense," Sido said.