Police, gunman exchange shots in front of Bellagio fountain on Las Vegas Strip
LAS VEGAS (FOX News) -- Las Vegas police officers were involved in a shooting outside the Bellagio Hotel and Casino Friday night.

Metro police said the shooting took place around 7 p.m. in front of the resort on the strip. Officers received a call about an armed man in front of the hotel fountains when gunfire was exchanged, according to authorities. Neither the officers nor the suspect was injured in the gunfight, police said.

An officer told the Las Vegas Review-Journal that the suspect is in police custody.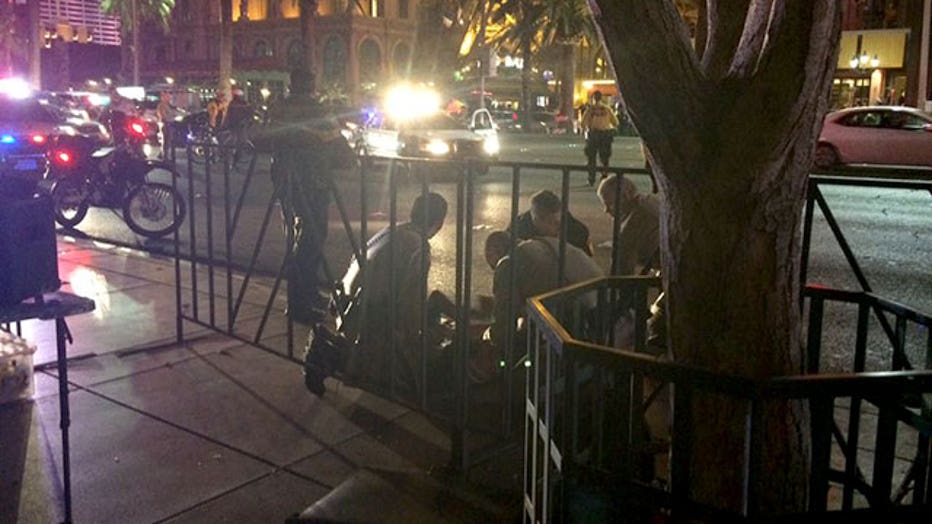 Police officers swarm a suspected gunman in front of the Bellagio fountains along Las Vegas Boulevard on Jan. 22, 2016. (Source: Jill Honken/Twitter via FOX5 News/Las Vegas)Read more: http://www.fox5vegas.com/story/31037019/police-gunman-exchange-sho


Police are investigating whether any pedestrians were hurt in the incident. One person said in a video posted on Instagram they were hit in the ear, according to Fox 5 Vegas.

The north and southbound lanes of Las Vegas Boulevard were closed as police investigated the incident. Metro police also closed eastbound lanes from Interstate 15 to Las Vegas Boulevard.